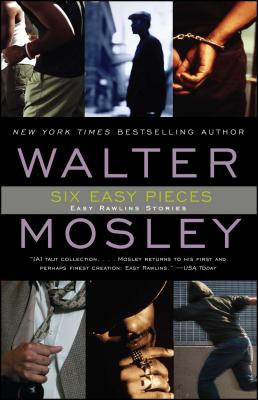 Six Easy Pieces: Easy Rawlins Stories (Easy Rawlins Mystery #8)
Publication Date:
September 1st, 2003
Publisher:
Washington Square Press
Usually Ships in 2 to 14 Days
Description
A collection of seven stories from bestselling and award-winning mystery writer Walter Mosley come together in a single trade paperback volume.
Now from the bestselling and award-winning writer comes Six Easy Pieces. The beloved Ezekiel Rawlins now has a steady job as senior head custodian of Sojourner Truth High School, a nice house with a garden, a loving woman, and children. He counts the blessings of leading a law-abiding life but is nowhere near happy. Easy mourns the loss of his best friend, Mouse. Though he tries to leave the street life behind, he still finds himself trading favors and investigating cases of arson, murder, and missing people. People who can't depend on the law to solve their problems, seek out Easy.
A bomb is set in the high school where Easy works. A man's daughter runs off with his employee. A beautiful woman turns up dead and the man who loved her is wrongly accused. Easy is the man people turn to in search of justice and retribution. He even becomes party to a killing that the police might call murder.
Praise for Six Easy Pieces: Easy Rawlins Stories (Easy Rawlins Mystery #8)
"Mosley's a master. Expect some surprises in each story and in Easy's life, making Six Easy Pieces the perfect sum of its parts."
— The Plain Dealer (Cleveland)
"Delectably hard-boiled."
— Entertainment Weekly
"Vintage Mosley."
— Publishers Weekly
"[A] taut collection....Mosley returns to his first and perhaps finest creation: Easy Rawlins."
— USA Today