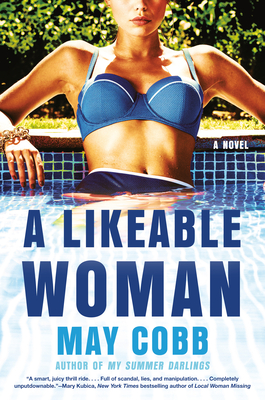 A Likeable Woman
Publication Date:
July 11th, 2023
The Book Tavern
1 on hand, as of Dec 9 11:18pm
(Fiction::Mystery)
On Our Shelves Now
Description
Named A Most Anticipated Thriller of Summer 2023 by Oprah Daily ∙ Buzzfeed ∙ SheReads ∙ BookBub ∙ PureWow ∙ CrimeReads ∙ and more!
Kira's back in her affluent hometown for the first time in years and determined to unravel the secrets of her mother's death—hidden in the unpublished memoir she left behind—even if it kills her. . . .
After her troublemaker mother's mysterious death, Kira fled her wealthy Texas town and never looked back. Now, decades later, Kira is invited to an old frenemy's vow renewal celebration. Though she is reluctant to go, there are things pulling her home . . . like chilled wine and days spent by the pool . . . like sexy Jack, her childhood crush. But more important are the urgent texts from her grandmother, who says she has something for Kira. Something related to her mother's death, something that makes it look an awful lot like murder.
When her grandmother gives Kira a memoir that her mother had been working on before she died, Kira is drawn into the past and all the sizzling secrets that come along with it. With few allies left in her gossipy country-club town, Kira turns to Jack for help. As she gets closer to discovering what—and who—might have brought about her mother's end, it becomes clear that someone wants the past to stay buried.
And they might come after Kira next.
Praise for A Likeable Woman
"You can't close summer without a murder mystery. Fans of Desperate Housewives and Devious Maids will love this thriller…"
—Cosmopolitan
"A smart, juicy thrill ride…Full of scandal, lies, and manipulation…Completely unputdownable."
—Mary Kubica, New York Times bestselling author of Local Woman Missing
"Sexy and suspenseful with delectable prose you'll want to savor."
—Jeneva Rose, international bestselling author of The Perfect Marriage
"Bring on the backyard chardonnay and rich, nasty housewives of East Texas...Gossipy, glamorous, and hair-raising."
—Oprah Daily
"[A] delicious summertime popcorn thriller feel: Propulsive, full of unexpected twists, and with more than a little spicy sexiness thrown on top. The sort of story you accidentally find yourself devouring in an afternoon, simply because it's so easy to promise yourself you're only going to read one more chapter."
—Paste
"Just begging to be read by the pool." 
—Novel Suspects
"Cobb's story…delve[s] into the secrets and seething tensions that exist in small towns…the final twist is nicely done."
—Library Journal
"Another sizzling thriller set in the sultry Texas heat…You'll tear through this one poolside! Maybe on the beach, while wearing sunglasses…who knows what thoughts of delicious vengeance may be hidden behind sunglasses."
—CrimeReads
"May Cobb knows how to capture the pressure-cooker environment of a small Texas town engulfed in scandal."
—Austin Monthly
"Beneath the suspenseful page-turner is a sharp and unflinching dissection of what it means to be a likeable woman."
—Jesse Q. Sutanto, bestselling author of Dial A for Aunties
"Equal parts murder mystery, dysfunctional family saga and commentary on female relationships, it reminds us that everybody's got an opinion on how 'likeable' women should behave."
—Book and Film Globe
"Set among her trademark rich-b*tch Texan housewives, May Cobb's latest mystery delivers nail-biting suspense and Ruth Ware-worthy twists, all while asking just what makes a woman 'likeable'—and whether it's worth dying for."
—Amy Gentry, bestselling author of Good as Gone
"A sharp, moving exploration of dysfunctional families, the healing power of art, and the dangerous expectations of the East Texas elite…you'll want to read it in one breathless sitting."
—Katie Gutierrez, national bestselling author of More Than You'll Ever Know
"An evocative tale filled with sultry glamour and secrets as thick as an East Texas pine forest."
—Eliza Jane Brazier, author of Girls and Their Horses
"Come for the juicy drama and hairpin twists, and stay for the emotional wallop that this firecracker of a book packs."
—Laurie Elizabeth Flynn, author of The Girls Are All So Nice Here
"[B]rilliant plotting, pitch-perfect pacing, a hot romance to salivate over, and a little murder."
—Samantha Bailey, #1 International bestselling author of Woman on the Edge
"Full of deceit, dark secrets, gossip, family drama, and murder… This novel is Texas to the core, smart, and so much fun you don't realize there's blood around you until it's too late."
—Gabino Iglesias, award-winning author of The Devil Takes You Home

"This is an intense, character driven thriller, with lots of twists and turns, and a stunning reveal of what happened all those years ago. Fans of this genre will like this one."
—Red Carpet Crash
"Filled with the searing insight and emotional complexity..along with a brisk pace that will keep any reader invested until the final page is turned. A unique and necessary voice in crime fiction, and one unafraid to go into our most private thoughts and darkest desires."
—E.A. Aymar, No Home for Killers
"…[R]eaders can expect a good bit of wine-swilling, backbiting, and a fair dose of romance along with murder…" 
—Tribeza