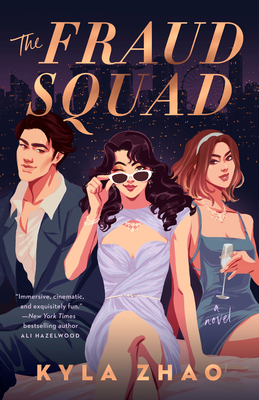 The Fraud Squad
Publication Date:
January 17th, 2023
Usually Ships in 2 to 14 Days
Description
A working-class woman who infiltrates Singapore's high society to fulfill her dreams risks losing everything in the process—including herself—in this propulsive novel by debut author Kyla Zhao.
 
For as long as she can remember, Samantha Song has dreamed of writing for a high-society magazine—and she'd do anything to get there. But the constant struggle to help her mom make ends meet and her low social status cause her dream to feel like a distant fantasy.
 
Now Samantha finds herself working at a drab PR firm. Living vicariously through her wealthy coworker and friend, Anya Chen, is the closest she'll get to her ideal life. Until she meets Timothy Kingston: the disillusioned son of one of Singapore's elite families—and Samantha's one chance at infiltrating the high-society world to which she desperately wants to belong.
 
To Samantha's surprise, Timothy and Anya both agree to help her make a name for herself on Singapore's socialite scene. But the borrowed designer clothes and plus-ones to every glamorous event can only get her so far. The rest is on Samantha, and she's determined to impress the editor in chief of Singapore's poshest magazine. But the deeper Samantha wades into this fraud, the more she fears being exposed—especially with a mysterious gossip columnist on the prowl for dirt—forcing her to reconcile her pretense with who she really is before she loses it all.
Praise for The Fraud Squad
"Immersive, cinematic, and exquisitely fun! The Fraud Squad is the perfect debut, full of high society hijinks, high-stakes, and the joy of finding oneself. A delightful, transportive ride, and the New Adult book I was waiting for!"—Ali Hazelwood, New York Times bestselling author of Love on the Brain
"With the glitz of Gossip Girl, the allure of vibrant and vivid Singapore, the glamour only the elite can bring, and the promise of a fake-it-till-you-make-it quest, The Fraud Squad is escapism at its finest. This book will swallow you right up and keep you awake until you turn the last page."—Elena Armas, New York Times bestselling author of The Spanish Love Deception and The American Roommate Experiment
"The Fraud Squad is a cinematic and engrossing peek into the world of Singapore's elite, as seen through the eyes of its ambitious heroine Samantha Song. As glamorous and page-turning as a glossy magazine, infused with sharp class critique, a vibrant cast of characters, and a poignant emotional core."—Ava Wilder, author of How to Fake It in Hollywood
"This glittering gem of a novel is an incisive reflection on the perils of status and the callousness of wealth. Rich with clever charm and scandalous sparkle, The Fraud Squad introduces a delightful and daring new voice in Kyla Zhao."—Emily Wibberley and Austin Siegemund-Broka, authors of The Roughest Draft
"Zhao (not my cousin) showcases both glamor and grit in this thrill ride through Singapore's high society, balancing dazzling luxury with critiques of classism and inherited privilege!"—Xiran Jay Zhao, #1 New York Times bestselling author of Iron Widow
"Lush, swoony, and delightfully exquisite, The Fraud Squad is an unputdownable debut that will transport you into the lavish world of Singaporean high society. With an irresistibly relatable heroine and vibrant cast of characters, this book is perfect for fans of Crazy Rich Asians and The Devil Wears Prada."—Amy Lea, author of Exes and O's
"Delightful and unpredictable, this drama is very The Clique meets Crazy Rich Asians."—Cosmopolitan

"Zhao updates My Fair Lady in her sparkling debut, a high society farce set in Singapore. Zhao brings buckets of charm to her characters...The author also gets plenty of mileage from arrogant socialite Lucia, who reads like she strutted off the pages of The Devil Wears Prada. Readers will be eager to see how Zhao follows up this whip-smart and witty rom-com."—Publishers Weekly
"Zhao's debut is a sparkly page-turner, with hints of Crazy Rich Asians and The Devil Wears Prada… A delightful blend of emotion and aspiration."—Booklist
"My Fair Lady meets Working Girl in Singapore... There is sweetness to this story of glitz and glam."—Kirkus Reviews