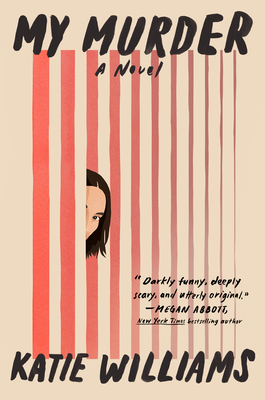 My Murder: A Novel
Publication Date:
June 6th, 2023
Publisher:
Riverhead Books
The Book Tavern
1 on hand, as of Dec 10 11:18pm
(Fiction)
On Our Shelves Now
InMy Murder, you are made to feel the deep struggles of ordinary life which are then abruptly amplified by the quest for a killer. A mesmerizing, completely original story with futuristic elements that don't feel far off.
June 2023 Indie Next List
Description
NATIONAL BESTSELLER 
NAMED A BEST BOOK OF THE YEAR BY NPR!
"One of those rare emotionally intelligent books that are also fun reads… Going to keep readers turning pages late into the night." –The New York Times

"Ingenious…fresh and unpredictable." –The Washington Post

"Gleefully overturn[s] the age-old 'woman-in-trouble' plot…eerie and inventive." –NPR's Fresh Air
What if the murder you had to solve was your own?
Lou is a happily married mother of an adorable toddler. She's also the victim of a local serial killer. Recently brought back to life and returned to her grieving family by a government project, she is grateful for this second chance. But as the new Lou re-adapts to her old routines, and as she bonds with other female victims, she realizes that disturbing questions remain about what exactly preceded her death and how much she can really trust those around her.
Now it's not enough to care for her child, love her husband, and work the job she's always enjoyed—she must also figure out the circumstances of her death. Darkly comic, tautly paced, and full of surprises, My Murder is a devour-in-one-sitting, clever twist on the classic thriller.
Praise for My Murder: A Novel
Praise for My Murder:
"Somewhere between George Saunders's biting social satire and Anne Tyler's tender concern for character and consequence. . .My Murder is one of those rare emotionally intelligent books that are also fun reads, and it even manages to perform two or three plot turns that are so masterly that they would make Ira Levin blush. You can read the ending as happy — or as existential horror, as I do — but in any case it's a book that's going to keep readers turning pages late into the night."— Dan Chaon, The New York Times Book Review
"Williams deftly swirls science fiction and domestic suspense plotlines into this fresh and unpredictable tale. . . Imbued with a sharp feminist consciousness, My Murder cheekily invokes and subverts the conventional serial-killer-stalking-terrified-women plot. . .Bringing together the futuristic visions of speculative fiction with the familiar tropes of domestic suspense and noir, My Murder shakes up the same-old, same-old conventions of every genre it touches and has a ton of fun doing so." —Maureen Corrigan, The Washington Post
"Gleefully overturn(s) the age-old 'woman-in-trouble" plot. . .eerie and inventive."—NPR, Fresh Air
"An immersive literary thrill ride."—Oprah Daily

"You've never read a thriller like My Murder. With this murder mystery in the style of Kazuo Ishiguro…Williams offers deft commentary on the commercialization of true crime, trauma, motherhood, and fame, with the pacing of a breathless thriller. It's a twist on the genre you won't be able to stop reading."—Glamour
"Daring. . . a fantastic thriller."—Town & Country
"Smart, scary and full of twists." —Real Simple
"A singular voice and a winning narrative that will stay with you for days." —BookPage

"A clever speculative story of cloning and crime…Though the tone is darkly comic, Williams poses provocative questions about cloning and resurrection, and she pulls off an intelligent murder mystery to boot. This creep-fest is acerbic and disturbing in equal measure."—Publishers Weekly
"With this suspenseful, smart sophomore effort—a briskly paced story with charming characters at its core—Williams again imagines a near-futuristic, science-altered reality that offers an intriguing perspective on the push-pull of family and freedom…[A]n intelligent, insightful murder mystery that illuminates her imagined world and our own." —Kirkus Reviews, STARRED review
"Startling and original, My Murder is a gripping speculative twist on the crime novel."—Paula Hawkins, #1 New York Times-bestselling author of The Girl on the Train

"Captivating and provocative, My Murder is at once a tense mystery and a bracing take on the realities of early motherhood. As Jessamine Chan does in The School for Good Mothers, Katie Williams looks at where society's fixation on women's bodies and minds might take us in the near future, to chilling effect. It's a sinister, daring thriller, with an absolute corker of an ending that I never saw coming." —Flynn Berry, New York Times bestselling author of Northern Spy
"Katie Williams' My Murder is a sly, captivating twister of a novel. Darkly funny, deeply scary and utterly original, it will keep you guessing until its final, haunting pages."—Megan Abbott, New York Times-bestselling author of The Turnout
 
"I couldn't have inhaled My Murder more ravenously. Beautifully written, eerie, and darkly comic, with an irresistible premise flawlessly executed… My Murder is a revelation." —Katie Gutierrez, author of More Than You'll Ever Know
"Confident, hypnotic and original… Katie Williams brilliantly executes a smart, speculative twist on domestic suspense, and it makes for a completely absorbing ride." —Ashley Audrain, New York Times-bestselling author of The Push
"When did I last read a thriller this cool, this confident? This clever? A novel so hard-charging yet light on its feet? But best and most of all, this book is F-U-N. Once you've turned the final page, after you've read that amazingly poignant final line, you can marvel at the invention and brio of My Murder; in the heady moment, though, you'll be enjoying yourself far too much." —A. J. Finn, author of The Woman in the Window