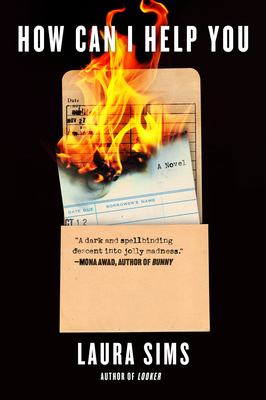 How Can I Help You
Publication Date:
July 18th, 2023
Publisher:
G.P. Putnam's Sons
The Book Tavern
1 on hand, as of Dec 3 6:18pm
(Fiction::Mystery)
On Our Shelves Now
Description
The lives of two librarians become dangerously intertwined in this razor-sharp exploration of human nature and the lure of artistic obsession.
No one knows Margo's real name. Her colleagues and patrons at a small-town public library know only her middle-aged normalcy, congeniality, and charm. They have no reason to suspect that she is, in fact, a former nurse with a trail of premature deaths in her wake. She has turned a new page, so to speak, and the library is her sanctuary, a place to quell old urges.
That is, at least, until Patricia, a recent graduate and failed novelist, joins the library staff. Patricia quickly notices Margo's subtly sinister edge, and watches her carefully. When a tragic incident in the library bathroom gives her a hint of Margo's mysterious past, Patricia can't resist digging deeper—even as her new fixation becomes all-consuming and sends both women hurtling toward disaster.
Chilling, incisive, and darkly humorous, How Can I Help You is a propulsive work of psychological suspense that asks how far we might go to justify our most monstrous desires.
Praise for How Can I Help You
One of Publishers Weekly's Best Books of the Year
A Publishers Weekly Book of the Week
One of BookRiot's Most Anticipated Releases 2023
One of Town and Country's Must-Read Books of Summer
One of The Millions' Most Anticipated Books of 2023
One of CrimeReads' Best New Novels of July
One of CrimeReads' Best Psychological Thrillers of July

"This cat-and-mouse suspense…generates Patricia Highsmith–style psychological fireworks. The narrative's multiple reveals and shattering climax hit with maximum impact, delivering a deliciously dark monument to extremity that's among the year's most exhilarating." —Publishers Weekly

"Intense from page one, you'll root for, abhor, and see yourself in these women as the story makes its way to a disturbing climax. It's gently creepy." —Scary Mommy
"How I Can Help You is a gripping and dark psychological thriller about two librarians that takes place in a library. Delicious, right? What more do we book-lovers need to know? I read it one sitting." —Harlan Coben, The TODAY Show
"Laura Sims's unnerving How Can I Help You . . . reads like an homage to Jackson's work — and, in its portrait of Patricia, to Jackson herself. Sims's great achievement is to present the two main characters almost as sides of the same coin, colluding in a psychological cat-and-mouse game that only one can win." —The New York Times Book Review
"Sims plumbs the depths of obsession and madness as she has each woman tell the story in alternating chapters, deftly building the tension until the explosive ending." —The Washington Post
"I love a good unreliable narrator psychological thriller that explores what it means to be a psychopath/hero/anti-hero. I finished it in a single afternoon because I couldn't put it down." —Jenny Lawson, San Antonio Magazine
"Bringing workplace politics to a fever pitch, How Can I Help You is a delicious mystery begging to be enjoyed beachside. . . . Equal parts cozy mystery and nail-biter, Laura Sims' latest novel is sure to satisfy just about any thriller craving." —Rolling Stone
"A Highsmithian cat-and-mouth thriller featuring two librarians . . . Sims's work harkens back to the complex personality studies of mid-century psychological fiction, and pays homage to middle-aged womanhood—serial killers age too, after all." —CrimeReads
"A fun and entertaining cat-and-mouse novel . . . about women behaving badly . . . You'll fly through the pages as Margo and Patricia play mind games, try to outsmart each other, and ultimately both get what's coming to them." —Glamour
"Intriguing…[and] leaves you sitting at the edge of your seat." —Book Riot's All the Books!
"A book lover's dream . . . A taut, high-stakes thriller set in a library…that culminates in a shocking climax." —Parade
"Sims' audacious story shifts between Margo and Patricia's points of view in a battle of wits that's mesmerizing. This exceptional novel is firmly in Highsmith territory and the ending is everything." —Minneapolis Star Tribune
"A novel about two librarians caught in a deadly web of intrigue....a high-stakes game of cat and mouse." —Bustle

"A great beach read especially for those who love books." —Culturess
"A compelling take on the complicated relationship between author and muse, as well as the ethics of writing fiction…[and] an absorbing, fast read about the dark sides of care work and public service. . . . [A] suspenseful novel with an ending worthy of a horror story." —Criminal Element
"Ingenious . . . Without interrupting her plot's momentum, Sims raises intriguing questions about the wellspring of literary creativity—and even more provocative ones about writerly ethics . . . . [For] fans of Shirley Jackson's eerie fiction . . . How Can I Help You is smartly scary entertainment that will have readers guessing about its outcome until almost the final page . . . . Canny and chilling." —Shelf Awareness

"[A] suspenseful novel about obsession." —Bookish
"A cat-and-mouse between two librarians, told from their alternating perspectives . . . A very fun thriller set at a local library." —Town and Country
"An engrossing mystery…Sims…will keep you guessing in this slow-burn psychological thriller—until the very end." —NJ Monthly
"A deftly scripted suspense thriller . . . [for] fans of psychological suspense stories that will linger in the mind and memory." —Wisconsin Bookwatch
"[A] dark, enthralling thriller . . . The characters' dueling monologues are brilliantly arch and bookish, perfect for the story's claustrophobic setting. . . . A deliciously dark tale with bright prose, smart dialogue, and a barnburner of an ending. . . . The library will never look quite the same after readers turn the final page." —BookBrowse
"Chilling . . . Fans of novels with unreliable narrators will want to pick up this thriller as they'll get two for the price of one. Plus, anyone who has ever worked or spent time in a public library will find much to delight in here." —Book Reporter
"A psychological thriller that stands out in a crowded field…Give this unputdownable title to readers who revel in messy and complicated characters." –Library Journal (starred review)
"[A] brilliant slice of psychological suspense…Sims skillfully alternates between the perspectives of each woman, slowly bringing her simmering plot to a boil, and delivers a stunning climax. Patricia Highsmith fans will savor this unforgettable thriller." –Publishers Weekly (starred review)
"[A] slow-burn game of cat and mouse . . . The characters are well drawn, and Margo is a particularly enjoyable antihero who brings dark humor to the story….Fresh and funny…A quick read that is reminiscent of Laura Lippman's Sunburn and Christine Mangan's Tangerine." —Booklist
"A former nurse with a cruel streak and an aspiring novelist check each other out in this eerie thriller set in a library. . . . Watching these two women peer at each other as they terrorize the bookshelves is great fun." —Kirkus Reviews

"An award-winning poet and novelist, Sims also works as a reference librarian, and she adds vivid color to this thriller by detailing the ins and outs of the profession. . . . Perfectly blends suspense and satire and will inspire any library patron to look over their shoulder the next time they check out." —BookPage
"Laura Sims brings suspense to the stacks." —Publishers Weekly

"A dark and spellbinding descent into jolly madness, How Can I Help You is reminiscent of Shirley Jackson at her eerie best. All of Sims' deliciously wicked powers are on full display in this compulsive and unforgettable novel. A classic." —Mona Awad, author of Bunny and All's Well
 
"With transfixing dual female narrators and an artful, innovative structure, How Can I Help You is both a riveting commentary on false pretenses and an utterly beguiling cat and mouse thriller." —Kimberly McCreight, author of A Good Marriage and Friends Like These
"How Can I Help You is an insidiously readable psychological trap set by and for its two unforgettable and unforgiving protagonists. Skillfully constructed and observed, Laura Sims's novel is a sly meditation on art and identity and the depths we'll go to protect our constructs. I couldn't have loved this book more." —Paul Tremblay, author of A Head Full of Ghosts and The Cabin at the End of the World
"No one writes about obsession like Laura Sims. I may never look at libraries the same again." —Samantha Downing, author of A Twisted Love Story
"Laura Sims's How Can I Help You takes you inside the seedy underworld of – brace yourself – the small town public library. Turns out, it's kind of shocking. Turns out, the kindly, cardigan-wearing librarians on the other side of the circulation desk have strong feelings about the bad behavior of library patrons – and, even more shocking -- are not so well-behaved themselves. Sims's sharp, incisive second novel is an out-and-out page turner." —Marcy Dermansky, author of Very Nice

"How Can I Help You is a roller-coaster ride of psychological suspense. The tautly constructed story had me hooked. Margo and Patricia are both hilarious and terrifying. As entertaining as it is, this novel is also a sensitive story about artistic ambition, the need to be seen and heard, and the fragility of relationships formed both inside and outside the workplace. You'll never look at your colleagues, or your local community librarian, in the same way again." —Helen Wan, author of The Partner Track