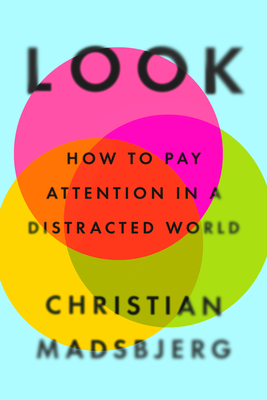 Look: How to Pay Attention in a Distracted World
Publication Date:
July 18th, 2023
Publisher:
Riverhead Books
The Book Tavern
1 on hand, as of Dec 9 11:18pm
(Psychology and Self-Help)
On Our Shelves Now
Description
A powerful exploration of how we pay attention that will transform the ways we connect with one another – at home, at work, and beyond.
 
Paying attention is a crucial human skill, yet many of us have forgotten how to listen carefully and observe intentionally. Deluged by social media and hobbled by the increasing social isolation it fosters, we need to rediscover the deeply human ways we connect with others. 
Christian Madsbjerg, a philosopher and entrepreneur, understands this dilemma. To counteract it, he began a course at The New School in New York City called Human Observation, which lays out the ways that we can learn to pay attention more effectively. The course has been hugely popular since its inception, with hundreds of students filling waiting lists.
In Look, Madsbjerg sets out the key observational skills needed to show how we can recapture our ability to pay attention. Drawing from philosophy, science, the visual arts, and his own life, he offers both practical insights and a range of tools for experiencing the world with greater richness and texture. The result is a dynamic approach to rethinking observation that helps all of us to see with more empathy, accuracy, and connection to others.
Praise for Look: How to Pay Attention in a Distracted World
Praise for Look:
"This is a truly eye-opening and original book. I've never read anything like it. Christian Madsbjerg sees the world in a completely fresh way—and so can you." —Tim Harford, author of The Undercover Economist and The Data Detective
"In a world poisoned by distraction, Christian Madsbjerg has provided the antidote. Look will help you revitalize your powers of observation, cultivate an independent mind, and generate insights you never knew you had. Prepare to have your thinking sharpened and your perspective widened with every turn of the page." —Daniel H. Pink, author of The Power of Regret and Drive

"Not only is Christian Madsbjerg's Look an excellent read, it is also the most original manifesto for the power of human intelligence to come across my desk in many years. If you have any curiosity about what makes humans unique and necessary in the coming era of artificial intelligence, you must read this book." —Mark Hyman, M.D., author of the New York Times bestseller Young Forever

"If you have any hope of creating something, changing something, or understanding anything about how humans behave in the world, you must read this book. You will never think about observing the world in the same way again." —Tony Fadell, New York Times-bestselling author of Build, iPod inventor, and Nest founder

"A fascinating book about the importance of paying attention to our human world . . . [this] is a compelling account showing that when we pay attention, 'new understanding will almost always emerge.'" —Financial Times
"Provocative . . . full of intriguing goodies: anecdotes and precepts originating in a wide array of sources. . . . There is unmistakably truth in what he's getting at." —The Wall Street Journal