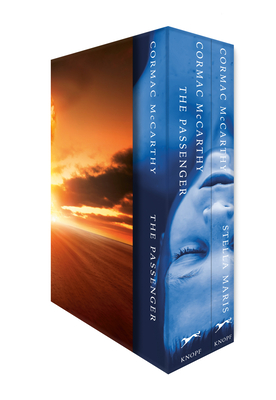 The Passenger Box Set: The Passenger, Stella Maris
Publication Date:
December 6th, 2022
The Book Tavern
5 on hand, as of Dec 9 11:18pm
(Fiction)
On Our Shelves Now
Description
The best-selling, Pulitzer Prize–winning author of The Road returns with a two-volume masterpiece in an artfully designed box set. The Passenger is a fast-paced and sprawling novel while Stella Maris is a tightly controlled coda, told entirely in dialogue. Together they relate the thrilling story of a brother and sister, haunted by loss, pursued by conspiracy, and longing for a death they cannot reconcile with God.
The Passenger
1980, PASS CHRISTIAN, MISSISSIPPI: It is three in the morning when Bobby Western, a salvage diver, zips the jacket of his wet suit and plunges from the boat deck into darkness. His dive light illuminates the sunken jet, nine bodies still buckled in their seats, hair floating, eyes devoid of speculation. Missing from the crash site are the pilot's flight bag, the plane's black box, and the tenth passenger. But how? A collateral witness to machinations that can only bring him harm, Western is shadowed in body and spirit—by men with badges; by the ghost of his father, inventor of the bomb that melted glass and flesh in Hiroshima; and by his sister, the love and ruin of his soul.
 
Stella Maris
1972, BLACK RIVER FALLS, WISCONSIN: Alicia Western is twenty years old when she arrives at a psychiatric facility with forty thousand dollars in a plastic bag. A doctoral candidate in mathematics at the University of Chicago, Alicia has been diagnosed with paranoid schizophrenia, and she does not want to talk about her brother, Bobby. Instead, she contemplates the nature of madness, the human insistence on one common experience of the world; she surveys the intersection of physics and philosophy; and she introduces her cohorts, her chimeras, the hallucinations that only she can see. All the while, she grieves for Bobby, not quite dead, not quite hers.
Praise for The Passenger Box Set: The Passenger, Stella Maris
"A beguiling, surpassingly strange novel by the renowned—and decidedly idiosyncratic—author of Blood Meridian (1982) and The Road (2006)… It's all vintage McCarthy, if less bloody than much of his work: Having logged time among scientists as a trustee at the Santa Fe Institute, he's now more interested in darting quarks than exploding heads…Plenty of his trademark themes and techniques are in evidence, from conspiracy theories…and shocking behavior…to flights of beautiful language…Enigmatic, elegant, extraordinary: a welcome return after a too-long absence."
 —Kirkus Reviews, Starred Review
"[Stella Maris is] a companion to McCarthy's The Passenger that both supplements and subverts it…Enigmatic…A grand puzzle, and grandly written at that, about shattered psyches and illicit dreams."
—Kirkus Reviews, Starred Review
"A rich story of an underachieving salvage diver in 1980 New Orleans... This thriller narrative is intertwined with the story of Western's sister, Alicia… He dazzles with his descriptions of a beautifully broken New Orleans… The book's many pleasures will leave readers aching for the final installment."
 —Publishers Weekly