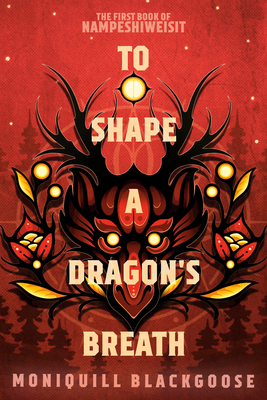 To Shape a Dragon's Breath: The First Book of Nampeshiweisit
Publication Date:
May 9th, 2023
The Book Tavern
2 on hand, as of Dec 10 11:18pm
(SciFi/Fantasy)
On Our Shelves Now
To Shape a Dragon's Breathis all the things a good fantasy series opener should be — immersive, thoughtful, and captivating. This alternate history of New England and its colonization will be a hit for fans ofBabelandHouse of the Dragon!
May 2023 Indie Next List
Description
"My favorite book of the year . . . a coming-of-age story that is cozy and hair-raising in equal measure."—Charlie Jane Anders, The Washington Post
"I tore through it, caught up in an enthusiasm for dragons that I hadn't experienced since I was a teenager obsessed with Ursula Le Guin's Earthsea and Anne McCaffrey's Pern."—NPR
A BEST BOOK OF THE YEAR: The Washington Post, NPR, PopSugar, Chicago Public Library, She Reads
The remote island of Masquapaug has not seen a dragon in many generations—until fifteen-year-old Anequs finds a dragon's egg and bonds with its hatchling. Her people are delighted, for all remember the tales of the days when dragons lived among them and danced away the storms of autumn, enabling the people to thrive. To them, Anequs is revered as Nampeshiweisit—a person in a unique relationship with a dragon.
Unfortunately for Anequs, the Anglish conquerors of her land have different opinions. They have a very specific idea of how a dragon should be raised, and who should be doing the raising—and Anequs does not meet any of their requirements. Only with great reluctance do they allow Anequs to enroll in a proper Anglish dragon school on the mainland. If she cannot succeed there, her dragon will be killed.
For a girl with no formal schooling, a non-Anglish upbringing, and a very different understanding of the history of her land, challenges abound—both socially and academically. But Anequs is smart, determined, and resolved to learn what she needs to help her dragon, even if it means teaching herself. The one thing she refuses to do, however, is become the meek Anglish miss that everyone expects.
Anequs and her dragon may be coming of age, but they're also coming to power, and that brings an important realization: the world needs changing—and they might just be the ones to do it.
Praise for To Shape a Dragon's Breath: The First Book of Nampeshiweisit
"Imagine a world full of dragons where a newborn chooses you to be its caregiver. Imagine you have to go to a special school to learn how to train it. Imagine that almost no one at the school wants you there. This is how the well-written, compelling tale of To Shape a Dragon's Breath begins, and once underway it doesn't let you go."—New York Times bestselling author Terry Brooks
"My favorite book of the year . . . a coming-of-age story that is cozy and hair-raising in equal measure."—Charlie Jane Anders, The Washington Post
"I tore through it, caught up in an enthusiasm for dragons that I hadn't experienced since I was a teenager obsessed with Ursula Le Guin's Earthsea and Anne McCaffrey's Pern."—NPR
  
"Blackgoose uses the social microcosm of the school world to focus on the issue of assimilation and resistance, and the relations of power—cultural, social, and economic— between coloniser and those that they have colonised. . . . Blackgoose is deft with her characters, good at showing the interiority of individuals other than her viewpoint protagonist. . . . It's tensely explosive and deftly done. To Shape a Dragon's Breath is an entertaining story and a striking debut."—Locus
"A thorough delight . . . To Shape a Dragon's Breath reveals a world that is complex and political through deft, thoughtfully drawn characters who, like their world, are complicated and believable. I love Anequs!"—K. Eason, author of How Rory Thorne Destroyed the Multiverse
"This is a classic fantasy at its finest . . . The indigenous quest to maintain culture and identity within a paralyzingly restrictive imperialism determined to stamp out natives and their beliefs, and Anequs' stubborn will to remain herself, create a fresh take on this setup and make this a must-read high-fantasy series."—Booklist (starred review)