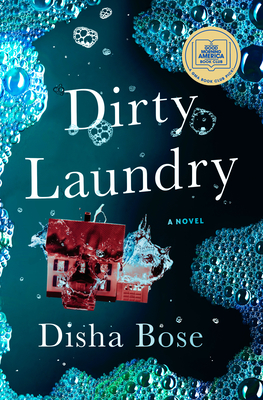 Dirty Laundry: A Novel
Publication Date:
April 4th, 2023
Publisher:
Ballantine Books
The Book Tavern
1 on hand, as of Dec 11 11:18am
(Fiction)
On Our Shelves Now
Description
GOOD MORNING AMERICA BOOK CLUB PICK • "A twisty tale of murder and love gone wrong, rife with bone-chilling revelations . . . This is a riveting debut, and Disha Bose is a writer to watch."—Joshilyn Jackson, New York Times bestselling author of Mother May I
AN ELLE AND HARPER'S BAZAAR BEST BOOK OF THE YEAR
She was the perfect wife, with the perfect life. You would kill to have it.
Ciara Dunphy has it all—a loving husband, well-behaved children, and a beautiful home. Her circle of friends in their small Irish village go to her for tips about mothering, style, and influencer success—a picture-perfect life is easy money on Instagram. But behind the filters, reality is less polished.
Enter Mishti Guha: Ciara's best friend. Ciara welcomed Mishti into her inner circle for being . . . unlike the other mothers in the group. Discontent in a marriage arranged for her by her parents back in Calcutta, Mishti now raises her young daughter in a country that is too cold, among children who look nothing like her. She wants what Ciara has—the ease with which she moves through the world—and, in that sense, Mishti might be exactly like the other mothers.
And there's earth mother Lauren Doyle: born, bred, and the butt of jokes in their village. With her disheveled partner and children who run naked in the yard, they're mostly a happy lot, though ostracized for being the singular dysfunction in Ciara's immaculate world. When Lauren finds an unlikely ally in Mishti, she decides that her days of ridicule are over.
Then Ciara is found murdered in her own pristine home, and the house of cards she'd worked so hard to build comes crumbling down. Everyone seems to have something to gain from Ciara's death, so if they don't want the blame, it may be the perfect time to air their enemies' dirty laundry.
In this dazzling debut novel, Disha Bose revolutionizes age-old ideas of love and deceit. What ensues is the delicious unspooling of a group of women desperate to preserve themselves.
Praise for Dirty Laundry: A Novel
"A wonderfully dark and entertaining novel about neighboring friends and enemies. Disha Bose weaves a clever web between three completely original characters, and gives us intimate details of marriage and motherhood that make this read as juicy as it is riveting."—Ashley Audrain, New York Times bestselling author of The Push
"Disha Bose's Dirty Laundry is not only a propulsive page-turner but also an intimate exploration of love, race, immigration, and class. . . . Twisty, smart, and moving: a wonderful read."—Jean Kwok, New York Times bestselling author of Searching for Sylvie Lee
"Bose masterfully creates deeply drawn and utterly human characters in this powerful suspense debut."—Liv Constantine, author of The Last Mrs. Parrish
"Dirty Laundry is a spider's web of secrets and betrayals, each one more shocking than the last. The characters are fascinating, sometimes horrible, and always irresistible. Disha Bose has written a tremendous debut novel."—Samantha Downing, author of My Lovely Wife
"Dirty Laundry is a delicious take on people behaving badly. . . . Lethal, entertaining, and filled with characters you'll love to hate and won't soon forget."—Darby Kane, author of Pretty Little Wife
"Rendered in skillful prose and animated by the author's keen eye for psychological detail, Disha Bose charts a bracing, unconventional path through the familiar landscape of domestic suspense. . . . A captivating debut by an enormously talented author."—Elizabeth Little, author of Dear Daughter
"An extraordinary book! . . . Dirty Laundry is an absolutely compelling, original, and intriguing example of domestic suspense at its very finest."—Liz Nugent, author of Unraveling Oliver
"Everything I want in a book—Desperate Housewives in a small-town setting, each one up to no good and each turn in the story even better than the last."—Andrea Mara, author of All Her Fault
"Disha writes stunning prose and her characters jump off the page. Dirty Laundry is a devastating examination of what lies beneath the surface of three suburban marriages, and how we can never truly leave our past behind."—Nikki Smith, author of Look What You Made Me Do