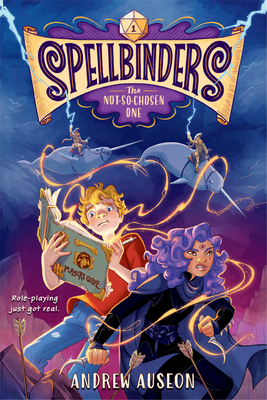 Spellbinders: The Not-So-Chosen One
Publication Date:
June 6th, 2023
Publisher:
Labyrinth Road
The Book Tavern
1 on hand, as of Sep 27 9:18pm
(Children's)
On Our Shelves Now
Description
"Ben may only be pretending to be the 'Chosen One'—but I've definitely chosen this one as my favorite new fantasy series."
—Max Brallier, #1 New York Times bestselling author of the Last Kids on Earth series
How far would you go to play the hero? One lonely seventh grader gets way more than he bargained for when he is swept into the fantasy quest of his gaming dreams in this magical illustrated series full of laughs, adventure, and twists.
Ben doesn't feel chosen by anybody—not by his friends, who haven't kept in touch since he moved after his parents' divorce, or by his mom, who's so busy he barely sees her. He spends all his time living in fantasy worlds and writing extensively planned adventure campaigns in his role-playing-game notebook. So when Niara, a character who could be right out of one of his favorite games, shows up and tells him he's destined to save her realm (like, foretold-by-a-prophecy destined), Ben has two possible moves: tell her the truth or play along. He's tired of feeling left behind, so his choice is clear—game on. 
One interdimensional portal later, Ben is in full hero mode. At first, adventuring in Lux seems like a dream come true, but pretending to be the Chosen One—and lying to his new friends—isn't quite what he imagined it to be. And the more he learns about Lux and his quest, the more he realizes this is way beyond a game—and the rules seem to be changing as he goes. In fact, it might be time for him to write some new ones.
Praise for Spellbinders: The Not-So-Chosen One
"Spellbinders hooked me from the beginning, but it became one of my favorites around the first flying narwhals.'"
—James Riley, New York Times bestselling author of the Story Thieves series
"Here comes a new series that brilliantly embodies the power of creativity....The book's immersive fantasy world of Lux is one I did not want to leave."
—George Jreije, author of the Shad Hadid series
"To use the local parlance, a "ridonkulously" entertaining kickoff." —Booklist
"The themes of interpersonal relationships and change give the work emotional heft...A love letter to escapism and writing one's own destiny." —Kirkus Reviews
"Through subversions of familiar fantasy tropes and a thoroughly engaging plot, Auseon conjures an idiosyncratic realm replete with endearing characters, madcap humor, and hijinks-filled adventure"
— Publisher's Weekly