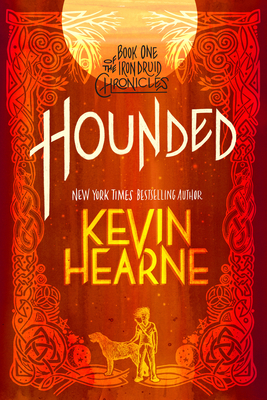 Hounded: Book One of The Iron Druid Chronicles
Publication Date:
March 15th, 2022
The Book Tavern
1 on hand, as of Dec 7 11:18pm
(SciFi/Fantasy)
On Our Shelves Now
Description
The first novel in the New York Times bestselling Iron Druid Chronicles—the hilarious, action-packed tales of a two-thousand-year-old Druid pursued by ancient gods in the modern world
"A page-turning and often laugh-out-loud-funny caper through a mix of the modern and the mythic."—Ari Marmell, author of The Warlord's Legacy
Atticus O'Sullivan is the last of the ancient druids. He has been on the run for more than two thousand years and he's tired of it. The Irish gods who want to kill him are after an enchanted sword he stole in a first-century battle, and when they find him managing an occult bookshop in Tempe, Arizona, Atticus doesn't want to uproot his life again. He just wants everything to end one way or another, but preferably the way in which he can continue to enjoy fish and chips.
He does have some small hope of survival: The Morrigan, the Irish Chooser of the Slain, is on his side, and so is Brighid, First Among the Fae. His lawyer is literally a bloodsucking vampire, and he has a loyal Irish wolfhound with opinions about poodles.
But he's facing down some mighty enemies: Aenghus Óg, a vengeful Irish god, plus a coven of witches and even the local police. On top of all that, Aenghus has a direct line to the firepower of hell. Atticus will need all the luck of the Irish and more if he's going to stay alive.
Don't miss any of The Iron Druid Chronicles:
HOUNDED | HEXED | HAMMERED | TRICKED | TRAPPED | HUNTED | SHATTERED | STAKED | SCOURGED | BESIEGED
Praise for Hounded: Book One of The Iron Druid Chronicles
Praise for The Iron Druid Chronicles
"[Kevin] Hearne is a terrific storyteller with a great snarky wit. . . . Neil Gaiman's American Gods meets Jim Butcher's Harry Dresden."—SFFWorld
"[The Iron Druid books] are clever, fast-paced and a good escape."—Boing Boing

"Hearne understands the two main necessities of good fantasy stories: for all the wisecracks and action, he never loses sight of delivering a sense of wonder to his readers, and he understands that magic use always comes with a price. Highly recommended."—The Magazine of Fantasy & Science Fiction
"Superb . . . plenty of quips and zap-pow-bang fighting."—Publishers Weekly (starred review)
"Celtic mythology and an ancient Druid with modern attitude mix it up in the Arizona desert in this witty new fantasy series."—Kelly Meding, author of Chimera
"[Atticus is] a strong modern hero with a long history and the wit to survive in the twenty-first century. . . . A snappy narrative voice . . . a savvy urban fantasy adventure."—Library Journal
"A page-turning and often laugh-out-loud funny caper through a mix of the modern and the mythic."—Ari Marmell, author of The Warlord's Legacy
"Outrageously fun."—The Plain Dealer
"Kevin Hearne breathes new life into old myths, creating a world both eerily familiar and startlingly original."—Nicole Peeler, author of Tempest Rising