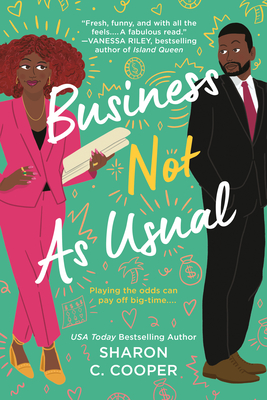 Business Not As Usual
Publication Date:
April 5th, 2022
The Book Tavern
1 on hand, as of Dec 9 11:18pm
(Fiction::African-American )
On Our Shelves Now
Description
A woman learns the hard way about mixing business with pleasure in this hilarious new romantic comedy by USA Today bestselling author Sharon C. Cooper.
I am beautiful. I am confident. I am lovable. I am a lottery winner.

This is the mantra that will get Dreamy Daniels through each day until she makes it big. So what if she lives in a seedy part of Los Angeles in a house that's one earthquake away from crumbling, or works an unfulfilling secretarial job while struggling to finish her bachelor's degree? All Dreamy needs to do is win the lottery, which she's been entering in as a weekly tradition with her grandfather. When she catches the attention of her boss's potential investor, Dreamy has to remind herself to focus on her career goals so she can be her own boss. Who cares if he has the social grace of the Duke of Sussex and the suaveness of Idris Elba? No distractions allowed.

Growing up with a father who is an A-list actor and a socialite mother, venture capitalist Karter Redford lives in the world of the rich and famous. Instead of attending movie premieres, however, he prefers spending his time helping the less fortunate, backing start-up companies and investing in cutting edge ideas. Karter is used to his life revolving around work, but when he decides he wants someone to share it with, he falls for someone his mother would never approve of: hilarious, quirky Dreamy, who has goals of her own…but also isn't a wealthy, upper-crust socialite. Though it's clear they're from different worlds, their relationship might just be his greatest investment yet.
Praise for Business Not As Usual
"In her first romantic comedy, Cooper strikes the perfect balance of romance and comedic moments. Dreamy's shoes, the wig incident, and the couple's first date all had me laughing to myself. But their chemistry, compatibility, and obvious love for one another made my inner romantic sigh. Well done!"—Delaney Diamond, USA Today bestselling author
"Sharon Cooper's Business Not as Usual is fresh, funny, and with all the feels I expect in a RomCom. Fabulous read for when you're ready to lose yourself in trope-tastic fun."—Vanessa Riley, Bestselling Author of Island Queen
"Reading a book by Sharon C. Cooper is like sitting under a warm blanket with your favorite beverage as your wildest imagination plays out on the big screen! Business Not As Usual is a testament to Cooper's story-telling talents. She breathes life into her characters, gives you side-splitting, laugh-out-loud moments, handles tough topics with clever precision, and tells a story beautifully. You can't help but fall in love as her characters fall head over heels for each other. This is a book you do not want to miss! Karter Redford and Dreamy Daniels (what a luscious name) are a couple you root for, are inspired by, laugh with and enjoy from the first page to the last."—Deborah Fletcher Mello, author of Tempted by the Badge
"Cooper (the Reunited series) effortlessly blends the worlds of two characters from wildly different socioeconomic backgrounds in this hilarious, bighearted rom-com...The supporting cast is a hoot—especially Dreamy's grandfather—and every obstacle Cooper throws at the central couple only serves to showcase their compatibility and strength. This sexy, feel-good love story will leave readers breathless."—Publishers Weekly, starred review
"This sexy rom-com is exactly what you need as the seasons change."—Book Riot
"Dreamy continually blossoms throughout the novel, and her unshakeable drive makes each success even more gratifying for the reader cheering her along. A sweet and sincere love story that hits the jackpot of rom-coms."—Kirkus Reviews
"I can't wait for readers to fall for Dreamy, and Karter was the perfect match for her...The book was packed with many amusing moments, but also, extremely tender moments. Needless to say, I was smiling a lot as I read this book. Overall: A fun grumpy-sunshine romance that had a lot of heart."—We Live and Breathe Books

"If you're a fan of rom-coms you can't do much better than this one. It's a well-written story, with characters you root for to be together."—Red Carpet Crash
"Business Not As Usual is easy to slide into, like a hot toddy, a box of good chocolate, or a fuzzy sweater.  It's warm, friendly and tender—a fantastic romance novel, and a totally satisfying one."—All About Romance
"Karter had no plans to fall for Dreamy, either — after all, he comes from a family of rich socialites, which means he has certain expectations to live up to. Still, chemistry like theirs is too rare to simply be ignored."—PopSugar
"Dreamy Daniels, the heroine of Sharon C. Cooper's latest contemporary romance, Business Not As Usual, truly lives up to her name and will charm the pants off readers (and off her love interest, too)."—BookPage
"Business Not As Usual is easy to slide into, like a hot toddy, a box of good chocolate, or a fuzzy sweater.  It's warm, friendly and tender—a fantastic romance novel, and a totally satisfying one."—All About Romance
"Sharon Cooper's latest novel Business Not As Usual is hilarious and heartwarming, it's what I would call a literary Rom-Com. I was laughing throughout the story and at the same time rooting for the main characters to succeed in their personal endeavors and find a way to make their relationship work."—Brown Book Series
"If you are looking for an uplifting story with plenty of steam, give this one a go."—Romance by the Book