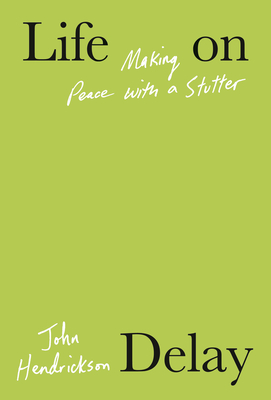 Life on Delay: Making Peace with a Stutter
Publication Date:
January 17th, 2023
Usually Ships in 2 to 14 Days
Description
A NEW YORKER BEST BOOK OF THE YEAR • USA TODAY BOOK CLUB PICK • ONE OF AUDIBLE'S BEST BIOS AND MEMOIRS OF 2023 • "A raw, intimate look at [Hendrickson's] life with a stutter. It's a profoundly moving book that will reshape the way you think about people living with this condition."—Esquire • A candid memoir about a lifelong struggle to speak.
"Life On Delay brims with empathy and honesty . . . It moved me in ways that I haven't experienced before. It's fantastic."—Clint Smith, author of the #1 New York Times bestseller How the Word Is Passed
"I can't remember the last time I read a book that made me want to both cry and cheer so much, often at the same time."—Robert Kolker, best-selling author of Hidden Valley Road
In the fall of 2019, John Hendrickson wrote a groundbreaking story for The Atlantic about Joe Biden's decades-long journey with stuttering, as well as his own. The article went viral, reaching readers around the world and altering the course of Hendrickson's life. Overnight, he was forced to publicly confront an element of himself that still caused him great pain.
He soon learned he wasn't alone with his feelings: strangers who stutter began sending him their own personal stories, something that continues to this day. Now, in this reported memoir, Hendrickson takes us deep inside the mind and heart of a stutterer as he sets out to answer lingering questions about himself and his condition that he was often too afraid to ask.
In Life on Delay, Hendrickson writes candidly about bullying, substance abuse, depression, isolation, and other issues stutterers like him face daily. He explores the intricate family dynamics surrounding his own stutter and revisits key people from his past in unguarded interviews. Readers get an over-the-shoulder view of his childhood; his career as a journalist, which once seemed impossible; and his search for a romantic partner. Along the way, Hendrickson guides us through the evolution of speech therapy, the controversial quest for a "magic pill" to end stuttering, and the burgeoning self-help movement within the stuttering community. Beyond his own experiences, he shares portraits of fellow stutterers who have changed his life, and he writes about a pioneering doctor who is upending the field of speech therapy.
Life on Delay is an indelible account of perseverance, a soulful narrative about not giving up, and a glimpse into the process of making peace with our past and present selves.
Praise for Life on Delay: Making Peace with a Stutter
USA TODAY BOOK CLUB PICK
"Hendrickson has cultivated an undeniable gift for concise metaphors, distilling potentially long-winded explanations into memorable images, briskly delivered. . . . He movingly describes not only his own experience of trying to speak to others but also his constant awareness of their experience of him. . . . All of this is seamlessly recounted, threading together science and emotion, ideas and experience."—Jennifer Szalai, The New York Times

"Mold-breaking . . . Astutely illuminates the complexity of disfluency . . . Life on Delay recasts stuttering and, in doing so, challenges long-standing attitudes toward disability. By drawing deftly from personal experience, research, others' stories and his wellspring of empathy, Hendrickson transforms the disorder he avoided claiming for decades into an invitation to all of us to demonstrate genuine humanity. . . . This full-hearted memoir grapples with shame, resentment and fear as Hendrickson answers with courage and compassion one of the most meaningful questions in life: 'How do you accept an aspect of yourself that you're taught at such an early age to hate?'"—Anna Leahy, The Washington Post

"[A] moving exploration . . . A wealth of fascinating detail . . . But the real draw lies in [Hendrickson's] account of his personal experiences, which convey something essential about the challenge of being human."—The New Yorker
"A tremendous, and gorgeously written, memoir that will have you rooting for John — as well as catching glimpses of your own life's journey in his. . . . [Hendrickson] is an incredible storyteller."—Isaac Fitzgerald, The Today Show

"Deeply inspiring . . . A congenial guide through the experiences of stutterers, Hendrickson enriches his personal chronicle by extending his investigation into his own family dynamic and yearning to be understood as well as the research into the world of speech pathology."—The National Book Review
"Hendrickson's writing style has a vibrant immediacy to it that keeps you glued to the page. . . . We leave Hendrickson feeling he has shared with us some of his deepest intimacies. His life journey is a stellar example of what one can do if they refuse to give up."—Elaine Margolin, Book and Film Globe
"Poignant . . . Whether it's struggling to communicate in a new language or suffering from a disease that impedes speech, readers of many communities can relate to Hendrickson's experiences. And at the end of the day, Hendrickson can find peace with his past and his stutter, providing inspiration for readers to find peace with their own challenges, too."—Sophia N. Downs, The Harvard Crimson
"Captivating . . . Every once in a while a book comes along that contains so much essential information and knowledge that I wish everybody could read it. Life on Delay . . . is that kind of book. . . . Read this book, you won't soon forget it."—Dayton Daily News
"I can't remember the last time I read a book so human. Life On Delay brims with empathy and honesty. It is a book about family, relationships, and how we come to understand who we are in the world. It moved me in ways that I haven't experienced before. It's fantastic."—Clint Smith, best-selling author of How the Word Is Passed 
"John Hendrickson's overwhelmingly honest, clear-eyed memoir of his struggle with speaking is by turns outrage-inducing, heartbreaking, and inspiring. And when the reporter in him seeks out others with similar struggles, an entire world emerges: millions of people, all sharing a need to be understood and accepted, not just by the world but often by those they love the most. The result is revelatory — and extremely moving. I can't remember the last time I read a book that made me want to both cry and cheer so much, often at the same time."—Robert Kolker, best-selling author of Hidden Valley Road
"Soulful . . . Hendrickson provides a raw, intimate look at his life with a stutter. It's a profoundly moving book that will reshape the way you think about people living with this condition."—Esquire
"John Hendrickson may have struggled to speak, but he shows himself a gifted storyteller. In this moving memoir, he beautifully recounts how a boy mocked for his stutter ended up as a professional communicator, illuminating along the way a world few of us understand. This is a powerful memoir, but more than that, it's a beautiful one."—Nicholas Kristof, coauthor of Half the Sky
"I could not put down this brave, eye-opening, and exquisitely moving memoir. I cried, laughed, and entered a whole new world that felt both specific and universal in the complexities of navigating a path to self-acceptance. It has made me view myself and others in entirely new ways, and I will be thinking about John's journey for years to come. A must-read for every human."—Lori Gottlieb, author of Maybe You Should Talk to Someone
"Armed with new thinking and attitudes toward his disability, John Hendrickson revisits his past—including both therapists and allies, and others who mocked and judged. It's a brave, productive confrontation with years of shame, a resetting of old assumptions. From it, Hendrickson has fashioned this empowering and liberating memoir."—Ted Conover, author of Cheap Land Colorado
"John Hendrickson's Life on Delay: Making Peace with a Stutter is an elegant, heart-rendering, emotional account of how to grapple with personal obstacles but persevere with a combination of tenacity and self-awareness. Hendrickson has a magical way with words and pulls the reader into his world with the ease of Joan Didion and Susan Sontag. This shooting star glows brilliantly in this powerful memoir. Highly recommend!"—Douglas Brinkley, author of Silent Spring Revolution
"Brave, compassionate, and brilliantly observed, Life on Delay is not only one of the most engaging books I've ever read on disability, it's one of the best books I've read on becoming a mature, authentic human being in a society that stigmatizes difference."—Steve Silberman, author of NeuroTribes: The Legacy of Autism and the Future of Neurodiversity
"Life on Delay is both a revelation and an affirmation. The reader gets a vicarious, almost physical sense of what it means to stutter as well as a universal story of family and forgiveness, told with uncommon grace and wit. John Hendrickson is a beautiful writer, a warm companion, and a compassionate observer of what makes us human."—Jennifer Senior, winner of the 2022 Pulitzer Prize in Feature writing and author of All Joy and No Fun
"The kind of memoir that educates, endears, impacts and devastates, often simultaneously . . . Personal yet informative, Life on Delay delves into the internal poeticism of someone who feels perpetually on the fringe while offering tangible advice regarding what to say or not say to someone with a stutter. . . . Life on Delay is not a disability memoir that focuses on trying to find a cure for stuttering, nor does it fall into the category of sentimental, inspirational stories of overcoming impossible odds. Instead, the book promotes a simple message: Obtaining true peace comes from accepting every part of yourself, including the things that bring you shame."—BookPage (starred review)
"Powerful . . . [Hendrickson's] interviews with researchers, therapists, fellow stutterers, and parents of children who stutter widen the narrative scope and compassionately uplift a stigmatized community. The author is a thoughtful reporter, and he delivers a visceral understanding of how he compartmentalized his shame. This memoir casts a necessary light on a disability that too often goes unseen."—Publishers Weekly
"Inspiring and empowering . . . [A] thoughtful, well-reported memoir . . . This is a potentially life-changing read for everyone, not only for people who are struggling with feeling different."—Karen Springen, Booklist