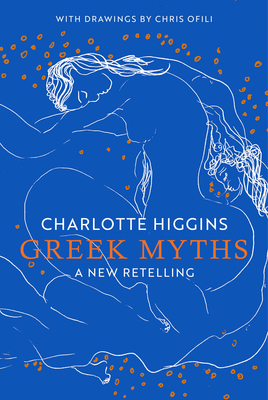 Greek Myths: A New Retelling
Publication Date:
January 11th, 2022
The Book Tavern
1 on hand, as of Dec 9 11:18pm
(Mythology & Folklore)
On Our Shelves Now
Description
A brilliantly original, landmark retelling of Greek myths, recounted as if they were actual scenes being woven into textiles by the women who feature prominently in them—including Athena, Helen, Circe and Penelope
"Greek myths were full of powerful witches, unpredictable gods and sword-wielding slayers. They were also extreme: about families who turn murderously on each other; impossible tasks set by cruel kings; love that goes wrong; wars and journeys and terrible loss. There was magic, there was shape-shifting, there were monsters, there were descents to the land of the dead. Humans and immortals inhabited the same world, which was sometimes perilous, sometimes exciting.
 
"The stories were obviously fantastical. All the same, brothers really do war with each other. People tell the truth but aren't believed. Wars destroy the innocent. Lovers are parted. Parents endure the grief of losing children. Women suffer violence at the hands of men. The cleverest of people can be blind to what is really going on. The law of the land can contradict what you know to be just. Mysterious diseases devastate cities. Floods and fire tear lives apart.
 
"For the Greeks, the word muthos simply meant a traditional tale. In the twenty-first century, we have long left behind the political and religious framework in which these stories first circulated—but their power endures. Greek myths remain true for us because they excavate the very extremes of human experience: sudden, inexplicable catastrophe; radical reversals of fortune; and seemingly arbitrary events that transform lives. They deal, in short, in the hard, basic facts of the human condition." 
 
—from the Introduction
 
Praise for Greek Myths: A New Retelling
"Higgins (Red Thread: On Mazes and Labyrinths) delivers a luminous collection of Greek myths relayed by women and goddesses through the weaving of tapestries. Many of the fantastical stories of witches, slayers, and monsters feature violence against women and familial murder . . . Higgins's versions are consistently smart and imaginative. This makes for a provocative and alluring reanimation of the classics."
—Publishers Weekly
"Charlotte Higgins, chief cultural critic for The Guardian, [grew up reading] the standard issue classics of the past however many centuries, which leaned heavily not on the role of women in the telling of those tales. Greek Myths: A New Retelling is Higgins's splendid re-balancing act. Reimagining antiquity's legends by centering them on women as both chroniclers and chronicled, she places her distaff halves where they literally had the most to say: at their looms. The weaving of textiles not only depicted the stories but furnished the text-textiles metaphor for storytelling itself, handing her a compelling case.
"Higgins writes with verve and pop, pulling no punches when it comes to gore and violence, incest and intrigue, rapaciousness and rape. Passions are peculiar in the extreme. The material, deeply rich, doesn't start with Penelope, it saves her for a last sensational wallop that shows how skillfully Higgins has populated her pages with villainesses, heroines and the women in between.
"Once upon a time in the school systems of Manchester and Lagos, the boy who would grow up to become the artist Chris Ofili also came in contact with the Greek myths. The drawings he has made for Higgins's book—emphatically not illustrations—are delicate yet powerful. Inside the book, they look diaphanous enough to have been traced in stardust or the gossamer of Arachne's future kin. On the cover, lines as white as Iphigeneia's sacrificial clothing dance against a cerulean blue background. It's a worthwhile partnership of author and artist."
—National Book Review