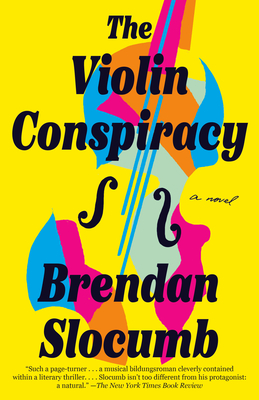 The Violin Conspiracy: A Novel (Good Morning America Book Club)
Publication Date:
December 6th, 2022
The Book Tavern
1 on hand, as of Dec 9 11:18pm
(Fiction::African-American )
On Our Shelves Now
One of my new favorite novels. The book tells Ray's story, a young Black man who just wants to play his violin in a world set to see him fail. You'll root for Ray, get angry on his behalf, cry with him, and triumph with him.
February 2022 Indie Next List
Totally gripping. A heroic lead who rises above countless obstacles, a stolen family heirloom, racial reckoning and historical truths, and an elite international music competition – this is a debut novel you'll want to recommend!
Winter 2023 Reading Group Indie Next List
Description
GOOD MORNING AMERICA BOOK CLUB PICK! • Ray McMillian is a Black classical musician on the rise—undeterred by the pressure and prejudice of the classical music world—when a shocking theft sends him on a desperate quest to recover his great-great-grandfather's heirloom violin on the eve of the most prestigious musical competition in the world.
"I loved The Violin Conspiracy for exactly the same reasons I loved The Queen's Gambit: a surprising, beautifully rendered underdog hero I cared about deeply and a fascinating, cutthroat world I knew nothing about—in this case, classical music." —Chris Bohjalian, #1 New York Times bestselling author of The Flight Attendant and Hour of the Witch
Growing up Black in rural North Carolina, Ray McMillian's life is already mapped out. But Ray has a gift and a dream—he's determined to become a world-class professional violinist, and nothing will stand in his way. Not his mother, who wants him to stop making such a racket; not the fact that he can't afford a violin suitable to his talents; not even the racism inherent in the world of classical music. 
 
When he discovers that his beat-up, family fiddle is actually a priceless Stradivarius, all his dreams suddenly seem within reach, and together, Ray and his violin take the world by storm. But on the eve of the renowned and cutthroat Tchaikovsky Competition—the Olympics of classical music—the violin is stolen, a ransom note for five million dollars left in its place. Without it, Ray feels like he's lost a piece of himself. As the competition approaches, Ray must not only reclaim his precious violin, but prove to himself—and the world—that no matter the outcome, there has always been a truly great musician within him.
Praise for The Violin Conspiracy: A Novel (Good Morning America Book Club)
A Good Morning America GMA Book Club Pick! • ONE OF THE WASHINGTON POST'S BEST MYSTERY BOOKS OF THE YEAR • A Best Book of the Year: NPR, GOODREADS, Air Mail, Book Riot • A CrimeReads Best Mystery Book of the Year

A MOST ANTICPIATED BOOK OF THE YEAR: The Seattle Times, Goodreads, The Millions
A Medium Most Exciting Book Releases of the Year • Pop Sugar: 35 Must-Read Thrillers and Mystery Books to Keep You Chasing Clues • A Publishers Weekly Top Ten Mystery/Thriller 
"Slocumb imbues his character's life with so much authenticity in the details, details that anyone who has played a stringed instrument, or played in a professional ensemble, will recognize. . . . Where Slocumb shines ... is in the passages where he shows Ray's grit. . . . [Brendan Slocumb] has plenty of brio to share with readers as well as listeners."
—NPR
"Such a page-turner . . . a musical bildungsroman cleverly contained within a literary thriller. . . . Slocumb isn't too different from his protagonist: a natural. He easily conjures the thrill of mastering a tough musical passage and the tinnitus-like torture of everyday racism."
—The New York Times

"When I opened Brendan Slocumb's debut novel, The Violin Conspiracy, I was immediately transported to a place I'd never been, surrounded by characters I'd never met. In the crowded world of fiction, that's no small accomplishment. . . . Slocumb has orchestrated an engaging and suspenseful story about an aspiring musician and his great-great-grandfather's violin. . . . The Violin Conspiracy is so wonderfully written, especially its descriptions of music, that at times I questioned whether I was reading or listening to a concert. . . . Slocumb is equally adept at suspense, whether he's conveying the ticktock of the main mystery or the heart-pounding, fist-clenching realities Ray has to face as a young Black man in America. This novel, which will keep readers on the edge of their seats until the very last page, is sure to be a favorite in 2022."
—The Washington Post
"A spellbinding first novel that melds classical music, the mystery surrounding a stolen violin and history, too—by way of some troubling insights into our nation's painful legacy of slavery." 
—Ebony
"Brendan Slocumb hits all the right notes in his engrossing debut about a young Black man whose natural talent for music has become the only way to secure his future. The Violin Conspiracy works as a well-plotted heist novel, a look at racism, the music world and a coming-of-age tale."
—South Florida Sun-Sentinel
"Discipline isn't the only mechanism Slocumb utilizes to convey the depth of Ray's passion for his violin. His flowing, vivid language lifts the music off the page and brings the listening experience to life. . . . The Violin Conspiracy takes the reader on a musical journey ripe with passion and intrigue. Slocumb's cogent narrative explores time-worn themes with a fresh and powerful voice."
—The Atlanta Journal-Constitution
 
"A big proclamation, but here goes: This is my new favorite book. . . . It's page-turning, poignant, beautiful, and altogether engrossing."
—Zibby Owens, KatieCouric.com

"Generally, I avoid hype. . . . Slocumb's book, however, is something I cannot hype enough."
—CrimeReads
"Deeply engrossing . . . Brendan Slocumb's part mystery, part coming-of-age novel unfolds layer by complicated layer. The smooth transition to Ray's past effectively introduces a boy whose love for music is instantly infectious. The steps that lead to the discovery of the Stradivarius proceed with suspense and hope, sharing with readers the anxiously excited emotions of a young man enraptured by music, driven to push himself, ready to prove everyone wrong. . . . The multilayered narrative provides insight into one Black man's hard-won success, encouraging compassion for how people of color must surmount additional, unnecessary hurdles. It also takes society to task for discriminatory obstacles that prove insurmountable. Authentic and unexaggerated, this captivating coming-of-age story meets suspenseful crime mystery is a sharp debut."
—Shelf Awareness
"Entertaining. . . . A gripping novel. . . . A solid page-turner."
—Kirkus Reviews
"[A] galvanizing blend of thriller, coming-of-age drama, and probing portrait of racism. . . . As Slocumb, himself a Black violinist, describes Ray's apprenticeship, always working 'twice as hard as his non-Black counterparts,' we are drawn completely into this moving story of an unfettered love of music and a passionate commitment to performing it. Skillfully juggling his two timelines, Slocumb builds tension exquisitely while writing about music with both technical precision and richly evocative metaphors. This flawless debut will do for classical music what The Queen's Gambit did for chess."
—Booklist *starred review*
"[A] gripping debut. . . . Slocumb sensitively portrays Ray's resilience in the face of extreme racism. The author is off to a promising start."
—Publishers Weekly
"Utterly original and downright gripping, The Violin Conspiracy is more than a mystery—it's an unflinching peek into the heart and soul of a gifted Black violinist striving to pursue his passion in the face of adversity. Brendan Slocumb's debut is an essential lesson in artistry, prejudice, and persistence."
—Zakiya Dalila Harris, New York Times bestselling author of The Other Black Girl
"I loved The Violin Conspiracy for exactly the same reasons I loved The Queen's Gambit: a surprising, beautifully rendered underdog hero I cared about deeply and a fascinating, cutthroat world I knew nothing about—in this case, classical music. I devoured this fine novel: every page and every word. And that ending? Never saw it coming."
—Chris Bohjalian, #1 New York Times bestselling author of The Flight Attendant and Hour of the Witch
"Finally, classical music gets the complex treatment it deserves. A wide-eyed look at the art form and its discontents." 
—Gary Shteyngart, New York Times bestselling author of Little Failure and Lake Success
"Magnificent, from the first page to the last, the pace never slackens. It is a gorgeous read. Old violins, international music competitions, human greed, determination, decency—all of these feature in this first-rate novel. The reader will learn about how difficult it is to get anywhere in the world of classical music if your face doesn't fit the prejudiced expectations of some people. All of that is here, and it is all related with dignity, humour and forbearance. It's a wonderful tale by a very fine author who happens to know a lot about music." 
—Alexander McCall Smith, bestselling author of the No. 1 Ladies' Detective Agency series
 
"The Violin Conspiracy reminds all of us that dreams are worth pursuing, no matter the obstacles in front of us.  The struggle to follow your heart is always the same—and this novel inspires us to take the chance, make the leap, and dare to be better. This was a wonderful read."
—Misty Copeland, New York Times bestselling author of Life in Motion and principal dancer, American Ballet Theatre