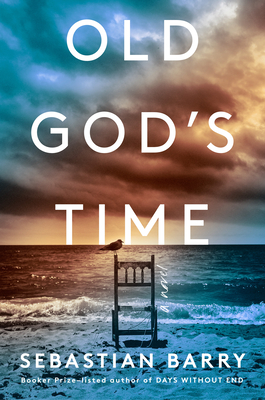 Old God's Time: A Novel
Publication Date:
March 21st, 2023
The Book Tavern
1 on hand, as of Dec 9 11:18pm
(Fiction)
On Our Shelves Now
Description
LONGLISTED FOR THE BOOKER PRIZE
Named a Best Book of 2023 by the New Yorker, Washington Post, NPR, and Kirkus Reviews
"You should be reading Sebastian Barry. [He] has a special understanding of the human heart." —The Atlantic
"A prose stylist of near-miraculous skill. . . Barry reaches deep into the messenger bag of mystery fiction and turns the whole business inside out . . . marvelous." —The Washington Post
"An unforgettable novel from one of our finest writers." —Douglas Stuart, author of Shuggie Bain
From the five-time Booker Prize nominee and 2018-2021 Laureate for Irish Fiction, a virtuosic, profound novel exploring love, memory, grief, and long-buried secrets
Recently retired policeman Tom Kettle is settling into the quiet of his new home, a lean-to annexed to a Victorian castle overlooking the Irish Sea. For months he has barely seen a soul, catching only glimpses of his eccentric landlord and a nervous young mother who has moved in next door. Occasionally, fond memories return of his family: his beloved wife June and their two children, Winnie and Joe. But when two former colleagues turn up at his door with questions about a decades-old case, one which Tom never quite came to terms with, he finds himself pulled into the darkest currents of his past.
A beautiful, haunting novel in which nothing is quite as it seems, Old God's Time is about what we live through, what we live with, and what may survive of us.
Praise for Old God's Time: A Novel
Praise for Old God's Time:

"I find Old God's Time powerful enough to want to bang the drum and say as loudly and clearly as I can that Barry ought to be widely read and revered—he ought to be a laureate for fiction everywhere . . . Reading his novels is like braving Irish weather: You're chilled and drenched and dazzled and baked in buffeting succession . . . lyricism and drama jostle in nearly all [Barry's] sentences . . . paragraphs unspool like spells, dreamy incantations . . . You should be reading Sebastian Barry. Ireland's fiction laureate has a special understanding of the human heart." —Adam Begley, The Atlantic
"Few contemporary writers have done more with the natural resource of Irish English, or with the buried tensions at the heart of Irish identity, than [Barry] . . . A writer of almost Joycean amplitude, Barry never segregates the comic and the tragic . . . What's striking about Old God's Time is the scrupulous realism that Barry brings to his outlandish premise—and his guileful refusal ever to clarify what kind of novel we are reading . . . Barry's [prose is] casually exquisite." —Giles Harvey, The New Yorker
"Marvelous . . . Barry reaches deep into the messenger bag of mystery fiction and turns the whole business inside out to show the soft suede of its lining and the loosening stitches of the seams . . . The story plays out in ways that repeatedly surprise, but its twists and turns are less important than its steady emotional beats, which elegantly braid the long work of mourning to the mere fact of love. As always, Barry is a prose stylist of near-miraculous skill, turning out crystalline sentence after crystalline sentence without ever leaving or betraying his protagonist's perspective. His is an aphoristic imagination, and almost every chapter ends with a revelatory pirouette." —The Washington Post
"Few can write like Sebastian Barry, there is a real thrill as each sentence unfolds. Old God's Time is a portrait of a good man facing the failings of his past. It is wonderfully alive because Barry is so attuned to the human condition, to the poetry in ordinary lives. Full of love and grief and heartache, this is an unforgettable novel from one of our finest writers." —Douglas Stuart, author of Shuggie Bain
"[A] sublime study of love, trauma, memory and loss . . . What elevates this novel is Barry's sustained, ventriloquial, impressionistic evocation of a unique living consciousness . . . The ending is a tour de force of transcendent power and complexity.  I don't expect to read anything as moving for many years." —The Guardian

"[A] stunning novel . . . Barry has always had a gift for creating memorable characters, and Tom is one of his most fascinating ones . . . Old God's Time is a powerful, painful novel, another excellent offering from Barry, who is clearly one of the best Irish writers working today. It's also a book suffused with a deep moral anger that refuses to let go of the crimes that destroyed the lives of so many." —NPR.org
"Enthralling . . . Long acclaimed as one of the foremost storytellers of his generation, Barry is a writer whose novels treat expanses of history with great delicacy, warmth and lyricism . . . Barry excels at creating texture, character and atmosphere, but in Old God's Time he gives us prose so completely suffused with the outlook and professional rhythms of his protagonist that the sentences land like an extension of Kettle's central nervous system." —Financial Times
"Heartbreaking . . . Barry's ninth novel coheres as an attentive character study, an engrossing crime story, and an unsparing lament for Ireland itself." —Star-Tribune
"A gem of a novel . . . Barry matches a fearless eye for the merciless realities of life with an effortlessly poetic touch . . . There are moments in Old God's Time that will take your breath away . . . a meditative, mournful masterpiece, with the pace of a whodunnit." —The Sunday Times (London)
 
"A skilfully disorientating narrative . . . at once a story of Ireland's reckoning with the horrors of institutional abuse, and a moving portrait of a man who, despite the worst ravages of loss, miraculously retains a capacity for love and joy." —New Statesman
"Rare indeed are those novels worth cherishing and keeping close. Sebastian Barry's Old God's Time is one of them . . . a masterful mystery from Ireland's Thomas Hardy." —The Telegraph
"Barry is a resourceful Irish writer with a gift for empathy and lyrical prose. . . . eloquent [and] affecting." —Kirkus Reviews (starred review)
"Admirers of Claire Keegan and Niall Williams will appreciate the Irish humor that masks deep sorrow [in Old God's Time]. This novel's words are well chosen, the sentences dazzle, and they all come together in a beautifully told, piercingly sad story." —Library Journal (starred review)
"Barry masterfully explores the 'deep deep chaos' of Tom's perforated soul with poetry, poignancy, and a splash of indignant rage. The classic crime-story chestnut—a mothballed cop yanked back into action—becomes a parable of grief and theological anguish, a contemporary Irish answer to the book of Job." —Booklist
"The gorgeous writing and unreliable narration make it hard to put down this rewarding take on love and grief." —Publishers Weekly
Praise for the work of Sebastian Barry:
"Barry's novels give us lives, not plots . . . Every one of his novels is luminous. Not one of them sounds like anyone else." —Robert Gottlieb, The New York Review of Books
"One of the best writers in the English language . . . [Barry's] soul-wrenching narratives and incantatory prose . . . are powerful canvases of the human spirit." —The Washington Post
"Nobody writes like, nobody takes risks like, nobody pushes the language, and the heart, and the two together, quite like Sebastian Barry does." —Ali Smith, author of Autumn and Companion Piece
"Sebastian Barry's handling of voice and cadence is masterly. His fictional universe is filled with life, quiet truth and exquisite intimacy; it is also fully alert to the power and irony of history." —Colm Tóibín
 
"[Barry writes] in language of surpassing beauty . . . It is like a song, with all the pulse of the Irish language, a song sung liltingly and plaintively from the top of Ben Bulben into the airy night." —The New York Times
"Barry's lens is so cohesive, so gracefully rendered, that his words have the stony allure of the Irish poets and the lyrical pull of an epic storyteller." —The Boston Globe