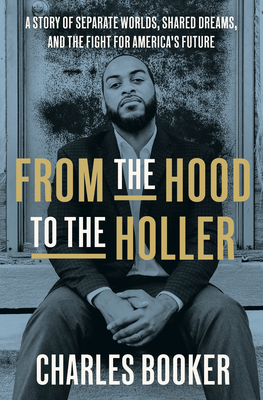 From the Hood to the Holler: A Story of Separate Worlds, Shared Dreams, and the Fight for America's Future
Publication Date:
April 26th, 2022
Description
Kentucky State Representative Charles Booker tells the improbable story of his journey from one of the poorest neighborhoods in the country to a political career forging new alliances among forgotten communities across the New South and beyond.
"Charles Booker is a rising leader in our nation, and an inspiration to me and all those who get to know his story and vision."—Senator Cory Booker
Charles Booker grew up in one of the poorest neighborhoods in Kentucky, living in the largely segregated West End of Louisville. Faith and love were everything in his family, but material comforts were scarce. The electricity was sometimes shut off. His mother often went hungry so her son could eat. Even after he graduated from law school, Booker rationed the insulin he took for diabetes. Determined to build a world in which poverty and racism would not plague future generations, he charted his own course into Kentucky politics, a world dominated by the myth of an urban-rural divide, and controlled by the formidable Republican establishment.
In this stirring account, Booker unfolds his journey from the heart of Louisville to the deepest reaches of Kentucky's rural landscapes, reflecting the journey America itself must make on the way to a progressive future. Robbed of multiple family members by gun violence, Booker found the roots of a system built to fail him and his neighbors in everything from the hypocrisy of elected officials to the structural racism embedded in the state's budget.
Yet it wasn't until his unlikely appointment to the Department of Fish and Wildlife Resources that he understood the transformative power of the issues that bound his family with those in rural Appalachia. In coal country, he met citizens who, like those in the West End, suffered from extreme isolation, for whom fresh food and economic stability were scarce, who lacked the resources to overcome their cynicism about change. Through his work as the youngest Black state legislator in Kentucky, Booker built an unprecedented alliance between the hood and the holler. This coalition was the basis for a thrilling grassroots Senate campaign that nearly stunned the nation, putting Senators Mitch McConnell and Rand Paul on notice that the days of business as usual were over.
From the Hood to the Holler is both a moving coming-of-age story and an urgent political intervention—a much-needed blueprint for how equity and racial justice might transcend partisan divisions in Kentucky, throughout the South, and across America.
Praise for From the Hood to the Holler: A Story of Separate Worlds, Shared Dreams, and the Fight for America's Future
"Charles Booker captured America's imagination during his inspiring campaign for a Kentucky U.S. Senate seat in 2020. His determined efforts to build a more just and fair country for everyone have always been at the center of his life's work, and From the Hood to the Holler shares the story of how his values are rooted in his incredible lived experience. He is a rising leader in our nation, and an inspiration to me and all those who get to know his story and vision."—Sen. Cory Booker (New Jersey)
 
"In a time when so much of American life is defined by bitter division, fear, and hatred, Charles Booker's abiding faith in the possibility of a new politics is downright refreshing and inspiring. From the Hood to the Holler details the origins and power of that faith."—Eddie S. Glaude, Jr., Princeton University, bestselling author of Begin Again and Democracy in Black
 
"Charles Booker's passion for public service is undergirded by his faith and sustained by the recognition that public service at its best brings people together in a coalition of good will. Charles has taken the baton of committed service and shares a vision that is more than just progressive—it is powerful. His voice is one that will resonate broadly."—Rev. Jesse L. Jackson, Sr., founder and president, Rainbow PUSH Coalition
 
"Charles Booker's story is not only intensely personal and moving, but inspirational as well. From the Hood to the Holler shows how faith, love, and courage can take someone from the throes of poverty to the highest levels of American politics. It is the quintessential American success story."—Rep. John Yarmuth (Kentucky)
"Charles Booker's story represents the best of Kentucky. He has overcome a number of obstacles but has always kept an unending love for community and his state. This book documents his story perfectly, and shows why he is a perfect symbol of perseverance for people of all backgrounds."—Matt Jones, host of Kentucky Sports Radio and author of Mitch, Please!