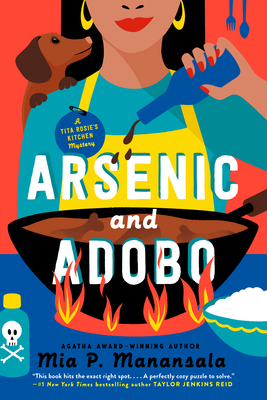 Arsenic and Adobo (A Tita Rosie's Kitchen Mystery #1)
Publication Date:
May 4th, 2021
The Book Tavern
1 on hand, as of Dec 8 11:19am
(Fiction::Mystery)
On Our Shelves Now
Description
A RUSA Award-winning novel!
The first book in a new culinary cozy series full of sharp humor and delectable dishes—one that might just be killer....
When Lila Macapagal moves back home to recover from a horrible breakup, her life seems to be following all the typical rom-com tropes. She's tasked with saving her Tita Rosie's failing restaurant, and she has to deal with a group of matchmaking aunties who shower her with love and judgment. But when a notoriously nasty food critic (who happens to be her ex-boyfriend) drops dead moments after a confrontation with Lila, her life quickly swerves from a Nora Ephron romp to an Agatha Christie case.
With the cops treating her like she's the one and only suspect, and the shady landlord looking to finally kick the Macapagal family out and resell the storefront, Lila's left with no choice but to conduct her own investigation. Armed with the nosy auntie network, her barista best bud, and her trusted Dachshund, Longanisa, Lila takes on this tasty, twisted case and soon finds her own neck on the chopping block…
Praise for Arsenic and Adobo (A Tita Rosie's Kitchen Mystery #1)
One of Crime Reads' "Most Anticipated Crime Books of 2021"!

One of BookRiot's "Most Anticipated Books of 2021"!
One of Bustle's "Most Anticipated Books of Spring 2021"!
"Even though I tend to write dark, hardboiled stories in which people get hit in the face with tools, I love to read a well-written and quirky cozy mystery. Manansala has created just that with her debut novel, a tale full of eccentric characters, humorous situations and an oh-so-tricky mystery. Check this one out for the poetic prose and the mouth-watering recipes that are integral to the plot."—The Washington Post
"This book hits the exact right spot...Mia P. Manansala manages to create a murder mystery where nothing is too horrifying and you know everything will be okay in the end. And because of that, you just get to go along for the ride of trying to figure out what really happened when Lila Macapagal's ex-boyfriend Derek drops dead in front of her at her family's restaurant. I've heard it described as a 'cozy mystery' and that's exactly what it is, a perfectly cozy puzzle to solve. Also, it will make you very hungry for Filipino food—and then it delivers with recipes in the back!"—Taylor Jenkins Reid, New York Times bestselling author of Malibu Rising
"This breeze-right-through-it mystery mystery follows baker Lila Macapagal as she investigates the murder of her ex-boyfriend, the town's too-mean food critic, after he dies over a meal in her aunt's flailing Filipino restaurant. Finding out whether or not Lila can solve the crime and save the restaurant is as satisfying as it is climactic with just the right amount of drama."—Bon Appetit
"The characters are genuine... The descriptions of food are amazing and read as good-enough-to-eat..."—Midwest Book Review
"[An] enjoyable and endearing debut cozy...Manansala peppers the narrative with enough red herrings to keep readers from guessing the killer, but the strength of the novel is how family, food and love intertwine in meaningful and complex ways. When Lila bakes her signature ube crinkle cookies, made with purple yams, we are in for a delectable treat."—New York Times Book Review
"This debut introduces readers to Filipino American food and culture, with its emphasis on family. There are cozy tropes (the close-knit community, the food business), but the emphasis on the Tagalog language, the culture, and drug dealing in a small town add gravity and individuality to this outstanding series kick-off."—Library Journal, starred review
"A super-fun read that's perfect for the beach, your couch, or any Sunday afternoon."—The Skimm
"This debut mystery has a snap and sparkle that breathes a bit of new life into the cozy genre… I wholeheartedly hope this is a kickoff to a long-lived series."—Mystery Scene Magazine
"Manansala, a Chicago Filipina, has reinvigorated tired tropes to create a multicultural, queer-friendly culinary mystery, making Arsenic and Adobo an envelope-pushing, world-expanding debut that goes down easy."—LA Times

"A delightfully decadent whodunit."—Woman's World

"Arsenic and Adobo is a fast and fun read, with a mystery that plays fair without being too obvious and just enough romantic tension to off set the murder. Readers will be clamoring for their next meal at Tita Rosie's Kitchen, so anticipation for the next in this series will be high."—Deadly Pleasures Mystery Magazine

"Full of heart, delectable dishes and just enough danger to keep you guessing, this Fil-Am cozy is a hit, and I'm so looking forward to returning to Shady Palms."—BookReporter
"What an absolute treat! Mia P. Manansala has crafted a delicious mystery full of wit and wile that kept me laughing and guessing as I devoured every page. Fresh, fun, and feisty, amateur sleuth Lila Macapagal takes readers on a wild and savory ride as she sets out to catch a killer. I can't wait to read more in this fabulous new series!"—Jenn McKinlay, New York Times bestselling author of One for the Books
"Mia P. Manansala stirs up a lively mixture of Filipino culture, food and family bonds with an appealing heroine in her well-plotted, poignant and often sweet debut 'Arsenic and Adobo.'"—The Sun Sentinel
"Chock-full of food lore, this delicious mystery will leave readers hungry for more of the adventures of Lila, her friends and relatives, and her chunky dachshund (who is named after a kind of short, fat sausage). Cozy fans are in for a treat."—Publishers Weekly, starred review
"Arsenic and Adobo caught me from the first line, and it only got better from there. Manansala's fun, fresh voice spins an enchanting fusion of Filipino-American food and culture, artfully and seamlessly woven into a smart, satisfying mystery that made me laugh out loud."—Olivia Blacke, author of Killer Content
"Mia Manansala's debut, Arsenic and Adobo, serves up a cozy plate of ube crinkles with a side of murder. Readers are sure to salivate over this Filipino-American mystery as Lila smokes out the food critic's killer."—Roselle Lim, author of Vanessa Yu's Magical Paris Tea Shop
"A stand-out cozy mystery full of heart, the importance of home, and tons of good food...Lila Macapagal is fun, fierce, and all about family."—Gigi Pandian, Agatha Award-winning author of The Glass Thief
"A much welcome entry into the culinary cozy genre, packed full of mouth-watering food and jaw-dropping reveals.  I can't wait to see what's next for Lila Macapagal and the unforgettable characters of Shady Palms. It's guaranteed to be your next favorite cozy series. Just don't read it on an empty stomach!"—Kellye Garrett, Agatha Award-winning author of Hollywood Ending
"Mouth-watering dishes and a funny, smart amateur sleuth makes Arsenic and Adobo by Mia P. Manansala my favorite new culinary cozy mystery series."—Lynn Cahoon, New York Times bestselling author of the Kitchen Witch mystery series
Mia Manansala proves to be a masterful storyteller and incrementally drops delicious breadcrumbs of clues and culinary delights that will eventually culminate in an unexpected denouement. Her world is populated with a cast of endearing and engaging characters...Excuse me, while I locate a Filipino restaurant near me to delve into the joys of their cuisine."—Mystery and Suspense

"Finally! Filipinos, the second largest Asian American population in the US, get to be center stage with the release of this delightful cozy mystery full of aunties and other strong women—ninangs, titas and a lola! You will be rooting for Lila Macapagal to save the family restaurant and keep herself out of jail while interacting with her interfering yet well-meaning relatives. The first in a lip-smacking series!"—Naomi Hirahara, Edgar Award-winning author of Iced in Paradise
"Arsenic and Adobo is pure murder mystery fun with a hefty dose of humor and heart. It's got everything I've always wanted in a cozy mystery and more: a tenacious amateur sleuth main character with a take-no-prisoners attitude, small town vibes, charismatic locals, meddling aunties, a multicultural cast of characters, and mouth-watering food descriptions. It's an utter delight from the first sentence to the very last page."—Sarah Smith, author of Simmer Down
 
"Strong, take-charge, wise-cracking women are the backbone of Arsenic and Adobo, Mia Manansala's fun firecracker of a first cozy mystery...Cozy mystery lovers—and foodies—will be licking their literary chops, eagerly awaiting the next installment in this winning, multicultural series that also offers a delectable blend of romcom and whodunnit elements."—Shelf Awareness, starred review
"Cozy fans are gonna love this series! Filled with Filipino food, a bevy of meddling relatives, and a plucky, unflappable but admittedly flawed amateur sleuth, Lila Macapagal . . . Arsenic and Adobo shines."—Abby Collette, author of A Game of Cones
"Manansala's writing is so approachable that you'll want to be Lila's friend and beg her to feed you. If you love cozy mysteries with a strong dash of large family dynamics and self-journey all set in the world of delicious food, then this is for you. You might also find yourself Googling the closest Filipino restaurant."—Buzzfeed
"A debut that embraces its lightness."—Kirkus Reviews
"Clever with the never-saw-that-coming twists and turns, Manansala nimbly stays at least a few steps ahead, never letting complacency settle on the page. Just desserts await at the book's end – literally and culinarily!"—Christian Science Monitor
"Along with Lila's funny and feisty voice, there is a lot to love here: complex clues, mouthwatering food descriptions, and a diverse cast of characters. Fans of Vivien Chien will devour this one and look forward to more."—Booklist, starred review
"Deftly written with inherently interesting plot twists and turns, as well as a thoroughly fun read from cover to cover."—Midwest Book Review
"This cozy mystery is well-paced, told from the point-of-view of Lila, and will have you guessing to the very end."—NewCity
"A hilarious and delicious mystery that is bound to leave you laughing and wanting more."—Medium