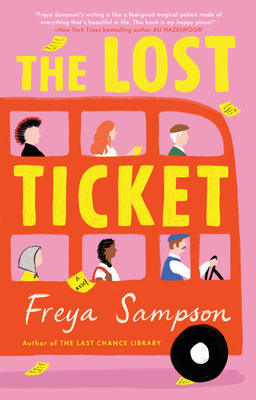 The Lost Ticket
Publication Date:
August 30th, 2022
The Book Tavern
1 on hand, as of Dec 10 11:18pm
(Fiction)
On Our Shelves Now
Description
One of Amazon's Best Books of September!
Strangers on a London bus unite to help an elderly man find his missed love connection in the heartwarming new novel from the acclaimed author of The Last Chance Library.
When Libby Nicholls arrives in London, brokenhearted and with her life in tatters, the first person she meets on the bus is elderly Frank. He tells her about the time in 1962 that he met a girl on the number 88 bus with beautiful red hair just like hers. They made plans for a date at the National Gallery art museum, but Frank lost the bus ticket with her number on it. For the past sixty years, he's ridden the same bus trying to find her, but with no luck.
 
Libby is inspired to action and, with the help of an unlikely companion, she papers the bus route with posters advertising their search. Libby begins to open her guarded heart to new friendships and a budding romance, as her tightly controlled world expands. But with Frank's dementia progressing quickly, their chance of finding the girl on the 88 bus is slipping away.
 
More than anything, Libby wants Frank to see his lost love one more time. But their quest also shows Libby just how important it is to embrace her own chances for happiness—before it's too late—in a beautifully uplifting novel about how a shared common experience among strangers can transform lives in the most marvelous ways.
Praise for The Lost Ticket
"It's as sweet as it sounds--a literary cup of cocoa. Sampson reminds us that there's value in the "failures" in life--missed connections, broken relationships, unattained college degrees. They may, inadvertently, set us on the right path. Same for small daily interactions like a conversation on public transport…if you're looking for a little hope, or a reminder of how chance encounters can change life for the better, this is the ticket."—USA Today
"A heartfelt story about chance, loss, and aging, populated by messy characters you will root for in this delightful ride."—The Montecito Journal 
"Freya Sampson's writing is like a feel-good magical potion made of everything that's beautiful in life: a hug, a cup of tea, a warm blanket, a puppy. The Lost Ticket is the perfect sophomore novel: the descriptions of London are whimsical and immersive; the characters are relatable and lovable; the story is uplifting and romantic, full of emotions and heart, celebrating the importance of making human connections and embracing our dreams. This book is my happy place! Whatever Freya writes next, I'm on board."—Ali Hazelwood, New York Times bestselling author of The Love Hypothesis
"It's hard to think of another book quite as delightful as this one. The Lost Ticket is basically the best hug in the world in book form. It's a story about love and second chances and the best kind of unlikely friendships. Pick up this book if you're yearning for some joy in your life!" —Jesse Q. Sutanto, National bestselling author of Four Aunties and a Wedding

"The Lost Ticket is one of the loveliest novels I've read. Gorgeously written, it's brimming over with hope, inspiration, and endearing humour. I completely adored this wonderful, warm hug of a book."—India Holton, national bestselling author of The Wisteria Society of Lady Scoundrels
  
"Freya Sampson's The Lost Ticket is an unputdownable masterpiece of heart, hope, and humanity. I cheered, swooned, and gasped with each turn of the plot, staying up well past my bedtime because I needed to know what would happen next. Sampson's lovable cast of characters will steal your heart, lift your spirit, and make you wish you were a passenger on the 88 bus. Do yourself a favor and buy this book, you won't regret coming along for the ride."—Sarah Grunder Ruiz, author of Love, Lists, and Fancy Ships
 
"Bursting with hope, the most endearing cast of characters, and love in all forms, The Lost Ticket is heartwarming perfection--I never wanted it to end."—Libby Hubscher, author of If You Ask Me
"A gorgeous story that's equal parts heartbreaking and heartwarming. A reminder that love is unwavering and ageless and will always carry us through. Freya Sampson is a brilliant writer."—Lia Louis, author of Eight Perfect Hours
"In these chaotic times this is a much-needed story about kindness, the importance of friendship and the wonder of hope. The Lost Ticket is a delight, a beautiful example of how the ripples from one chance encounter can change many lives for the better. I loved it. Everyone should read this book!"—Jenny Bayliss, author of A Season For Second Chances
"Sampson's true gift is bringing to life an improvised family of three-dimensional characters with real struggles and real humanity. In a way, The Lost Ticket is the ultimate literary British Invasion, uniting the Beatles' 'With a Little Help From My Friends' with the Rolling Stones' 'You Can't Always Get What You Want.'"—Bookpage
"This will keep readers turning the pages."—Publishers Weekly
"As she did in The Last Chance Library (2021), Sampson corrals a cast of misfits for a common cause, resulting in a funny, sweet, tearjerker of a tale."—Booklist
"Author Sampson has done a masterful job of misdirection, offering tidbits of information that seem to lead one way but then are shown to have been leading somewhere else altogether. This is an engaging read that touches on aging and the physical incapacities it brings, lost and misplaced love, the power of accepting people as they truly are, finding the reliance to build a life on one's own, and the family that can be forged in friendships. A warming story of love and happiness found despite hardships, difficulties, and the passage of time."—Kirkus Reviews