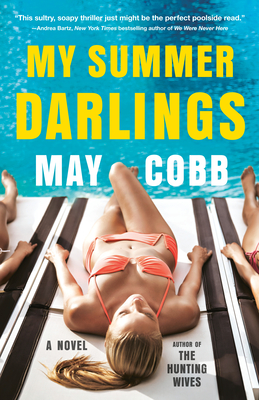 My Summer Darlings
Publication Date:
April 25th, 2023
The Book Tavern
1 on hand, as of Sep 25 11:17pm
(Fiction)
On Our Shelves Now
Description
Three lifelong friends plus a dangerous, sexy new stranger in their wealthy, Texas town adds up to a scorching summer of manipulation, obsession, and murder, from the acclaimed author of The Hunting Wives.
 
Jen Hansen, Kittie Spears, and Cynthia Nichols have been friends since childhood. They are now approaching forty and their lives have changed, but their insular East Texas town has not. They stay sane by drinking wine in the afternoons, dishing about other women in the neighborhood, and bonding over the heartache of their own encroaching middle age and raising ungrateful teens.
 
Then Will Harding moves into one of the grandest homes in town. Mysterious and charming, he seems like the answer to each woman's prayers. He's a source of fascination for Jen, Kittie, and Cynthia, but none of them are ready for the way Will disrupts their lives.
 
As Will grows closer to all three women, their fascination twists into obsession, threatening their friendships and their families. When he abruptly pulls away, each woman scrambles to discover the source of his affection. But what they'll uncover is far more sinister and deadly than any of them could have ever imagined.
Praise for My Summer Darlings
"A potent cocktail of desire and deceit. Spicy enough to make you sweat--until the suspense chills you to your core."—Riley Sager, New York Times bestselling author of Survive the Night
"My Summer Darlings sizzles with small-town secrets, backstabbing besties, and the year's darkest take on 'summer romance.' This sultry, soapy thriller just might be the perfect poolside read."—Andrea Bartz, New York Times bestselling author of We Were Never Here (Reese's Book Club Pick)
 
"My Summer Darlings is addicting, twisted, and a whole lot of fun. It's a steamy thriller that goes down with a bite, like a cold margarita on a hot day. A perfect summer read."—Simone St. James, New York Times bestselling author of The Sun Down Motel
"[F]ull of big houses, teenage attitudes, and snarky housewives, and would be the perfect companion to a beach vacation."—San Francisco Book Review
"Nobody writes deliciously wicked and devious housewives quite like May Cobb. My Summer Darlings will tease, shock, delight, and enrage you. But most of all, it will leave you pleading for the next Cobb thriller!"—Jesse Q. Sutanto, author of Dial A for Aunties

"Bold, sultry, and unapologetic, My Summer Darlings is destined to become your next obsession. May Cobb is the queen of complicated female characters, and the ladies of Eden Place won't be ones you'll soon forget. A simmering, sexy read best accompanied by a strong cocktail."—Laurie Elizabeth Flynn, author of The Girls Are All So Nice Here

"With friends like these, you won't need enemies....This dark, devious, sexy tale of duplicity and one-up(wo)manship sizzles so much it'll practically burn your fingers as you turn the pages. My Summer Darlings is sure to be another unputdownable hit!"—Hannah Mary McKinnon, author of You Will Remember Me
"May Cobb has done it again! My Summer Darlings is a sexy, sassy, scary page-turner. I couldn't put it down."—Robyn Harding, international bestselling author of The Perfect Family
"My Summer Darlings is an intensely suspenseful and deliciously entertaining novel. May Cobb writes as though she's been hanging around your neighborhood, listening to all the conversations and taking notes with a pen as sharp as a fish hook. This book should be required poolside summer reading."—David Bell, USA Today bestselling author of Kill All Your Darlings

"[A] smart, fun thriller about obsession and friendship."—CrimeReads
"A searing suspense that gets under your skin and raises the heat level, My Summer Darlings by May Cobb sizzles with fiery intensity. The magnificently drawn characters, dark, delectable plot, and a neighborhood bubbling with sex, secrets, and lies make this sensational novel perfect for anyone who loves Jackie Collins and Liane Moriarty. An absolutely electrifying read."—Samantha M. Bailey, USA Today bestselling author of Woman on the Edge
"Sexy, addictive....In Cobb's signature stylish prose, small-town East Texas is lush and vicious, teeming with that most dangerous and all too relatable temptation: to fulfill unspoken desires, to become someone new, to leave it all behind—no matter who gets hurt. As seductive and irresistible as the mysterious man at its center, MY SUMMER DARLINGS exposes the messy pulsing heart of female desire and friendship--likeability be damned. This thriller is set to become your new obsession."—Katie Gutierrez, author of More Than You'll Ever Know
 
"Sexy, fresh, and fun, My Summer Darlings tells the story of three friends who go after what they want—even when what they want is the same man. Cobb's sophomore novel is unputdownable and devious, a twisty thriller that threw me for loop after loop."—Stephanie Wrobel, USA Today bestselling author of Darling Rose Gold

"May Cobb delivers another firecracker of a novel complete with her signature scandalous leading ladies and steamy suspense--this is not your mother's thriller!"—Chandler Baker, New York Times bestselling author of The Husbands (Good Morning America Book Club Pick)
 
"Fabulous, sexy, thrilling, and hot, MY SUMMER DARLINGS is the perfect escape. May Cobb is a gorgeous writer and kept me guessing until the final pages. I loved this book!"—Amanda Eyre Ward, New York Times bestselling author of The Jetsetters (Reese's Book Club Pick)

"Compelling and compulsively readable. If you haven't read May Cobb yet, now is the moment."—Liv Constantine, international bestselling author of The Last Mrs. Parrish

"My Summer Darlings is sexy and suspenseful and I could not put this fast-paced romp down. Three friends are all attracted to the new, handsome stranger in town—what could go wrong? Everything of course! Twisty and fun, you need this on your summer reading list!—Catherine McKenzie, USA Today bestselling author of I'll Never Tell and Please Join Us
"[A] dark tale of psychological suspense that will keep readers involved until it ends with a final twist."—Booklist
"My Summer Darlings is an excellent, character-driven illustration of how each woman puts on a different face to the public, keeping angst to themselves."—Shelf Awareness
"May Cobb's follow-up to her acclaimed 2021 thriller The Hunting Wives,
solidifies her identity as an East Texas Jackie Collins with better prose and a gift for high-octane twists." —Texas Monthly