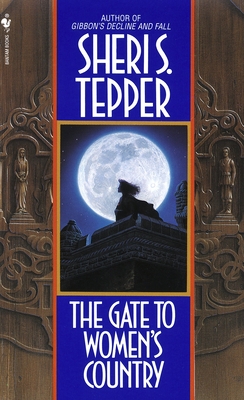 The Gate to Women's Country: A Novel
Publication Date:
February 1st, 1993
The Book Tavern
1 on hand, as of Dec 3 6:18pm
(SciFi/Fantasy)
On Our Shelves Now
Description
"Lively, thought-provoking . . . the plot is ingenious, packing a wallop of a surprise . . . Tepper knows how to write a well-made, on-moving story with strong characters. . . . She takes the mental risks that are the lifeblood of science fiction and all imaginative narrative."—Ursula K. LeGuin, Los Angeles Times
Since the flames died three hundred years ago, human civilization has evolved into a dual society: Women's Country, where walled towns enclose what's left of past civilization, nurtured by women and a few nonviolent men; and the adjacent garrisons where warrior men live—the lost brothers, sons, and lovers of those in Women's Country.
Two societies. Two competing dreams. Two ways of life, kept apart by walls stronger than stone. And yet there is a gate between them. . . .
"Tepper not only keeps us reading . . . she provokes a new look at the old issues."—The Washington Post
"Tepper's cast of both ordinary and extraordinary people play out a powerful drama whose significance goes beyond sex to deal with the toughest problem of all, the challenge of surmounting humanity's most dangerous flaws so we can survive—despite ourselves."—Locus
Praise for The Gate to Women's Country: A Novel
"Lively, thought-provoking . . . the plot is ingenious, packing a wallop of a surprise . . . Tepper knows how to write a well-made, on-moving story with strong characters. . . . She takes the mental risks that are the lifeblood of science fiction and all imaginative narrative."—Ursula K. LeGuin, Los Angeles Times
"Tepper not only keeps us reading . . . she provokes a new look at the old issues."—The Washington Post
"Tepper's cast of both ordinary and extraordinary people play out a powerful drama whose significance goes beyond sex to deal with the toughest problem of all, the challenge of surmounting humanity's most dangerous flaws so we can survive—despite ourselves."—Locus