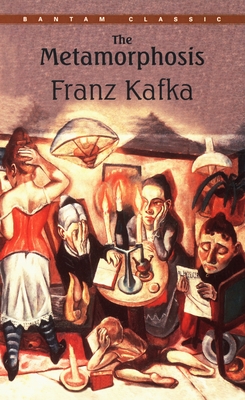 The Metamorphosis
Publication Date:
February 1st, 1972
Publisher:
Bantam Classics
The Book Tavern
1 on hand, as of Sep 23 11:17pm
(Classic Literature)
On Our Shelves Now
Description
"When Gregor Samsa woke up one morning from unsettling dreams, he found himself changed in his bed into a monstrous vermin."
With this  startling, bizarre, yet surprisingly funny first sentence, Kafka begins his masterpiece, The  Metamorphosis. It is the story of a  young man who, transformed overnight into a giant  beetlelike insect, becomes an object of disgrace to  his family, an outsider in his own home, a  quintessentially alienated man. A harrowing—though  absurdly comic—meditation on human feelings of inadequacy, guilt, and isolation, The  Metamorphosis has taken its place as one  of the most widely read and influential works of  twentieth-century fiction.
As W.H. Auden wrote,  "Kafka is important to us because his predicament is the predicament of modern man."
Praise for The Metamorphosis
"Kafka's survey of the insectile situation of young Jews in inner Bohemia can hardly be improved upon: 'With their posterior legs they were still glued to their father's Jewishness and with their wavering anterior legs they found no new ground.' There is a sense in which Kafka's Jewish question ('What have I in common with Jews?') has become everybody's question, Jewish alienation the template for all our doubts. What is Muslimness? What is femaleness? What is Polishness? These days we all find our anterior legs flailing before us. We're all insects, all Ungeziefer, now."
—Zadie Smith
 
"Kafka engaged in no technical experiments whatsoever; without in any way changing the German language, he stripped it of its involved constructions until it became clear and simple, like everyday speech purified of slang and negligence. The common experience of Kafka's readers is one of general and vague fascination, even in stories they fail to understand, a precise recollection of strange and seemingly absurd images and descriptions—until one day the hidden meaning reveals itself to them with the sudden evidence of a truth simple and incontestable."
—Hannah Arendt