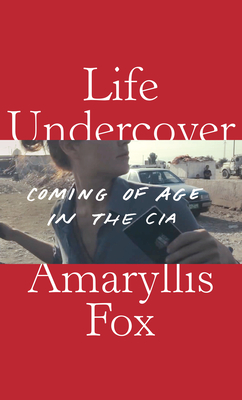 Life Undercover: Coming of Age in the CIA
Publication Date:
October 15th, 2019
The Book Tavern
1 on hand, as of Dec 9 11:18pm
(Politics & Society)
On Our Shelves Now
Her unconventional childhood—think playing unsupervised on the streets of Moscow, St. Petersburg, and Washington, D.C.—prepared Amaryllis Fox for a career in the CIA. She was recruited because as part of her master's studies at Georgetown's School of Foreign Service, she developed an algorithm that was amazingly accurate at predicting where terrorist cells might pop up in the world. Soon, she was deployed as a spy in the Middle East while posing as an art dealer. After 10 years, Fox left the CIA and is now a writer, a current events analyst, a peace activist, and a mother. One wonders what is next in her fascinating life!
November 2019 Indie Next List
The events of 9/11 affected all of us, to one degree or another. For Amaryllis Fox, it provoked a furious spike of patriotism and a personal need to do something about global terrorism. At the age of 21, she was recruited by the CIA. For nearly 10 years, she did her part to keep the components of dirty bombs from Al-Qaeda. This work took its toll on marriages and family, as Fox tells with a breathlessness that makes her youthful passion and courage palpable.
Winter 2020 Reading Group Indie Next List
Description
INSTANT NEW YORK TIMES BESTSELLER 
"Fast and thrilling . . . Life Undercover reads as if a John le Carré character landed in Eat Pray Love." —The New York Times
Amaryllis Fox's riveting memoir tells the story of her ten years in the most elite clandestine ops unit of the CIA, hunting the world's most dangerous terrorists in sixteen countries while marrying and giving birth to a daughter
Amaryllis Fox was in her last year as an undergraduate at Oxford studying theology and international law when her writing mentor Daniel Pearl was captured and beheaded. Galvanized by this brutality, Fox applied to a master's program in conflict and terrorism at Georgetown's School of Foreign Service, where she created an algorithm that predicted, with uncanny certainty, the likelihood of a terrorist cell arising in any village around the world. At twenty-one, she was recruited by the CIA. Her first assignment was reading and analyzing hundreds of classified cables a day from foreign governments and synthesizing them into daily briefs for the president. Her next assignment was at the Iraq desk in the Counterterrorism center. At twenty-two, she was fast-tracked into advanced operations training, sent from Langley to "the Farm," where she lived for six months in a simulated world learning how to use a Glock, how to get out of flexicuffs while locked in the trunk of a car, how to withstand torture, and the best ways to commit suicide in case of captivity. At the end of this training she was deployed as a spy under non-official cover--the most difficult and coveted job in the field as an art dealer specializing in tribal and indigenous art and sent to infiltrate terrorist networks in remote areas of the Middle East and Asia.
Life Undercover is exhilarating, intimate, fiercely intelligent--an impossible to put down record of an extraordinary life, and of Amaryllis Fox's astonishing courage and passion.
Praise for Life Undercover: Coming of Age in the CIA
One of People Magazine's Best Books of Fall 2019
"Gripping…reads like a true-life thriller." 
--San Francisco Chronicle
"Genius… Fascinating…along with the cloak-and-dagger action, Fox writes movingly of trying to reconcile a career in espionage with family life… A look inside the CIA that the agency isn't ready for you to see… a great read."
--Washington Post

"Gripping…Life Undercover sets aside high-octane street chases and gunfights for an equally riveting narrative of compassion, revealing that the path to peace is through understanding the common humanity in us all."
--Paste Magazine
"A riveting account of the decade the author spent risking her life in the CIA's most clandestine unit."
--People
"a timely, compelling story. As fellow citizens, we'd all do well to better understand what that vital work entails."
--LA Times
"Gripping... Fox masterfully conveys the exhilaration and loneliness of life undercover, and her memoir reads like a great espionage novel."
--Publishers Weekly (starred review)

"Extraordinary... [A] remarkable life...Fox engagingly—and transparently—describes her work as an undercover agent for the CIA."
--Kirkus Reviews