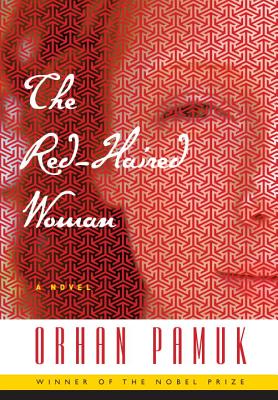 The Red-Haired Woman: A novel
Publication Date:
August 22nd, 2017
The Book Tavern
1 on hand, as of Dec 8 11:19am
(Fiction)
On Our Shelves Now
'Beguiling' is the perfect word to describe The Red-Haired Woman, which feels like an entrancing fairly tale, set in a far away, exotic land peopled with fascinating men and women. The story plays out over the life span of one man whose actions and choices over one summer, however fleeting, will turn out to be the formative events that shape his entire life. I particularly enjoyed the summer nights in the quiet town, as the boy stole around the back alleys, hoping for a glimpse of the red-haired woman. This book is unlike any other I've read.
September 2017 Indie Next List
Description
From the Nobel Prize winner and best-selling author of Snow and My Name Is Red, a fable of fathers and sons and the desires that come between them.
On the outskirts of a town thirty miles from Istanbul, a master well digger and his young apprentice are hired to find water on a barren plain. As they struggle in the summer heat, excavating without luck meter by meter, the two will develop a filial bond neither has known before--not the poor middle-aged bachelor nor the middle-class boy whose father disappeared after being arrested for politically subversive activities. The pair will come to depend on each other and exchange stories reflecting disparate views of the world. But in the nearby town, where they buy provisions and take their evening break, the boy will find an irresistible diversion. The Red-Haired Woman, an alluring member of a travelling theatre company, catches his eye and seems as fascinated by him as he is by her. The young man's wildest dream will be realized, but, when in his distraction a horrible accident befalls the well digger, the boy will flee, returning to Istanbul. Only years later will he discover whether he was in fact responsible for his master's death and who the redheaded enchantress was.
A beguiling mystery tale of family and romance, of east and west, tradition and modernity, by one of the great storytellers of our time.
Translated from the Turkish by Ekin Oklap.
Praise for The Red-Haired Woman: A novel
"Quietly beautiful."
—Fiammetta Rocco, 1843

"Pamuk's excellent 10th novel, which focuses on father-son relationships, has a fable-like feel that brings Paul Auster's work to mind. . . . [It] pores over father-son relationships with almost painful intensity . . . [and] makes the reader feel as if they've emerged from the depths of a well into sudden and dazzling light."
—Alex Preston, Observer (London)
 
"Saturated with sympathy and sense of place, the book charts a boy's journey into manhood and Turkey's into irreversible change. But it is above all a book of ideas. Pamuk's work promotes the fact that we should always interrogate the past but never deny or bury it. History—personal, imagined, actual—reminds us to remember, to think better. . . . This book sings with the power of diverse remembrance."
—Bettany Hughes, Financial Times (London)
 
"An ending that makes you immediately start the book all over again speaks for itself."
—The Sunday Times (London)
 
"An intriguing modern take on the Oedipus story. . . . It's a deep, honest, poignant, painful exploration of humanity's ability to cover up its own essence with civilised ideas and behaviours."
—The Herald (London)
 
"Absorbing . . . Pamuk's intense political parable tells us much about the plight of Turkey today."
—Evening Standard (London)
 
"Pamuk's tale of love and death draws heavily on the Oedipus myth, but such is his mastery of storytelling that every character feels fresh, while the vignettes of modern Turkey ring true."
—Mail on Sunday (London)
 
"The Red-Haired Woman is shorter than Orhan Pamuk's best-known novels, and is, in comparison, pared down, written with deliberate simplicity—ostensibly by a narrator who knows that he is not a writer, but only a building contractor. Polyphonic narratives are replaced by a powerful, engaging clarity. . . . The themes of parricide and filicide resonate beyond acts of accidental or mindless murder: they explore the loss of connection between generations—which is tragic, yet also necessary. The shifts between generations is beautifully shown through the often hideous changes wrought in Istanbul itself by modernisation."
—The Spectator (London)
 
"He is a weaver of tales par excellence, with an unmatched sense for the ways that social change affect individual psychology and a restrained, genteel prose style that disguises the unruly passions just below the surface. In this mode he most resembles Ivan Turgenev, the great portraitist of 19th-century Russia… Allusive, enchanting and perfectly controlled."
—The Wall Street Journal Europe
 
"Playful and unsettling. . . . At times, it seems to owe as much to Dostoevsky as to the epics of the long-distant past; it moves forward by indirection, swapping modes and registers at will. . . . An intriguing addition to his body of work."
—The New Statesman (London)
 
"A pleasure to read."
—The Scotsman (Edinburgh)
 
"Orhan Pamuk has written better than most contemporary novelists about the relationship between east and west. . . . The Red-Haired Woman, like all good novels determined to deliver political and social criticism, understands that pleasure in the means of the delivery must equal the value of the thing said."
—Andrew Motion, The Guardian (London)
 
"It can fall to fiction to remind us of what has come before . . . a tale of slow reveal secrets [and] love."
—Megan O'Grady, Vogue
"Pamuk masterfully contrasts East with West, tradition with modernity, the power of fables with the inevitability of realism…As usual, Pamuk handles weighty material deftly, and the result is both puzzling and beautiful."
—Booklist (starred review)
"An extraordinary piece of writing...The Red-Haired Woman is a book that pores over father-son relationships with almost painful intensity...[it] has a lapidary, fable-like feel to it, closer in spirit to earlier novels such as Snow and The Silent House...The twist in the tail  makes the reader feel as if they've emerged from the depths of a well into sudden and dazzling light."
—Alex Preson, The Guardian
"Engaging and deftly told...Pamuk's postmodern puzzles are meticulous as ever, and The Red-Haired Woman contains a wealth of atmospheric detail and memorable scenes."
—Marc Edward Hoffman, Bookforum
"Pamuk skillfully intermingles textual traditions and historical time periods, establishing the trademark intertextuality and intertemporality of his fiction...The Red-Haired Woman, though it engages father-and-son conflict, is, importantly, a woman's story...On one hand, [it] is a novel that celebrates characters who are Oedipalized into the modern neoliberal order. On the other hand, while that celebration exposes familial violence, it conceals a concomitant history of state violence that maintains the patriarchal order. The success of this novel, subtly staged, is that it allows us to consider how these ideologies might coexist."
—Erdağ Göknar, The LA Review of Books
"Pamuk writes with the lean, archaic simplicity of parable, gradually adding moral weight to his tale with each successive chapter...The Red-Haired Woman is a novel of uncommon moral power. It blends myth and life, fatalism and freedom, into a harrowing literary experience. It's the work of a master writer."
—Shelf Awareness
"A giant of world literature, a master storyteller, a Nobel Prize-winner, Turkish novelist Orhan Pamuk's books have sold more than 13 million copies and been translated into more than 63 languages. His latest The Red-Haired Woman is the tale of a young man seeking a father figure but like many of his books it raises larger political questions."
—Jon Snow, Channel 4 News (London)