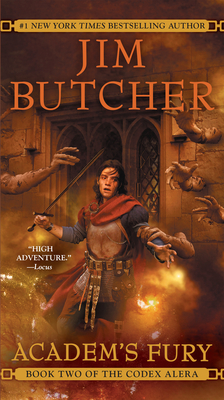 Academ's Fury (Codex Alera #2)
Publication Date:
November 28th, 2006
Description
In Furies of Calderon, #1 New York Times bestselling author Jim Butcher introduced readers to a world where the forces of nature take physical form. But now, it is human nature that threatens to throw the realm into chaos…
For centuries, the people of Alera have harnessed the furies—elementals of earth, air, fire, water, wood, and metal—to protect their land from aggressors. But no fury can save them from the dangers they face within. A mysterious attack from across the sea has weakened the First Lord. Should he fall, a bloody civil war is inevitable. The responsibility of fending off assassination attempts and treachery within the First Lord's circle of spies falls on Tavi, the one man with no fury to call...
Praise for Academ's Fury (Codex Alera #2)
"High adventure with engaging characters and a satisfying conclusion."—Locus
"A fun romp of a book...the action is fast and furious."—SFRevu
 
"[A] cleverly constructed world."—Chronicle 

"Solid world-building, intriguing characters and vivid action make this a solid addition to a marvelously entertaining series."—Publishers Weekly
"The author of the Dresden Files series demonstrates his skill with epic fantasy...A fresh approach to magic and a cast of appealing characters make this an exciting read."—Library Journal
"A fine coming-of-age, fantasy-action novel. The characterizations are excellent, and the plotting is very well developed."—Booklist
"Jim Butcher is a brilliant world-builder."—Midwest Book Review