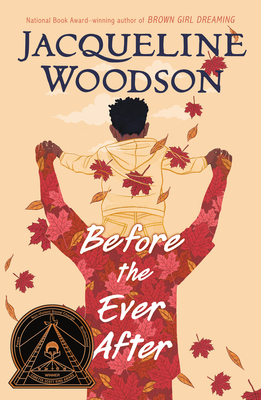 Before the Ever After
Publication Date:
September 6th, 2022
Publisher:
Nancy Paulsen Books
The Book Tavern
2 on hand, as of Sep 27 7:17pm
(Children's)
On Our Shelves Now
Jacqueline Woodson brings us into the life of 12-year-old ZJ, whose father is a beloved football star. But after years of professional head-bashing, something is terribly wrong: he now has headaches, memory loss, and mood swings. With the help of his mother and good friends, ZJ faces his father's decline. An important and heartfelt prose poem.
Fall 2020 Kids Indie Next List
Description
WINNER OF THE NAACP IMAGE AWARD
WINNER OF THE CORETTA SCOTT KING AUTHOR AWARD
National Book Award winner Jacqueline Woodson's stirring novel-in-verse explores how a family moves forward when their glory days have passed and the cost of professional sports on Black bodies.
Cover may vary.
For as long as ZJ can remember, his dad has been everyone's hero. As a charming, talented pro football star, he's as beloved to the neighborhood kids he plays with as he is to his millions of adoring sports fans. But lately life at ZJ's house is anything but charming. His dad is having trouble remembering things and seems to be angry all the time. ZJ's mom explains it's because of all the head injuries his dad sustained during his career. ZJ can understand that--but it doesn't make the sting any less real when his own father forgets his name. As ZJ contemplates his new reality, he has to figure out how to hold on tight to family traditions and recollections of the glory days, all the while wondering what their past amounts to if his father can't remember it. And most importantly, can those happy feelings ever be reclaimed when they are all so busy aching for the past?
Praise for Before the Ever After
* "Woodson's text may be spare, but it has the emotional wallop of an offensive tackle."—Shelf Awareness, starred review
* "Woodson's latest novel in verse conveys that not all success stories have a fairy-tale ending. Readers will feel an immediate connection to ZJ and his group of authentic, complex friends and family. The idea of showing the dark side of fame through the experiences of a young family member is a unique perspective that will resonate with readers of all ages. ZJ's story will stay with the audience long after the last page is read. A first choice for all collections. A unique take on sports and fame told from an unexpected perspective, and another incredible read ­delivered by Woodson."—School Library Journal, starred review
* "Using spare and lyrical language for ZJ's present-tense narration, which moves back and forth through time, Woodson skillfully portrays the confusion, fear, and sadness when a family member suffers from brain injury and the personality changes it brings. . . . The well-rounded secondary characters complete a mosaic of a loving African American family and their community of friends. . . . A poignant and achingly beautiful narrative shedding light on the price of a violent sport."—Kirkus Reviews, starred review
* "Woodson delivers a poignant new novel in verse that highlights an important topic within the sports world, especially football. . . . ZJ's life quickly turns from charmed to tragic as he has to face that his father and family are forever changed. . . . Woodson again shows herself to be a masterful writer, and her meaningful exploration of concussions and head injuries in football, a subject rarely broached in middle-grade fiction, provides young athletes with necessary insights into sport's less glamorous side. In addition to this, it is a novel that explores family, mental illness, and the healing that a tight-knit, loving community can provide."—Booklist, starred review
* "Woodson explores the impact of chronic traumatic encephalopathy (CTE) on football players and their families from the perspective of ZJ, son of tight end Zachariah '44' Johnson. . . . In lyrical verse, Woodson conveys the confusion and loss that many families feel as they try to figure out what is wrong with their loved one. Each of the poems ably captures the voice of the story's preteen boy protagonist; readers can feel the sense of love and loss that ZJ is experiencing as his dad slips away. Even though that loss is difficult, Woodson reminds readers that life's challenges are more easily faced with the support of friends and family."—Horn Book, starred review
* "A beautiful and heart-wrenching story. . . . Eloquent prose poetry creates a moving narrative that reveals the grief of a child trying to understand why his father has changed and why nothing can be done. An ardent account of the multitudes of losses experienced by those who suffer from chronic traumatic encephalopathy and its effects on their families, ZJ's doleful tale unveils the intense nostalgia and hope one can feel despite realizing that sometimes what is lost can never be regained."—Publishers Weekly, starred review 

"This is a heartbreaking tale brimming with sympathy, and it draws much of its impact from the characterization of Zachariah's father; while the portrait is obviously burnished by ZJ's hero worship, it's also clear that Zachariah Senior is a man of deep kindness and generosity who loves his son greatly, and whose decline leaves a huge hole in his fiercely close African-American family. ZJ's move toward music and his increasing reliance on his friends are age-appropriate shifts that have particular poignance given the situation. While the football and CTE elements give this resonance for young athletes, many readers will be sadly familiar with the painful waning of a family member, and they'll be heartened by ZJ's love and resilience."—The Bulletin of the Center for Children's Books