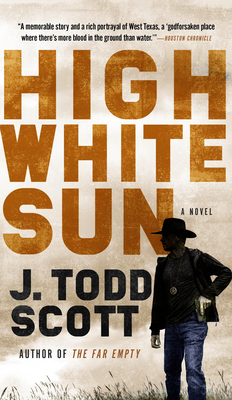 High White Sun
Publication Date:
June 4th, 2019
Publisher:
G.P. Putnam's Sons
The Book Tavern
1 on hand, as of Dec 9 11:18pm
(Fiction)
On Our Shelves Now
Description
"Everything you could want in a West Texas crime saga: generational conflicts; the sights and smells of an exotic landscape; the ghosts of monsters and loved ones past."--The Wall Street Journal
Even though the corrupt Sheriff Ross is dead and gone, outlaws still walk free, peace comes at a price, and redemption remains hard to find in this fiery and violent novel from the author of The Far Empty.
In the wake of Sheriff Stanford Ross's death, former deputy Chris Cherry--now Sheriff Cherry--is the new "law" in Big Bend County, yet he still struggles to escape the shadow of that infamous lawman. As Chris tries to remake and modernize his corrupt department, bringing in new deputies, including young America Reynosa and Ben Harper--a hard-edged veteran homicide detective now lured out of retirement--he finds himself constantly staring down a town unwilling to change, friends and enemies unable to let go of the past, and the harsh limits of his badge.
But it's only when a local Rio Grande guide is brutally and inexplicably murdered, and America and Ben's ongoing investigation is swept aside by a secretive federal agent, that the novice sheriff truly understands just how tenuous his hold on that badge really is. And as other new threats rise right along with the unforgiving West Texas sun, nothing can prepare Chris for the high cost of crossing dangerous men such as John Wesley Earl, a high-ranking member of the Aryan Brotherhood of Texas and the patriarch of a murderous clan that's descended on Chris's hometown of Murfee; or Thurman Flowers, a part-time pastor and full-time white supremacist hell-bent on founding his violent Church of Purity in the very heart of the Big Bend.
Before long, Chris, America, and Ben are outmaneuvered, outnumbered, and outgunned--drawn into a nearly twenty-year vendetta that began with a murdered Texas Ranger on a dusty highway outside of Sweetwater, and that can only end with fire, blood, and bullets in Murfee's own sun-scorched streets...
Praise for High White Sun
Praise for High White Sun

"The best cop novel I've read in years."—John Sandford
"As addictive as the best crime show."—Newsweek
"[Scott], a real-life DEA agent, gives you everything you could want in a West Texas crime saga: generational conflicts; the sights and smells of an exotic landscape; the ghosts of monsters and loved ones past. And a dose of well-earned wisdom: 'No matter what people said,' reflects the widower Harper, 'dying was easy....It was living that was twice as hard.'"—The Wall Street Journal
"Superb...combines multifaceted characters with edge-of-the-seat suspense....Scott excels at presenting the juxtaposition of the horrific and the mundane....Ace Atkins fans will relish this gritty crime novel."—Publishers Weekly (starred review)
"A gripping tale of murder and revenge...The descriptions and the characters are exceptional....Tense, brutal, and satisfying for thriller fans."—Kirkus Reviews
"High White Sun is a striking novel from one of the most formidable crime writers working today.  J. Todd Scott captures the rough beauty of Big Bend, Texas, and the even rougher men and women living on both sides of the law. Whispers of Winslow and McCarthy sound across these pages, but the determining voice is all Scott's—specific, lyrical and keen to time and place. This is an authentic contemporary Western in the best sense of the words."—T. Jefferson Parker, author of The Room of White Fire
"This hot blast of desert wind is by turns ruthless and heartfelt, lyrical and violent, and, like all great stories, feels utterly true. J. Todd Scott knows borderland Texas like nobody else, and it shows."—Nick Petrie, author of Light It Up