Discounted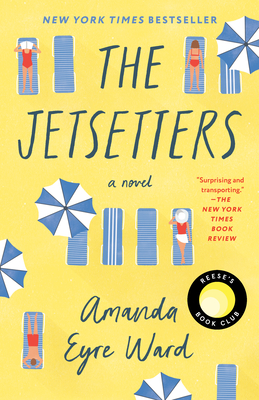 The Jetsetters: A Novel
Previous price:

$18.00
Current price:

$17.00
Publication Date:
March 30th, 2021
Publisher:
Ballantine Books
Usually Ships in 2 to 14 Days
Description
NEW YORK TIMES BESTSELLER • REESE'S BOOK CLUB PICK • Named One of the Best Beach Reads of the Year by Parade, O: The Oprah Magazine, and Good Housekeeping

"The exuberant activity aboard the Splendido Marveloso is no match for the fireworks set off as the lies explode. Full of wicked humor and delicious destination details."—People (Book of the Week)

NAMED ONE OF THE BEST BOOKS OF THE YEAR BY ESQUIRE
When seventy-year-old Charlotte Perkins submits a sexy essay to the Become a Jetsetter contest, she dreams of reuniting her estranged children: Lee, an almost-famous actress; Cord, a handsome Manhattan venture capitalist who can't seem to find a partner; and Regan, a harried mother who took it all wrong when Charlotte bought her a Weight Watchers gift certificate for her birthday. Charlotte yearns for the years when her children were young, when she was a single mother who meant everything to them.
When she wins the contest, the family packs their baggage—both literal and figurative—and spends ten days traveling from sun-drenched Athens through glorious Rome to tapas-laden Barcelona on an over-the-top cruise ship, the Splendido Marveloso. As lovers new and old join the adventure, long-buried secrets are revealed and old wounds are reopened, forcing the Perkins family to confront the forces that drove them apart and the defining choices of their lives.
Can four lost adults find the peace they've been seeking by reconciling their childhood aches and coming back together? In the vein of The Nest and The Vacationers, The Jetsetters is a delicious and intelligent novel about the courage it takes to reveal our true selves, the pleasures and perils of family, and how we navigate the seas of adulthood.
Praise for The Jetsetters: A Novel
"At the heart of [Amanda] Ward's comic story of family estrangement and long-buried trauma is the adage 'There's no such thing as a free ride'—but her novel's ultimate destination is both surprising and transporting."—The New York Times Book Review
"[Amanda] Ward reveals she has a way with humor. . . . The author's eye for forced fun is exquisite. . . . There is a real poignancy in this novel, as wounded characters struggle to regain childhood loyalties. Ward nails how family expeditions are ruined and saved, over and over again, by fleeting moments of connection and the consensus to survive without killing one another."—Judy Blundell, The New York Times Book Review
"Witty, insightful, and full of heart . . . Defined by a long-ago tragedy and long-held grudges, grievances, and resentments, the Perkins clan has plenty of reasons to keep secrets from one another—secrets that inevitably, over the course of their forced family fun vacay, spill out. . . . The perfect novel to read in a pool lounger as you sip a colorful cocktail. Mediterranean sunset optional."—Christina Baker Kline, #1 New York Times bestselling author of Orphan Train
 
"What a joy! Treat yourself to The Jetsetters and let Amanda Eyre Ward's wit, poignancy, and insight take you away. You deserve it. . . . The funniest novel that ever broke your heart."—Andrew Sean Greer, New York Times bestselling and Pulitzer Prize–winning author of Less
 
"Heartwarming, funny, and poignant, The Jetsetters kept me up late turning the pages. . . . Compulsively readable."—Jean Kwok, New York Times bestselling author of Searching for Sylvie Lee
 
"This book has you completely devoted to the family—to their heartbreak, their secrets, their bravery, their joy—by page two. Ward crystallizes the amorphous nature of relationships in a way that gets you laughing and then bawling, then laughing again, then bawling, and ultimately feeling deliriously alive. . . . Emotional, authentic, badass, brilliant."—Jardine Libaire, author of White Fur and Here Kitty Kitty
"Secrets can be sinister, or they can set you free. In Amanda Eyre Ward's playful, poignant The Jetsetters, one family's secrets take you on a romp through Europe, and deep into hearts groping their way back to love. I adored every moment of this delightful book."—Meg Waite Clayton, internationally bestselling author of The Last Train to London
"Each character's dysfunctions run deep, and each plot twist threatens to sink their sanity, resulting in a funny, moving tale of the complications of familial love."—Booklist
"Open, optimistic, caring, romantic, and thoughtful Giovanni—Cord's fiancé—is a highlight of the book. No one, and no relationship, is perfect in this story, which embraces the messiness of love and life."—Kirkus Reviews