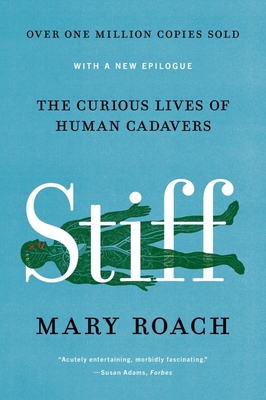 Stiff: The Curious Lives of Human Cadavers
Publication Date:
August 31st, 2021
Publisher:
W. W. Norton & Company
The Book Tavern
1 on hand, as of Dec 1 2:19pm
(Science & Math)
On Our Shelves Now
Description
Beloved, best-selling science writer Mary Roach's "acutely entertaining, morbidly fascinating" (Susan Adams, Forbes) classic, now with a new epilogue.
For two thousand years, cadavers – some willingly, some unwittingly – have been involved in science's boldest strides and weirdest undertakings. They've tested France's first guillotines, ridden the NASA Space Shuttle, been crucified in a Parisian laboratory to test the authenticity of the Shroud of Turin, and helped solve the mystery of TWA Flight 800. For every new surgical procedure, from heart transplants to gender confirmation surgery, cadavers have helped make history in their quiet way. "Delightful—though never disrespectful" (Les Simpson, Time Out New York), Stiff investigates the strange lives of our bodies postmortem and answers the question: What should we do after we die?
"This quirky, funny read offers perspective and insight about life, death and the medical profession. . . . You can close this book with an appreciation of the miracle that the human body really is." —Tara Parker-Pope, Wall Street Journal
"Gross, educational, and unexpectedly sidesplitting." —Entertainment Weekly
Praise for Stiff: The Curious Lives of Human Cadavers
This quirky, funny read offers perspective and insight about life, death and the medical profession.... You can close this book with an appreciation of the miracle that the human body really is.
— Tara Parker-Pope - Wall Street Journal
A laugh-out-loud funny book... one of those wonderful books that offers up enlightenment in the guise of entertainment.
— Michael Little - Washington City Paper
As weird as the book gets, Roach manages to convey a sense of respect and appreciation for her subjects.
— Roy Rivenburg - Los Angeles Times
Roach is authoritative, endlessly curious and drolly funny. Her research is scrupulous and winningly presented.
— Adam Woog - Seattle Times
Mary Roach is one of an endangered species: a science writer with a sense of humor. She is able to make macabre funny without looting death of its dignity.
— Brian Richard Boylan - Denver Post
Roach writes in an insouciant style and displays her métier in tangents about bizarre incidents in pathological history. Death may have the last laugh, but, in the meantime, Roach finds merriment in the macabre.
— Gilbert Taylor - Booklist
Acutely entertaining, morbidly fascinating.
— Susan Adams - Forbes