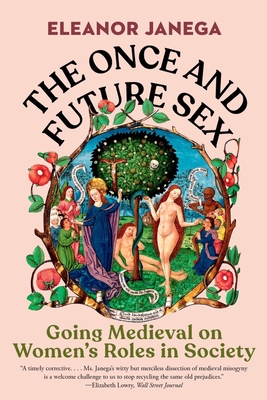 The Once and Future Sex: Going Medieval on Women's Roles in Society
Publication Date:
January 17th, 2023
Publisher:
W. W. Norton & Company
The Book Tavern
1 on hand, as of Oct 2 11:18pm
(History::European)
On Our Shelves Now
Description
Named a Most Anticipated Book of 2023 by The Millions
A vibrant and illuminating exploration of medieval thinking on women's beauty, sexuality, and behavior.
What makes for the ideal woman? How should she look, love, and be? In this vibrant, high-spirited history, medievalist Eleanor Janega turns to the Middle Ages, the era that bridged the ancient world and modern society, to unfurl its suppositions about women and reveal what's shifted over time—and what hasn't.
Enshrined medieval thinkers, almost always male, subscribed to a blend of classical Greek and Roman philosophy and Christian theology for their concepts of the sexes. For the height of female attractiveness, they chose the mythical Helen of Troy, whose imagined pear shape, small breasts, and golden hair served as beauty's epitome. Casting Eve's shadow over medieval women, they derided them as oversexed sinners, inherently lustful, insatiable, and weak. And, unless a nun, a woman was to be the embodiment of perfect motherhood.
In contrast, drawing on accounts of remarkable and subversive medieval women like Eleanor of Aquitaine and Hildegard of Bingen, along with others hidden in documents and court cases, Janega shows us how real women of the era lived. While often mothers, they were industrious farmers, brewers, textile workers, artists, and artisans and paved the way for new ideas about women's nature, intellect, and ability.
In The Once and Future Sex, Janega unravels the restricting expectations on medieval women and the ones on women today. She boldly questions why, if our ideas of women have changed drastically over time, we cannot reimagine them now to create a more equitable future.
Praise for The Once and Future Sex: Going Medieval on Women's Roles in Society
A timely corrective…[A]ccessible and entertaining…Ms. Janega's witty but merciless dissection of medieval misogyny is a welcome challenge to us to stop recycling the same old prejudices.
— Elizabeth Lowry - Wall Street Journal
Accessible, informative, and clear-sighted about the insidious workings of misogyny, this is a persuasive call for deconstructing the past to create a more equitable future.
— Publishers Weekly
A breezy, pertinent study that demonstrates how learning about social constructs is crucial to changing them.
— Kirkus Reviews
Humorous, slightly irreverent…This book offers fresh, insightful takes on the medieval period from a feminine standpoint.
— Booklist
The Once and Future Sex is a bracing and witty exploration of how gender is constructed. Eleanor Janega shows it is high time we stop using 'medieval' as a pejorative and we stop patting ourselves on the back for our supposed progress. Combining incisive cultural criticism, meticulous research, and juicy historical tidbits, The Once and Future Sex proves that the path towards a more equitable future can be found by way of the medieval past.
— Shelley Puhak, author of The Dark Queens
Reading this book is like hanging out with your brilliant, hilarious historian friend, raging together at misogyny's extraordinary adaptability over time and plotting how to change the world once and for all.
— Carissa Harris, author of Obscene Pedagogies
In this witty, entertaining, and highly learned book, packed full of colorful characters and the texture of a long-past time, Eleanor Janega never loses sight of the bigger picture: how these old ideas underpin our own conceptions of gender and how modern conceits of progress are no less deeply flawed than those of the past.
— Patrick Wyman, author of The Verge and host of The History of Tides podcast
With a deft hand, Eleanor Janega plots the maze of contradictions, restrictions, prejudice, unrealistic ideals, and outright dangers that medieval woman were forced to navigate. In doing so, she will elicit rage, admiration, horror, and wonder from her readers on behalf of their frequently indomitable female ancestors. Compelling and revelatory.
— Lindsey Fitzharris, New York Times best-selling author of The Facemaker
A startling rethinking of why the medieval past still matters. Eleanor Janega tells how women's roles are fundamentally constructed and the ways they have both changed over time and unfortunately stayed the same. With erudition and humor, this book offers the reader a perfect case study of how a fuller accounting of the past opens up new, better possible worlds.
— Matthew Gabriele, coauthor of The Bright Ages: A New History of Medieval Europe