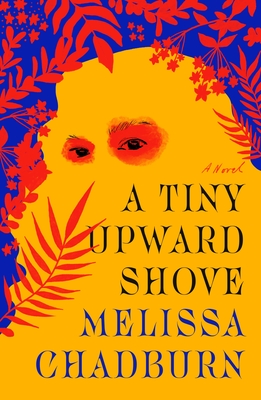 A Tiny Upward Shove: A Novel
Publication Date:
April 12th, 2022
Publisher:
Farrar, Straus and Giroux
Usually Ships in 2 to 14 Days
Description
"Wild and ambitious . . . [with] something ablaze at its core. It burns." —The New York Times Book Review
A Tiny Upward Shove is inspired by Melissa Chadburn's Filipino heritage and its folklore, as it traces the too-short life of a young, cast-off woman transformed by death into an agent of justice—or mercy.
Marina Salles's life does not end the day she wakes up dead.
Instead, in the course of a moment, she is transformed into the stuff of myth, the stuff of her grandmother's old Filipino stories—an aswang, a creature of mystery and vengeance. She spent her time on earth on the margins; shot like a pinball through a childhood of loss, she was a veteran of Child Protective Services and a survivor, but always reacting, watching from a distance, understanding very little of her own life, let alone the lives of others. Death brings her into the hearts and minds of those she has known—even her killer—as she accesses their memories and sees anew the meaning of her own. In her nine days as an aswang, while she considers whether to exact vengeance on her killer, she also traces back, finally able to see what led these two lost souls to a crushingly inevitable conclusion.
In A Tiny Upward Shove, the debut novelist Melissa Chadburn charts the heartbreaking journeys of two of society's castoffs as they make their way to each other and their roles as criminal and victim. What does it mean to be on the brink? When are those moments that change not only our lives but our very selves? And how, in this impossible world, full of cruelty and negligence, can we rouse ourselves toward mercy?
Praise for A Tiny Upward Shove: A Novel
A Best Book of the Year: NPR, New York (Honorable Mention)
A Best Book of the Month: Buzzfeed, Nylon
A Most Anticipated Book of the Year: The Millions, Ms. Magazine
A Most Anticipated Book of the Month: Electric Literature, The Los Angeles Times, Alta, Bustle, The National Book Review, Apartment Therapy
"Brilliant and terrifyingly honest . . . A stunning debut novel about the hardest things, drawing on style, study and tough experience to make it impossible for us to look away."
—Bethanne Patrick, The Los Angeles Times
"Wild and ambitious . . . [A Tiny Upward Shove] succeeds because of the exuberance of the aswang's voice and the richness of the details . . . [There is] a joy evident in the writing, something ablaze at its core. It burns."
—Erin Somers, The New York Times Book Review
"Startlingly unconventional . . . A harrowing and utterly unforgettable story."
—Tope Folarin, New York
"Literary alchemist Melissa Chadburn . . . [rips] open the underbelly of American capitalism. The result is gripping, provocative and unforgettable."
—Martha Anne Toll, NPR
"Outrageously ambitious, complex and deeply sorrowful . . . . The prose plunges fearlessly, restlessly, often violent, sometimes playful . . . Ferocious."
—Jackie Thomas-Kennedy, Star Tribune
"Powerful . . . [for] its dagger-sharp voice and Chadburn's startling talent . . . It's extraordinary, propulsive: unputdownable."
—Anita Felicelli, Alta
"Wrenching . . . A genuine, powerful work of fiction that speaks to life for those on society's margins."
—The National Book Review
"[Captures] the mixture of hopelessness, longing, liability, and a base need for love that makes us human . . . A Tiny Upward Shove is as sensational as it is heartbreaking."
—Caitlin Stout, The Chicago Review of Books
"Chadburn inhabits her novel with ease, pulling off blistering fiction while hewing to ugly realities dredged up through her journalism."
—Martha Anne Toll, Los Angeles Review of Books
"Chadburn's debut novel is a magical realism-infused literary feast . . . Her novel deftly captures poverty and victimization of youth in vivid and heartbreaking scenarios . . . Indelible and devastating . . . A haunting tale of grit and fate."
—Adrienne Cruz, Booklist (starred review)
"Unforgettable . . . Bold . . . To categorize the novel is to rob it of its complexity and power. A Tiny Upward Shove is best appreciated by letting its language sing."
—Mara Sandroff, Newcity
"Original, heartbreaking."
—Tomi Obaro, Buzzfeed
"[An] astonishing debut . . . [Chadburn's] poetic language enthralls . . . Electrifying."
—Publishers Weekly (starred review)
"Electrifying . . . Writing with remarkable grace, even surprising moments of transporting joy, Chadburn creates a miraculous literary platform to claim these [missing and murdered women's] stories . . . [A] sensational, terrifying debut."
—Terry Hong, Shelf Awareness
"Engaging and heartbreaking . . . A dark, powerful novel."
—Kirkus Reviews (starred review)
"A Tiny Upward Shove is gloriously voiced, the kind of addictive and headlong novel that makes reading into a wild bronco ride. Melissa Chadburn has it, the spark; her first novel is strange and tender and not to be missed."
—Lauren Groff, author of Matrix
"Every line carries music, emotional weight, philosophical insight, and punk rock glory."
—Amber Dermont, author of Damage Control
"A beautiful and brave novel about powerlessness, longing, and that universal, unavoidable desire to be loved. Let this book happen to you."
—Edan Lepucki, author of If You're Not Yet Like Me
"A novel that grabs your attention and won't let it go—fueled by a wild, jagged energy and an exuberant mixing of cultures and a narrator whose frank, poignant voice will keep echoing in your head."
—Sarah Shun-lien Bynum, author of Likes
"In its verve, vibrancy, and sheer reckless energy, Chadburn's writing recalls a number of wonders: Ondaatje's Running in the Family, say, or Kincaid's At the Bottom of the River. Chadburn's vision, however, her intelligence and empathy, are entirely her own."
—Matthew Specktor, author of American Dream Machine