Discounted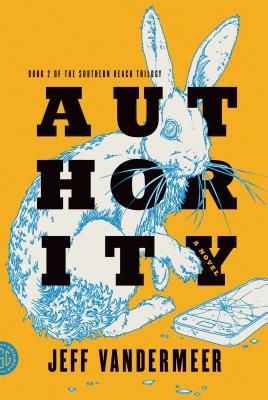 Authority: A Novel (The Southern Reach Trilogy #2)
Previous price:

$18.00
Current price:

$17.00
Publication Date:
May 6th, 2014
The Book Tavern
1 on hand, as of Dec 7 11:18pm
(SciFi/Fantasy)
On Our Shelves Now
Description
In Authority, the New York Times bestselling second volume of Jeff VanderMeer's Southern Reach trilogy, Area X's most disturbing questions are answered . . . but the answers are far from reassuring.
After thirty years, the only human engagement with Area X—a seemingly malevolent landscape surrounded by an invisible border and mysteriously wiped clean of all signs of civilization—has been a series of expeditions overseen by a government agency so secret it has almost been forgotten: the Southern Reach. Following the tumultuous twelfth expedition chronicled in Annihilation, the agency is in complete disarray.
John Rodrigues (aka "Control") is the Southern Reach's newly appointed head. Working with a distrustful but desperate team, a series of frustrating interrogations, a cache of hidden notes, and hours of profoundly troubling video footage, Control begins to penetrate the secrets of Area X. But with each discovery he must confront disturbing truths about himself and the agency he's pledged to serve.
Praise for Authority: A Novel (The Southern Reach Trilogy #2)
"Authority isn't a book that just picks up where the last one left off. Instead, it's packed full of new pleasures, not only new characters and settings but whole new kinds of writing. If Annihilation is an expedition novel painted with a thick coat of weird, then Authority is a spy novel given the same dark lacquer . . . Which makes me desperate to know what the third book is going to be like--whether it will be some mixture of the two, Jurassic Park meets James Bond, or some third thing entirely." —Robin Sloan, author of Mr. Penumbra's 24-Hour Bookstore
"The great thing about Annihilation is the strange, elusive, and paranoid world that it creates. The great thing about Authority is the way it takes the premises that we think we know about that world and turns them inside out, destabilizing everything in a way that makes it even more strange and elusive, and makes us the ones who feel paranoid. A stunning book, followed by a second stunning book that makes you rethink the first." —Brian Evenson, author of Last Days with praise for THE SOUTHERN REACH TRILOGY
"A clear triumph for VanderMeer, who after numerous works of genre fiction has suddenly transcended genre with a compelling, elegant and existential story of far broader appeal." —Lydia Millet, Los Angeles Times with praise for THE SOUTHERN REACH TRILOGY
"Unsettling and un-put-downable--like an old-fashioned adventure story, only weirder, beautifully written, and not at all old-fashioned." —Karen Joy Fowler, BookPage with praise for THE SOUTHERN REACH TRILOGY
"Chilling." —Julie Bosman, The New York Times with praise for THE SOUTHERN REACH TRILOGY
"Ingenious." —Laura Miller, Salon with praise for THE SOUTHERN REACH TRILOGY
"Enthralling." —Tara Wanda Merrigan, GQ with praise for THE SOUTHERN REACH TRILOGY
"Fans of the Lost TV series . . . this one is for you." —Molly Driscoll, The Christian Science Monitor
"[Annihilation] will make you believe in the power of science mysteries again." —Annalee Newitz, io9 with praise for THE SOUTHERN REACH TRILOGY
"Successfully creepy." —Sara Sklaroff, The Washington Post with praise for THE SOUTHERN REACH TRILOGY
"Fascinating." —John Domini, Miami Herald with praise for THE SOUTHERN REACH TRILOGY
"[Annihilation] teases and terrifies and fascinates." —Kevin Nguyen, Grantland with praise for THE SOUTHERN REACH TRILOGY
"Dazzling." —Peter Straub, author of Lost Boy, Lost Girl with praise for THE SOUTHERN REACH TRILOGY
"Haunted and haunting." —Kelly Link, author of Magic for Beginners with praise for THE SOUTHERN REACH TRILOGY