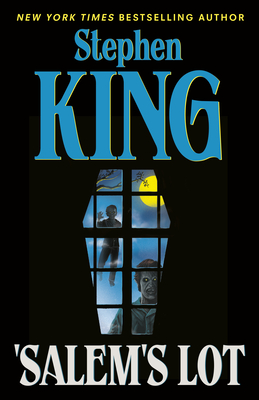 'Salem's Lot
Publication Date:
September 24th, 2013
The Book Tavern
1 on hand, as of Dec 7 11:18pm
(Horror)
On Our Shelves Now
Description
#1 BESTSELLER • Ben Mears has returned to Jerusalem's Lot in hopes that exploring the history of the Marsten House, an old mansion long the subject of rumor and speculation, will help him cast out his personal devils and provide inspiration for his new book.
But when two young boys venture into the woods, and only one returns alive, Mears begins to realize that something sinister is at work.
In fact, his hometown is under siege from forces of darkness far beyond his imagination. And only he, with a small group of allies, can hope to contain the evil that is growing within the borders of this small New England town.
With this, his second novel, Stephen King established himself as an indisputable master of American horror, able to transform the old conceits of the genre into something fresh and all the more frightening for taking place in a familiar, idyllic locale.
Praise for 'Salem's Lot
"Spine-tingling fiction at its best." --Grand Rapids Press
"A master storyteller." --The Los Angeles Times
"An unabashed chiller." --Austin American Statesman
"[The] most wonderfully gruesome man on the planet." —USA Today
 
"'Salem's Lot was—and still is—a hugely impressive novel. . . . It's the slowest of slow burns, all hints and drip-feed. . . . When the chaos finally unfolds, it's a real payoff." —The Guardian (London)
"A super exorcism...tremendous." —Kirkus Reviews
 
"A novel of chilling, unspeakable evil." —Chattanooga Times
 
"[King is] . . . the guy who probably knows more about scary goings-on in confined, isolated places than anybody since Edgar Allan Poe." —Entertainment Weekly
 
"Stephen King has built a literary genre of putting ordinary people in the most terrifying situations. . . . he's the author who can always make the improbable so scary you'll feel compelled to check the locks on the front door." —The Boston Globe
 
"Peerless imagination." —The Observer (London)