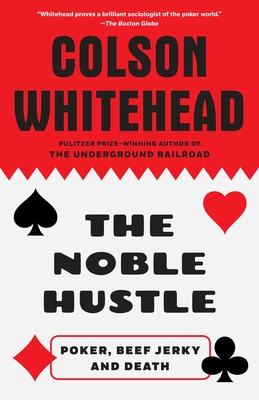 The Noble Hustle: Poker, Beef Jerky and Death
Publication Date:
March 3rd, 2015
The Book Tavern
1 on hand, as of Oct 2 11:18pm
(Fiction::African-American )
On Our Shelves Now
Description
From the two-time Pulitzer Prize-winning author of The Underground Railroad and The Nickel Boys • "Whitehead proves a brilliant sociologist of the poker world." —The Boston Globe

In 2011, Grantland magazine gave bestselling novelist Colson Whitehead $10,000 to play at the World Series of Poker in Las Vegas. It was the assignment of a lifetime, except for one hitch—he'd never played in a casino tournament before. With just six weeks to train, our humble narrator took the Greyhound to Atlantic City to learn the ways of high-stakes Texas Hold'em.
Poker culture, he discovered, is marked by joy, heartbreak, and grizzled veterans playing against teenage hotshots weaned on Internet gambling. Not to mention the not-to-be overlooked issue of coordinating Port Authority bus schedules with your kid's drop-off and pickup at school. Finally arriving in Vegas for the multimillion-dollar tournament, Whitehead brilliantly details his progress, both literal and existential, through the event's antes and turns, through its gritty moments of calculation, hope, and spectacle. Entertaining, ironic, and strangely profound, this epic search for meaning at the World Series of Poker is a sure bet.

Look for Colson Whitehead's new novel, Crook Manifesto, coming soon!
Praise for The Noble Hustle: Poker, Beef Jerky and Death
An NPR Best Book of the Year
"Astonishing. . . . Witty. . . . Tom Wolfe crossed with Tom Pynchon." —The Washington Post 
"The Noble Hustle is fierce, funny and totally worth the buy-in." —New York Daily News
"Whitehead proves a brilliant sociologist of the poker world." —The Boston Globe
 
"The Noble Hustle, part love letter, part dark confessional, captures perfectly the mix of neurosis and narrative that makes gambling so appealing." —Mother Jones
"Whitehead goes to the table himself, and like a reporter on the front line of battle, he files stories as the action heats up...[Whitehead] uses poker to expand our sense of how human beings work."
—The New York Times Book Review
"[A] trenchant, ruefully funny memoir of one man's attempt to dispel the banality of living with the anxiety of chance." —USA Today

"Fascinating. . . . Funny. . . . It's hard not to root for the underdog." —Chicago Tribune

"Mordantly funny from the first sentence. . . . Mr. Whitehead may not have gone home in the money, but he has a way with upstanding sentences." —The Economist
"Hilarious. . . . Equal parts philosophical and farcical." —The Seattle Times

"Clever and entertaining." —The Miami Herald

"[Whitehead's] reporting on the grimy glitz of casinos and competitive gambling has a funny, tragic, loser-chic sensibility." —The New Yorker

"A literary guide to the often bizarre world of casino-poker tournaments." —The Wall Street Journal

"Whitehead captures the sketchy and zombielike nature of poker tournament play well enough to leave you wishing this book came with a free bottle of Purell." —Entertainment Weekly
"A sly, shambling, self-appraising riff on how he—a fervent amateur (and newly divorced father)—braved a Las Vegas World Series of Poker tourney." —Elle
"From the first sentence to the last, Colson Whitehead never stops being clever. . . . If Whitehead played poker as well as he writes, he would have made the final table." —The Philadelphia Inquirer

"Part memoir, part satire, part meditation on the fractured state of contemporary culture." —Los Angeles Times

 "A masterpiece of sportswriting." —The Rumpus
"Shares with [David Foster] Wallace's work the close attention of a wry, sharp intelligence to a populist pastime, a mix of casual and highfalutin diction, a self-deprecating voice that you're never sure is totally truthful in its deprecation, and a fondness for broad cultural pronouncements."
—The San Francisco Chronicle