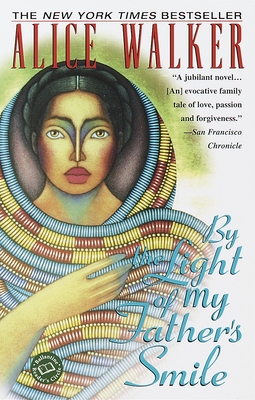 By the Light of My Father's Smile: A Novel
Publication Date:
August 31st, 1999
Publisher:
Ballantine Books
The Book Tavern
1 on hand, as of Sep 23 10:21pm
(Fiction::African-American )
On Our Shelves Now
Description
By the Light of My Father's Smile is Alice Walker's first novel in six years--a stunning, original, and important book by "one of the best American writers of today" (The Washington Post).
A family from the United States goes to the remote Sierras in Mexico--the writer-to-be, Susannah; her sister, Magdalena; her father and mother.  And there, amid an endangered band of mixed-race Blacks and Indians called the Mundo, they begin an encounter that will change them more than they could ever dream.  Moving back and forth in time, and among unforgettable characters and their stories, Walker crosses conventional borders of all kinds as she explores in this magical novel the ways in which a woman's denied sexuality leads to the loss of the much prized and necessary original self; and how she regains that self, even as her family's past of lies and love is transformed.
By the Light of My Father's Smile presents, as Alice Walker puts it, "a celebration of sexuality, its absolute usefulness in the accessing of one's mature spirituality, and the father's role in assuring joy or sorrow in this arena for his female children."  It explores the richness and coherence of alternative culture, experience of sexuality as a celebration of life, of trust in Nature and the Spirit, even as it affirms the belief, as Walker says, "that it is the triumphant heart, not the conquered heart, that forgives.  And that love is both timeless and beyond time."
Praise for By the Light of My Father's Smile: A Novel
"A jubilant novel . . . [An] evocative family tale of love, passion, and forgiveness."
--San Francisco Chronicle
"[THIS] POWERFUL STORY IS ABOUT LOVE, FORGIVENESS, PASSION AND BEING TRUE TO YOURSELF."
--Detroit Free Press
"HUGELY ORIGINAL, BY THE LIGHT OF MY FATHER'S SMILE HAS MORE THAN A HINT OF INCANTATORY MAGIC ABOUT IT. . . . Light explores what happens--to an entire family--when a daughter cannot forgive her father for a single, hypocritical, soul-crushing act. It explores the dangerous bonds of fidelity between sisters, lovers, memories. . . . Walker's language is sensual and at the same time delightfully precise. . . . Political, immodest, astonishing by turns, [this novel] once again demonstrates Walker's gigantic talent."
--The Baltimore Sun
"PROVOCATIVE . . . A BEGUILING STORY OF DIFFICULT FATHER-DAUGHTER BONDS AND STAR-CROSSED LOVERS."
--People
BY THE LIGHT OF MY FATHER'S SMILE "FULFILLS A READER'S NEED FOR WISDOM. . . . WRITTEN IN AT LEAST TWO DIMENSIONS AND ACROSS DECADES."
--Los Angeles Times Book Review
"ALICE WALKER IS A LAVISHLY GIFTED WRITER."
--The New York Times Book Review