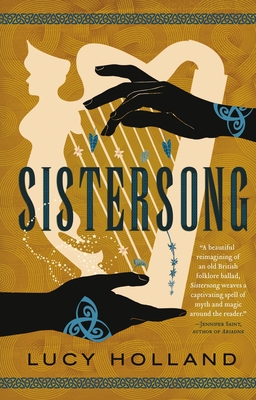 Sistersong
Publication Date:
October 5th, 2021
The Book Tavern
1 on hand, as of Dec 1 11:18pm
(SciFi/Fantasy)
On Our Shelves Now
Description
In an ancient land steeped in wild magic, three royal siblings fight to keep their kingdom safe from the warriors who threaten its borders—and their bond—in this lyrical debut of spells and song, sisterhood and betrayal.
"ABSOLUTELY STUNNING." —Hannah Whitten, author of For the Wolf
In the kingdom of Dumnonia, there is old magic to be found in the whisper of the wind, the roots of the trees, and the curl of the grass.
King Cador knew this once, but now the land has turned from him, calling instead to his three children. Riva can cure others, but can't seem to heal her own deep scars. Keyne battles to be accepted for who he truly is—the king's son. And Sinne dreams of seeing the world, of finding adventure.
All three fear a life of confinement within the walls of the hold, their people's last bastion of strength against the invading Saxons. However, change comes on the day ash falls from the sky. It brings with it Myrdhin, meddler and magician. And Tristan, a warrior who is not what he seems.
Riva, Keyne and Sinne—three siblings entangled in a web of betrayal, who must fight to forge their own paths. Their story will shape the destiny of Britain.
PRAISE FOR SISTERSONG
"Weaves a captivating spell of myth and magic around the reader." —Jennifer Saint, author of Ariadne
"Fans of folkloric fantasy will be spellbound." —Publishers Weekly
"Magical, beautiful and heartbreaking." —Greer Macallister, author of Scorpica and The Magician's Lie
"A marvelous tale, gracefully told in language as beautiful as the song that inspired it." —Louisa Morgan, author of A Secret History of Witches
"I was utterly captivated." —Genevieve Gornichec, author of The Witch's Heart
Praise for Sistersong
"A beautiful reimagining of an old British folklore ballad, Sistersong weaves a captivating spell of myth and magic around the reader. Lucy Holland's lyrical prose and powerful storytelling will lure you into an eerie, intriguing world in which enemies lurk unseen, the threat of betrayal hangs heavy and sisterly loyalties are tested to their limit."—Jennifer Saint, author of Ariadne
"Sistersong truly reads like a ballad—beautiful and mournful, a melody that sticks in your head. An absolutely stunning book."—Hannah Whitten, author of For the Wolf
"From its opening pages, Sistersong transports you to a time period often overlooked, and spins a tale of family, loyalty, and the triumph of becoming the person you were always meant to be. I was utterly captivated from the beginning to the tragic, bittersweet end."—Genevieve Gornichec, author of The Witch's Heart
"Sistersong is a marvelous tale, gracefully told in language as beautiful as the song that inspired it. It's a celebration of the power of sisterhood, the strength of earth magic, and the triumph, in the end, of fidelity to both. I fell in love with all three siblings, and I think you will, too!"—Louisa Morgan, author of A Secret History of Witches
"Magical, beautiful and heartbreaking, Sistersong keeps you turning the pages until the thrilling conclusion, both tragic and triumphant. Lucy Holland is a talent to watch."—Greer Macallister, author of Scorpica and The Magician's Lie
"An enthralling fantasy. . . Fans of reimagined folklore and mythology like Christina Henry's The Horseman and Genevieve Gornichec's The Witch's Heart will be enchanted."—Booklist
"Holland delivers an enchanting queer retelling of the English murder ballad "The Twa Sisters"… [her] fast-paced plot and fresh, inventive take on a little-known classic make for a stirring experience. Fans of folkloric fantasy will be spellbound."—Publishers Weekly
"Sistersong is a fresh and gripping retelling of an ancient tale. Set in a realistic, gritty world, the nuanced, compelling characters are the heart of this story about family, love, loyalty and identity. I loved it."—John Gwynne, author of The Shadow of the Gods
"A gory, gripping and magically mythic tale of love and hatred, loyalty and betrayal."—Daily Mail
"Holland's lush reimagining of the ballad is a fantastic amalgamation of historical fantasy and English folklore. Brimming with magic….[Her] storytelling is mesmerising, and Sistersong kept me feverishly turning the pages until the very end."—Nerd Daily