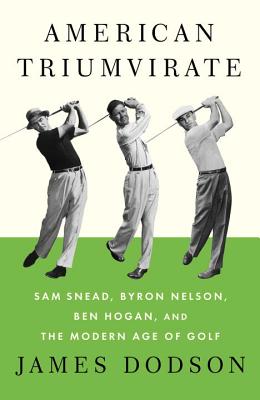 American Triumvirate: Sam Snead, Byron Nelson, Ben Hogan, and the Modern Age of Golf
Publication Date:
March 13th, 2012
Publisher:
Knopf Publishing Group
The Book Tavern
1 on hand, as of Sep 23 11:17pm
(Sports::Golf)
On Our Shelves Now
Description
In this celebration of three legendary champions on the centennial of their births in 1912, one of the most accomplished and successful writers about the game explains the circumstances that made each of them so singularly brilliant and how they, in turn, saved not only the professional tour but modern golf itself, thus making possible the subsequent popularity of players from Arnold Palmer to Tiger Woods.
 
During the Depression—after the exploits of Walter Hagen and Gene Sarazen and Bobby Jones (winning the Grand Slam as an amateur in 1930) had faded in the public's imagination—golf's popularity fell year after year, and as a spectator sport it was on the verge of extinction. This was the unhappy prospect facing two dirt-poor boys from Texas and another from Virginia who had dedicated themselves to the game yet could look forward only to eking out a subsistence living along with millions of other Americans. But then lightning struck, and from the late thirties into the fifties these three men were so thoroughly dominant—each setting a host of records—that they transformed both how the game was played and how society regarded it.
 
Sports fans in general are well aware of Hogan and Nelson and Snead, but even the most devoted golfers will learn a great many new things about them here. Their hundredth birthdays will be commemorated throughout 2012—Nelson born in February, Snead in May, and Hogan in August—but as this comprehensive and compelling account vividly demonstrates, they were, and will always remain, a triumvirate for the ages.
Praise for American Triumvirate: Sam Snead, Byron Nelson, Ben Hogan, and the Modern Age of Golf
"Evokes an era when golf was more vivid and less corporate....Dodson manages to reanimate his chosen three.  His book makes a convincing case that Snead, Nelson and Hogan really did usher in the modern era of golf—because of the quality of their play and the dramatic nature of their rivalry—and it's also a fascinating biographical account of three gifted, unusual men....That all three should come along at the same time and that their lives should interweave so intricately—one or another of them was always on top of the leader board, it seems—is almost uncanny, a stroke of singular good fortune both for golf and for people who like to read about it." —Charles McGrath, The New York Times Book Review
"The research is thorough and meticulous. The writing is superb… If you love golf, this book should be on your shelf."—The Tampa Tribune
"Ben Hogan, Sam Snead and Byron Nelson will always be long remembered as giants of the game.  Jim's depiction of them magnifies the brilliance of the three, who strangely enough we all born in the year 1912. What a year!" —Ben Crenshaw
"I read it at night, and saw Hogan, Snead and Nelson in my dreams. American Triumvirate is populated by giants, roaming the country in big American-made cars in search of greatness. I'm only sorry Herb Wind isn't around to enjoy it. Jim Dodson has stepped right into the dean's old shoes." —Michael Bamberger
"James Dodson brings his formidable skills as a raconteur and historian to this rich and sweeping narrative that will engage and move you. His breezy tone made me feel I was with him as he chatted with Hogan, Nelson, and Snead. American Triumvirate is a major contribution to golf's literature. To read it is to appreciate the power of storytelling in the hands of a master, and what a cast of characters! This singular chronicler of the game—its people, its culture, its tapestry—has done it again." —Lorne Rubenstein, author of Moe and Me: Encounters with Moe Norman, Golf's Mysterious Genius
 
"Golf is enriched by its history. Thankfully we have writers like Jim Dodson, who with his great love of the game and exceptional writing ability allows the reader to experience the golfing life of three of the game's greatest players as they bring awareness of  the professional game to the level we know today." —Barney Adams, founder and chairman, Adams Golf 
"It's always a pleasure to welcome a new book from James Dodson…without doubt one of the best golf writers….But in American Triumvirate, he has almost outdone himself.  Filled to the brim with biographical tidbits, insightful golf history and loving portraits of these golfing musketeers in the early years of professional golf history, Dodson's book captures it all in a readable and exciting narrative.  He seems to have interviewed everyone who knew them, and the stories and anecdotes make us feel like we're right there watching their near perfect golf swings over and over again." –Tom Lavoie, Shelf Awareness