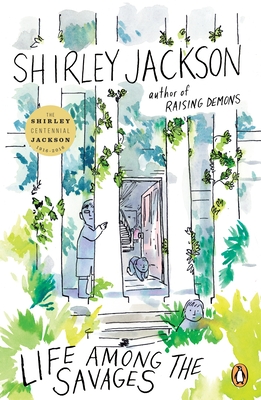 Life Among the Savages
Publication Date:
May 5th, 2015
The Book Tavern
1 on hand, as of Dec 10 11:18pm
(Classic Lit)
On Our Shelves Now
Description
In a hilariously charming domestic memoir, America's celebrated master of terror turns to a different kind of fright: raising children.  
In her celebrated fiction, Shirley Jackson explored the darkness lurking beneath the surface of small-town America. But in Life Among the Savages, she takes on the lighter side of small-town life. In this witty and warm memoir of her family's life in rural Vermont, she delightfully exposes a domestic side in cheerful contrast to her quietly terrifying fiction. With a novelist's gift for character, an unfailing maternal instinct, and her signature humor, Jackson turns everyday family experiences into brilliant adventures.
Praise for Life Among the Savages
"Read today, [Shirley Jackson's] pieces feel surprisingly modern—mainly because Jackson refuses to sentimentalize or idealize motherhood…. [Jackson's] household stories take advantage of the same techniques she developed as a fiction writer: the gradual buildup of carefully chosen detail, the ironic understatement, the repetition of key phrases and the unerring instinct for just where to begin and end a story."
-Ruth Franklin, New York Times Book Review
"Charming…you'll see every parenting stance you've ever adopted, every parent-story trope you've ever told or heard, expressed more perfectly than you ever could have…Reading Shirley Jackson, one of the great memoirists of family life, makes sharp those feelings once more—while reminding us that, yes, thank god and curse time, we too will one day look back on them across a gulf of years."
-Dan Kois, Slate
 
"Many who profess an admiration for Shirley Jackson, often described as a 'writer's writer' do not usually include her thinly veiled memoirs of motherhood. But it is precisely these hilariously eviscerating, keenly observed, and genersou books that I and many other writers who happen to be mothers, adore.
-Ayelet Waldman
 
"As warm as it is hilarious and believable...Never has the state of domestic chaos been so perfectly illuminated."
–New York Times Book Review
"When it comes to just sheer honest, wry, frustrated, finding-ways-to-appreciate-it writing about family life, we all sit at Shirley Jackson's feet"
-New York Times Motherlode
"Very funny… Life Among the Savages and Raising Demons are each a good place to begin for those who have never read any Shirley Jackson."
-The New Republic
 
"Jackson artfully loves and portrays her children. She writes of their fast growth into formidable personalities with dismayed narration and lovely direct quotes, all charmingly subjective. Her view of their sayings and doings is certainly sophisticated but far from cynical or objective."
–Saturday Review
 
"A housewife-mother's frustrations are transformed by a deft twist of the wrist into, not a grim account of disintegration and madness, still less the poisoning of her family, but light-hearted comedy."
–Joyce Carol Oates
 
"Jackson isn't all eerie uncertainties and lonely housewives. Those who know her work only from 'The Lottery' or Hill House may be surprised to discover that she could also be very funny...Jackson's two lighthearted memoirs, are filled with droll observations and amusing mishaps."
–William Brennan, Slate