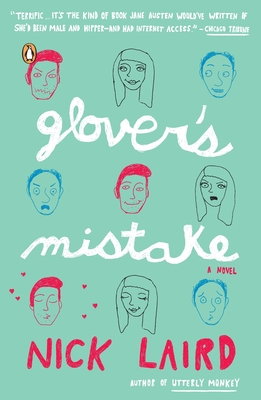 Glover's Mistake: A Novel
Publication Date:
November 30th, 2010
The Book Tavern
1 on hand, as of Dec 9 11:18pm
(Fiction)
On Our Shelves Now
Description
An insightful and drolly satirical novel about contemporary romance--"the kind of book Jane Austen would've written had she been male and hipper."
-Chicago Tribune
Look out for Nick Laird's new novel, Modern Gods, coming in June 2017
With his debut novel, Utterly Monkey, Nick Laird won acclaim on both sides of the Atlantic for his deft humor and sharp-eyed powers of observation. In this new novel, disaffected thirty-something college teacher David introduces his former teacher, American artist Ruth Marks, to his friend and flatmate James Glover, unwittingly setting in place a love triangle loaded with tension, guilt, and heartbreak. Set in the London art scene awash with new money and intellectual pretension, Nick Laird's insightful and drolly satirical novel explores the nature of contemporary romance among damaged souls whose hearts and heads never quite line up long enough for them to achieve true happiness.
Praise for Glover's Mistake: A Novel
"A searching, heartfelt meditation on the mistakes of youth (and beyond)."
--The New York Times Book Review
"What takes this tale beyond the perils of triangulation is Laird's savvy portrayal of the cultural elite, and his insights into the deft deceptions of love."
--O, The Oprah Magazine
"By the time you realize just what a dangerous writer Nick Laird is, it's too late to break away. . . . Laird's [novels] glide along with the language of a writer who can make every line work elegantly."
--The Washington Post
"Laird convenes a cast of enjoyable catty art-world types. . . . The cultural insights are persuasive,"
--The New Yorker
"Nick Laird (gifted author of the highly praised Utterly Monkey) presents each character in the round, fully, convincingly, and with a compassion liberally spiked with cool humor and an exhilarating originality of expression."
--The Boston Globe