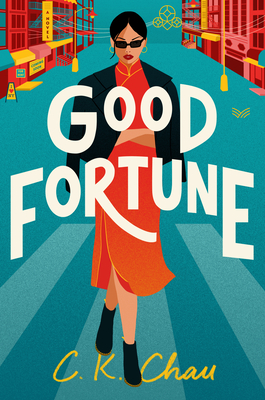 Good Fortune: A Novel
Publication Date:
July 11th, 2023
The Book Tavern
2 on hand, as of Dec 1 2:19pm
(Fiction)
On Our Shelves Now
Description
A whip-smart and charming debut novel that brilliantly reimagines Pride and Prejudice, set in contemporary Chinatown, exploring contemporary issues of class divides, family ties, cultural identity, and the pleasures and frustrations that come with falling in love.
When Elizabeth Chen's ever-hustling realtor mother finally sells the beloved if derelict community center down the block, the new owners don't look like typical New York City buyers. Brendan Lee and Darcy Wong are good Chinese boys with Hong Kong money. Clean-cut and charismatic, they say they are committed to cleaning up the neighborhood. To Elizabeth, that only means one thing: Darcy is looking to give the center an uptown makeover.
Elizabeth is determined to fight for community over profit, even if it means confronting the arrogant, uptight man every chance she gets. But where clever, cynical Elizabeth sees lemons, her mother sees lemonade. Eager to get Elizabeth and her other four daughters ahead in the world (and out of their crammed family apartment), Mrs. Chen takes every opportunity to keep her investors close. Closer than Elizabeth likes.
The more time they spend together, the more conflicted Elizabeth feels…until a shocking betrayal forces her to reconsider everything she thought she knew about love, trust, and the kind of person Darcy Wong really is.
Praise for Good Fortune: A Novel
"OG Pride and Prejudice fans will delight in the nuanced characters, frantic social climbing, and stealth feminism inspired by the Austen classic, but the steamy romance, witty cultural takedowns, and street-smart humor in this contemporary update are fresh, timely, and entirely Chau's."  — Courtney Maum, New York Times bestselling author of I AM HAVING SO MUCH FUN HERE WITHOUT YOU, COSTALEGRE, TOUCH, and THE YEAR OF THE HORSES
"A must-read for Janeites." — Parade
"The reimagining I've been waiting all my life for. With snappy banter and a lot of heart, Chau weaves a surprising new tale from a classic love story. Jane would have been proud."
— Carolyn Huynh, bestselling author of The Fortunes of Jaded Women
"Chau's witty and entertaining debut puts a contemporary spin on Pride and Prejudice in New York City's Chinatown....With sharp dialogue, a vibrant backdrop, smart explorations of gentrification and family duty, and, above all, an endearing central romance, this should win Chau many fans."  — Publishers Weekly
"Jane Austen fans should enjoy this, especially those who like modern, multicultural reimaginings of her novels, such as Sonali Dev's Pride, Prejudice, and Other Flavors and Uzma Jalaluddin's Ayesha at Last." — Library Journal
"There have been dozens, and probably even hundreds, of adaptations of Jane Austen's Pride and Prejudice. Do we really need more? C.K. Chau's wonderful debut novel, Good Fortune, makes a strong case that we do...what really makes the novel work is that it functions as both tribute and gentle critique of its blueprint...In Good Fortune, working-class life is neither pure misery nor set dressing: It is companionship and solidarity, and it is a narrative engine. In re-classing the Bennets, Chau both uncovers new layers in the original and reveals some of what Austen left out."
— Los Angeles Times
"C.K. Chau's fresh take on a centuries-old story brings Pride and Prejudice to early 2000s New York City Chinatown." — NPR
"Readers looking for a new, entertaining, and contemporary perspective on Austen's classic Pride and Prejudice will be thrilled with Chau's debut. Each of the key characters displays their strengths, weaknesses, and sense of humor as they confront cultural expectations of older and younger generations of Asian Americans, while also embracing current views on education and employment and navigating relationships. Janeites will love the creativity of Chau's updated approach, and fans of romantic comedies will want to see this as their next favorite television series."  
— Booklist
"Filled with lovable characters and laugh-out-loud moments." — Woman's World Magazine
"Since we're all obsessed with historical romance rn (thanks Shonda), why not curb your addiction with a Pride and Prejudice retelling, but make it cultured? In C.K. Chau's debut novel, we have Darcy Wong, a property owner of the rundown but beloved community center in Chinatown, NYC. The previous owner's daughter, Elizabeth, isn't too happy that their safe haven is being used for profit, so she decides to fight against the snobby, arrogant investor to get what is rightfully theirs. If only she could also fight her romantic attraction to him too." — Cosmopolitan