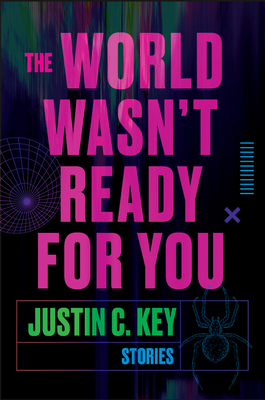 The World Wasn't Ready for You: Stories
Publication Date:
September 19th, 2023
The Book Tavern
2 on hand, as of Dec 10 11:18pm
(SciFi/Fantasy)
On Our Shelves Now
Description
Black Mirror meets Get Out in this gripping story collection reminiscent of the work of Octavia E. Butler, which deftly blends science fiction, horror, and fantasy to examine issues of race, class, and prejudice—an electrifying, oftentimes heartbreaking debut from an extraordinary new voice.
Justin C. Key has long been obsessed with monsters. Reading R. L. Stine's Goosebumps as a kid, he imagined himself battling monsters and mayhem to a triumphant end. But when watching Scream 2, in which the movie's only Black couple is promptly killed off, he realized that the Black and Brown characters in his favorite genre were almost always the victim or villain—if they were portrayed at all.
In The World Wasn't Ready for You, Key expands and subverts the horror genre to expertly explore issues of race, class, prejudice, love, exclusion, loneliness, and what it means to be a person in the world, while revealing the horrifying nature inherent in all of us. In the opening story, "The Perfection of Theresa Watkins," a sci-fi love story turned nightmare, a husband uses new technology to download the consciousness of his recently deceased Black wife into the body of a white woman. In "Spider King," an inmate agrees to participate in an experimental medical study offered to Black prisoners in exchange for early release, only to find his body reacting with disturbing symptoms. And in the title story, a father tries to protect his son, teaching him how to navigate a prejudiced world that does not understand him and sees him as a threat.
The World Wasn't Ready for You is a gripping, provocative, and distinctly original collection that demonstrates Key's remarkable literary gifts—a skill at crafting science fiction stories equaled by an ability to sculpt characters and narrative—as well as his utterly fresh take on how genre can be used to delight, awe, frighten, and ultimately challenge our perceptions. Wildly imaginative and powerfully resonant, it introduces an unforgettable new voice in fiction.
Praise for The World Wasn't Ready for You: Stories
"Key's stories exemplify [a] tight focus on interior experiences, zooming in on the intimate horrors wrought by fantastical technologies and events. The standout 'Spider King' features an unwitting participant in a twisted carceral experiment involving telekinetic arachnids . . . .`Afiya's Song,' about an enslaved Black woman who inspires an uprising, cleverly complicates the magical Negro trope . . . . The intrusive public health system of `Wellness Check,' the nightmarish interactive art of `Now You See Me' and the alien apartheid of the title story showcase an active imagination and a commitment to socially-minded speculative fiction." — New York Times Book Review
"The most profound terror is rooted in love—the terror of losing love, of love betrayed, of love in peril. Justin C. Key's work is a cold knife through a hot heart, a surgical blade unleashing gouts of searing fear." — Cory Doctorow, author of Red Team Blues, Little Brother, and Radicalized
"From the first sentence of the first story, I knew I was in the hands of a gifted storyteller. Each tale in this tightly woven collection has its own voice, which pairs with the narrative. The stories are by turns heartbreaking and terrifying." — Mary Robinette Kowal
"One of many distinctive new Black American voices in the fantasy genre, Key shows throughout these eight stories the range and ingenuity of such grandmasters as Ray Bradbury, Robert Sheckley, and Theodore Sturgeon, with whom he also shares acute empathy for human vulnerability . . . . Key resolutely carries on the tradition of the modern SF writers who always found new and rueful ways of reminding readers that no matter how much technology changes, humanity, in its loneliness, folly, and constricted vision, somehow never does." — Kirkus Reviews (starred review)
"This masterful collection interweaves technology and magic while exploring race relations, family bonds, and social oppression. Key's stories alternate between dread and hope, their beats delivered with confident, unwavering prose. He shows us again and again that horror doesn't need the supernatural when monsters walk among us." — S. B. Divya, Hugo and Nebula-nominated author of Meru
"Key deftly moves the SF, fantasy, and horror genres forward with works of short fiction that explore the Black experience, racism, power, prejudice, and fear . . . . Key has brought Jordan Peele and Black Mirror to the world of literary fiction." — Booklist (starred review)
"Key creates worlds of speculative fiction inhabited by Black people trying their best to live, love, and survive." — The Observer
"There's a new out-of-the box thinker on the block—and on bookshelves . . . . mind-bending, thought-provoking short stories . . . generating significant buzz in the fantasy world."
— People
"Really, what is more incredible, more surreal than the widespread everyday injustices of gaslighting spouses and the racist carceral state; not to mention the unexpected joys of love in the time of cholera? (Yes, children; that last one is a reference to an older literary masterwork.) Key remixes speculative fiction and common fact to great effect, adding his own artistic vision to the insistent upwelling of African diasporic voices in this genre." — Nalo Hopkinson author of Brown Girl in the Ring
"An electrifying collection of stories that would make Octavia E. Butler smile." — Ebony
"Deep thinking and feeling went into these stories; each one is a brilliant reservoir. Now, more than ever, we need stories like these; we need Justin C. Key." — Andy Duncan, three-time World Fantasy Award winner
"[An] equally unsettling and thought-provoking debut collection . . . . Key has a talent for crafting memorable characters . . . . Readers will welcome this formidable new voice in Black speculative fiction." — Publishers Weekly
"Justin Key electrifies us with reality-bending stories that reach deep into the abscesses of our past and current world, stories layered with stark commentary that spin startling tomorrows, all the while playing us with taut prose that reaches deep into the gut." — Tobias S. Buckell, author of A Stranger in the Citadel
"A gripping, provocative, and distinctly original collection . . . . Wildly imaginative and powerfully resonant, it introduces an unforgettable new voice in fiction." — Tor.com
"This genre-blending collection . . . . hones in on the current shortcomings of the status quo." — BookRiot
"Each story in this collection is a heady mix of sci-fi, horror, and fantasy mixed together to create a rich, literary stew. Key has a way of looking at our tomorrows and our yesterdays to create deeply spiritual and starkly relevant stories. This collection was what my soul needed." — Maurice Broaddus, author of Sweep of Stars and Unfadeable
"A gifted storyteller . . . . An impactful collection of stories about race, class, and prejudice in our world."
— Escapist