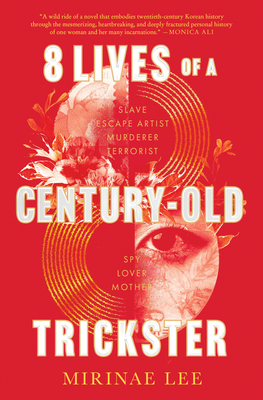 8 Lives of a Century-Old Trickster: A Novel
Publication Date:
June 13th, 2023
The Book Tavern
1 on hand, as of Oct 2 11:18pm
(Fiction)
On Our Shelves Now
Description
Joining the acclaimed ranks of Pachinko and A Woman is No Man, a riveting and genre-bending debut of love and survival, set in the demilitarized zone separating North and South Korea.
Life near the North Korean border is a zero-sum game, an ongoing battle in which you either win or you lose. This dangerous, shadowed netherworld is home to an unforgettable woman known only as the "trickster."
Inspired by the story of Lee's great aunt, one of the oldest women to escape alone from North Korea, 8 Lives of a Century Old Trickster consists of eight dark and spellbinding chapters that follow this remarkable character and her family as they struggle to survive during the most turbulent times of modern Korean history. Mirinae Lee's trickster is a shapeshifter—throughout the course of these interconnected chapters she is a slave, an escape artist, a murderer, a terrorist, a spy, a lover, and a mother—a woman who must often choose the unthinkable to survive war and conquest in Korea. Her story is a beguiling, complex tale of love and survival that will keep you riveted—and speculating—until the very end thanks to Lee's brilliant talent for sleight of hand.
A fascinating look at survival, trauma, and family, 8 Lives of a Century-Old Trickster is an incredible literary debut from a bright new talent.
Praise for 8 Lives of a Century-Old Trickster: A Novel
"A turbulent novel traversing decades of Korean history, 8 Lives of a Century-Old Trickster interrogates love, identity, betrayal, and everything it takes for one shape-shifting "trickster" to survive. Lee writes with sharp, ferocious energy, and I was riveted from the first page. An exquisitely accomplished debut."  — Mira T. Lee, author of Everything Here Is Beautiful
"Fantastically original doesn't begin to describe this exhilarating globe-spanning, decade-hopping masterpiece. Lee has achieved the impossible -from a fractured century of agonies and betrayals, she has woven a novel of immense beauty and regeneration." — Junot Díaz, author of The Brief Wondrous Life of Oscar Wao 
"Beautiful and at times experimental prose flows in and out of first and third person as Lee shifts among perspectives and time periods. Lee drew inspiration from her own great-aunt, one of the oldest women to escape alone from North Korea, and the result is one of the most complex characters I've encountered in some time. 8 Lives of a Century-Old Trickster is enticing, profound and deeply moving, a testament both to Lee's skill and the courage of her ancestor. — BookPage (Starred Review)
"Soaring, fierce, bold, and intoxicating, 8 Lives of a Century-Old Trickster draws an unforgettable portrait of a Korean woman navigating her place in the world over the course of almost a hundred years. Lives that have been ruptured by war, totalitarianism, and unexpected family discoveries are explored with razor-sharp insight and shimmering detail. The lies we tell, the particles of pleasure we find amidst the pain, and how deception and the power of storytelling can lead us to our truest selves are all explored with phenomenal skill. An absolutely astonishing work of art." — Marjan Kamali, author of The Stationery Shop and Together Tea
"The atrocity and suffering interwoven in these pages tell the splintered history of war and violence in twentieth-century Korea that keeps me awake at night. Mirinae Lee unravels human intentions and actions with devastating details, reminding us of many hearts of darkness. What's most striking, however, is the trust invested in the power of storytelling. The interlocking lives in the novel read like scar tissues that reopen and close. A mutual understanding is established as we re-examine the wounds that won't heal until they find their voice, until we listen." — Kit Fan, author of Diamond Hill
"Mirinae Lee has magically created a new literary form, one that deftly weaves political intrigue, lyrical narration, sensuous description, and subtle humour. In her heroine's tender, harrowing reclaiming of her traumatized body, the reader, too, finds healing. 8 Lives packs the spellbinding, page-turning punch of a spy thriller while quietly delivering the lilting insights of Carmen María Machado and Ocean Vuong. Lee's debut marks the arrival of a riveting new voice on the global literary stage." — Brittani Sonnenberg, author of Home Leave
"A wild ride of a novel that embodies twentieth-century Korean history through the mesmerizing, heartbreaking and deeply fractured personal history of one woman and her many incarnations." — Monica Ali
"Mirinae Lee has created an unforgettable character and a bold, inventive narrative that takes us through history. But don't underestimate 8 Lives of a Century-Old Trickster; this astonishing, compassionate, and ambitious novel is more than story. Lee cares about how the story is told as much as the story itself. What an incredible debut." — Krys Lee, author of How I Became A North Korean
"A stunning debut from Mirinae Lee, 8 Lives of a Century-Old Trickster follows the incredible life of a woman, a shapeshifter, as she battles life near the North Korean border during the most turbulent times in Korean history. Lee is a master at storytelling, weaving the eight stories in a way that leaves you with questions, only to answer them with scenes that are sometimes horrific, sometimes touching, but always riveting." — Lyn Liao Butler, author of Red Thread of Fate
"Reading 8 Lives is like eating earth: unapologetically rebellious, breathtakingly exhilarating, and deeply painful. Korea's turbulent modern history as its backdrop, each story is artfully told through a magnetic character who embodies the peninsula's dark and complex past. Lee's debut is a gift to all storytellers of diasporic imagination." — Joseph Juhn, director of Chosen
"Unflinching and tender, philosophical and mischievous, this playful novel conveys a sense of Korea's turbulent twentieth century through a charming, compelling protagonist who is not always a reliable narrator but who tells the truths that matter. I was captivated by Lee's masterful storytelling." — Melissa Fu, author of Peach Blossom Spring
"In Mirinae Lee's 8-lives of a Century-Old Trickster, a sly, flinty protagonist summons all of her charm to survive one hundred years of tumult, espionage, and war. I have never put so much trust in a verified liar. Part spy novel, part ode to storytelling, Lee's debut captivated and surprised me." — Alyssa Songsiridej, author of Little Rabbit
"Chilling, bold and masterful, Lee's dazzling debut slams into the head and the heart with dizzying, visceral force and commanding skill. Intricately and inventively plotted, 8 Lives of a Century-old Trickster is hard-wired with tension and suspense and bound tight with history." — Kimberly Elkins, author of What Is Visible
"A dazzling, visceral read. Intricately woven and playful, the prose has a brutal beating energy. At its heart is the fascinating Ms Mook, and the kaleidoscope of her life is a captivating history of Korea, a country torn apart." — Catherine Cho, author of Inferno
"Mirinae Lee has magically created a new literary form, one that deftly weaves political intrigue, lyrical narration, sensuous description, and subtle humor. In her heroine's tender, harrowing reclaiming of her traumatized body, the reader, too, finds healing. 8 Lives packs the spellbinding, page-turning punch of a spy thriller while quietly delivering the lilting insights of Carmen María Machado and Ocean Vuong. Lee's debut marks the arrival of a riveting new voice on the global literary stage." — Brittani Sonnenberg, author of Home Leave
"The protagonist and occasional narrator of Lee's smart, complex debut contains multitudes... An inventive, melancholy debut." — Kirkus Reviews
"Lee's beautiful novel is a tale of survival, trauma, and love in the midst of modern Korea's most tumultuous times. Her metaphorical and lyrical language, brutal and unsettling storytelling, and masterful prose will keep readers hooked until the very end."  — Booklist
"Lee presents compelling stories which deserve to be heard." — Asian Review of Books
"Mesmerising and heart breaking but absolutely impossible to put down. Such a brilliant book, it will melt the hardest of hearts." — Independent Book Reviews
"Brilliant and Original" — Washington Post
"Her story is a beguiling, complex tale of love and survival that will keep you riveted—and speculating—until the very end thanks to Lee's brilliant talent for sleight of hand." — Tor.com
"The captivating 'Me, Myself, and Mole,' about a man who reunites with a woman who may or may not be his long-lost wife, highlights perhaps the collection's most tantalizing trick: keeping readers guessing what's real." — The New York Times Book Review
"An extraordinary literary experience … 8 Lives is ultimately a story of survival, achieving intense beauty (violence and joy alike are poetically rendered), as well as a glimpse into the isolated culture of post-1950s North Korea. Fans of Pachinko will embrace this unusual but unforgettable story."  — Historical Novels Society 
"A dazzling feat of storytelling … It is a cracking good read, rich with social commentary and historical detail. … With its finely chiseled prose and perfectly segueing vignettes of Grandma Mook's life, this is a novel that advances the art of short fiction."  — Historical Novels Society, UK