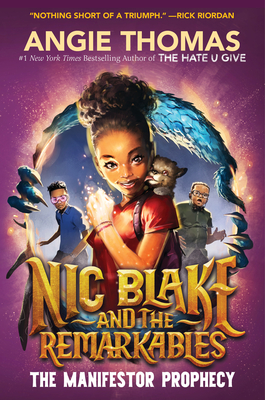 Nic Blake and the Remarkables: The Manifestor Prophecy
Publication Date:
April 4th, 2023
The Book Tavern
2 on hand, as of Oct 2 11:18pm
(Children's)
On Our Shelves Now
Moving and magical, Angie Thomas' middle grade debut perfectly blends African mythology and history of the American South. An impactful and fast-paced read for fans of Rick Riordan and B. B. Alston.
May/June 2023 Kids' Indie Next List
Description
Internationally bestselling superstar author Angie Thomas makes her middle grade debut with the launch of an inventive, hilarious, and suspenseful new contemporary fantasy trilogy inspired by African American history and folklore.
It's not easy being a Remarkable in the Unremarkable world. Some things are cool—like getting a pet hellhound for your twelfth birthday. Others, not so much—like not being trusted to learn magic because you might use it to take revenge on an annoying neighbor.
All Nic Blake wants is to be a powerful Manifestor like her dad. But before she has a chance to convince him to teach her the gift, a series of shocking revelations and terrifying events launch Nic and two friends on a hunt for a powerful magic tool she's never heard of...to save her father from imprisonment for a crime she refuses to believe he committed.
Praise for Nic Blake and the Remarkables: The Manifestor Prophecy
"Thomas (Concrete Rose) brings her trademark voice to an action-packed series kickoff rooted in a mixture of African diasporic myth, biblical references, and U.S. history. Imbuing characters both brave and sweetly vulnerable with unflappable senses of humor amid harrowing circumstances, Thomas creates an elaborate supernatural mythology that boldly confronts fantasy tropes and questions of forgiveness." — Publishers Weekly (starred review)
"In a set of gleefully ingenious riffs on African and African American folklore, from "The People Could Fly" to Wakanda, Thomas pitches 12-year-old Nic into a whirl of stunning discoveries about her background as she struggles to understand her own magical gifts…. Sober references…give further historical and emotional depth to this rousing quest tale's already richly articulated cultural context." — Booklist (starred review)
"Thomas has been a force on the young adult scene, and her first middle grade novel proves her range extends across genre and age groups; she weaves complex fantasy stories as deftly as realistic ones. [T]he freshness of the story and characters, along with Thomas's control of a multilayered, nuanced plot, makes everything feel brand new. A book that will delight young readers and adults alike. Nic Blake is entering the Black fantasy scene with all the confidence and energy of its main character, and we're so glad it's here." — School Library Journal (starred review)
"Magnificent, hilarious and captivating. It can be challenging to satiate the appetites of readers who devour beloved middle grade fantasy series. Those readers will inhale Nic Blake and the Remarkables—and then begin counting down the days to its sequel." — BookPage (starred review)
"The Manifestor mythology combines African and African American folklore and Biblical stories, and the book explores Black Americans' historical and present-day traumas alongside a fast-paced adventure and inventive worldbuilding. Readers will eagerly await the unearthing of more secrets in the next installment." — Kirkus Reviews
"Thomas skillfully incorporates folktales from the African Diaspora and infuses her story with the energy and emotional nuance of a pre-teen in this tale of intrigue, loyalty, identity, and courage—the first book in a projected trilogy." — Horn Book
"Thomas brings her considerable talents to this first volume of an anticipated trilogy—her characters are well-developed, the world's framework is creative and satisfying, and powerful undercurrents of struggles against injustice add a memorable additional layer lacking in other similar series." — Bulletin of the Center for Children's Books
"All the brilliance you'd expect from Angie Thomas: a page-turning plot, pitch-perfect characters, heart and substance, and real stakes that real kids will care about—plus magic! This is one of those rare books that will instantly become the best friend you didn't know you needed. Nic Blake and the Remarkables is nothing short of a triumph. When's the next installment, please?" — Rick Riordan, #1 New York Times bestselling author of the Percy Jackson and the Olympians series
"Packed with humor and bursting with heart and imagination, Nic's story will enchant readers of all ages!" — B.B. Alston, #1 New York Times bestselling author of Amari and the Night Brothers
"Thomas creates a new Afro-future world that feels steeped in history and lived in by generations of real flesh-and-blood families. The gravity of Thomas's world never weighs down the story, which zips along with wit, humor, and sparkling dialogue. The Manifestor Prophecy is a tantalizing first installment in what is sure to be a blockbuster series, and a remarkable achievement for a master author in a thrilling new arena." — Soman Chainani, #1 New York Times bestselling author of The School for Good and Evil series
"Exploding with heart, humor, and all things Black Girl Magic, Nic Blake and the Remarkables is a triumph of friendship and Black Southern folklore and history." — Dhonielle Clayton, New York Times bestselling author of The Marvellers
"This book is no-holds-barred, fly by the seat of your pants (and other methods) trip to the corner of Thrill Street and Wonder Avenue. Nic Blake is amazing!" — Kwame Mbalia, author of the Tristan Strong series