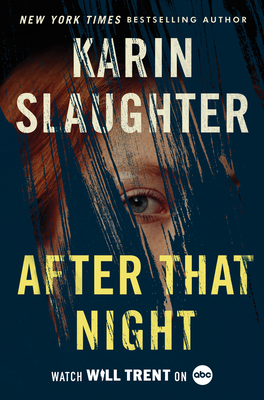 After That Night: A Will Trent Thriller
Publication Date:
August 22nd, 2023
Publisher:
William Morrow
The Book Tavern
1 on hand, as of Dec 7 11:18pm
(Fiction::Mystery)
On Our Shelves Now
Description
WATCH WILL TRENT ON ABC!
"Enter the world of Karin Slaughter. Just be forewarned, there's no going back." —Lisa Gardner
GBI investigator Will Trent and medical examiner Sara Linton are back in an electrifying thriller from New York Times bestselling author Karin Slaughter
After that night, everything changed . . .
Fifteen years ago, Sara Linton's life changed forever when a celebratory night out ended in a violent attack that tore her world apart. Since then, Sara has remade her life. A successful doctor, engaged to a man she loves, she has finally managed to leave the past behind her.
Until one evening, on call in the ER, everything changes. Sara battles to save a broken young woman who's been brutally attacked. But as the investigation progresses, led by GBI Special Agent Will Trent, it becomes clear that Dani Cooper's assault is uncannily linked to Sara's.
And the past isn't going to stay buried forever . . .
Praise for After That Night: A Will Trent Thriller
"Karin Slaughter raises her game with every book. After That Night is compulsive reading." — Clare Mackintosh, author of I Let You Go
"[G]rueling, pitiless, yet compassionate…. It's a signal achievement of Slaughter that the climactic revelations add still another layer of horror to her tale."  — Kirkus Reviews (starred review) on After That Night
"It is a sign of Karin Slaughter's skill that although there is far more talk than action this novel is never less than nail-biting…. The final twist — a touch of ironic genius — will make your jaw drop."  — London Times (UK)
"An irresistible thriller powered by righteous anger." — The Mail on Sunday
"Karin Slaughter always keeps me hooked and Girl, Forgotten is no exception. Totally worthy of a no interruptions, read-all-day bingeathon." — Lisa Gardner, #1 New York Times bestselling author
"It just doesn't get any better than this five-star story."
— Mystery & Suspense Magazine on After That Night
"It is a sign of Karin Slaughter's skill that although there is far more talk than action this novel is never less than nail-biting … The final twist — a touch of ironic genius — will make your jaw drop." — Times
"[Slaughter] brings her trademark intensity to every relationship she lays bare. Like touching a live wire that continues across three generations." — Kirkus Reviews on Girl, Forgotten
"Layer upon layer of mystery, a great cast of characters, and some genuinely startling twists. This is Slaughter at her best." — Booklist (starred review) on Girl, Forgotten
"Slaughter skillfully leads readers on a thrilling journey into the past to solve the murder that a small town wants to forget, yet is still haunted by."  — Library Journal (starred review) on Girl, Forgotten
"Gripping.... Slaughter reliably entertains." — Publishers Weekly on Girl, Forgotten
"Cunningly conceived and written . . . Deeply satisfying." — Washington Post on False Witness
"Annnnd she does it again. Slaughter's latest high-stakes thriller follows a defense attorney whose dark past is coming back to haunt her—all thanks to a new client she's called in to represent days before his trial. There's deception, sabotage, violence, family secrets . . . all the stuff you could want from a fictional page-turner, really." — theSkimm on False Witness
"Karin Slaughter's False Witness is a twisty, searingly contemporary mystery steeped in a dark past, and she weaves a story that catches your breath and keeps you gasping and guessing until the end."  — Stacey Abrams, author of While Justice Sleeps, on False Witness
"Slaughter offers us a high-stakes thriller that handles the tragedy of addiction with empathy and grace. Her heroines are believable, flawed and courageous." — Oyinkan Braithwaite, award-winning author of My Sister, The Serial Killer, on False Witness
"All of Slaughter's books... are satisfyingly surprising and plausible, but it's Slaughter's prodigious gifts of characterization that make her stand out among thriller writers…Slaughter's satirical touches are as deft as her grimmer renditions of real life." — Washington Post on Pieces of Her
"The ever-popular crime novelist is back with another pulse-pounding standalone, this one considering the twisted relationship between a mother and a daughter after the latter realizes she may not know the woman who gave birth to her at all." — Entertainment Weekly on Pieces of Her
"Expect from a Karin Slaughter crime thriller . . . just the right amount of twists, turns, shocks, surprises and domestic thrill and shrill."   — Parade
"The success of writers like Gillian Flynn and Paula Hawkins and Karin Slaughter isn't just due to the fact that they're women. . . . It's about writers comprehending why women are so compelled by stories about brutal, graphic violence in the first place." — The Atlantic
"Her talent is the equivalent of an Edgar Allan Poe or a Nathaniel Hawthorne . . . An exemplary storyteller, weaving her words with skill and intelligence. She will be recognized as one of the great talents of the 21st century and will hold an honored place in the realm of world literature." — Huffington Post
"One of the boldest thriller writers working today." — Tess Gerritsen, New York Times bestselling author
"Her characters, plot, and pacing are unrivaled among thriller writers, and if you haven't yet read her, this is the moment." — Michael Connelly, New York Times bestselling author