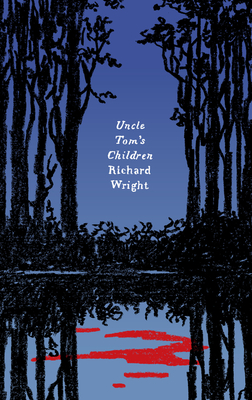 Uncle Tom's Children: Novellas (Harper Perennial Olive Editions)
Publication Date:
September 7th, 2021
Publisher:
Harper Perennial
The Book Tavern
2 on hand, as of Dec 9 11:18pm
(Classic Lit)
On Our Shelves Now
Description
"I found these stories both heartening. . . and terrifying as the expression of a racial hatred that has never ceased to grow and gets no chance to die." —Malcolm Cowley, The New Republic
Richard Wright's powerful collection of novellas set in the American Deep South, now available as a limited Olive Edition from Harper Perennial.
Each of the poignant stories in Uncle Tom's Children concerns an aspect of the lives of Black people in the post-slavery era, exploring their resistance to white racism and oppression. The collection also includes a personal essay by Wright titled "The Ethics of Living Jim Crow."
Originally published in 1938, Uncle Tom's Children was the first book from Wright, who would go on to win international renown for his powerful and visceral depiction of the Black experience. The author of numerous works, most notably the acclaimed novel Native Son and his stunning autobiography, Black Boy, Wright stands today as one of the greatest American writers of the twentieth century.
Praise for Uncle Tom's Children: Novellas (Harper Perennial Olive Editions)
"A formidable and lasting contribution to American literature." — Chicago Tribune
"I found these stories both heartening, as evidence of a vigorous new talent, and terrifying as the expression of a racial hatred that has never ceased to grow and gets no chance to die." — Malcolm Cowley, The New Republic
"These stories burn like a house afire. They sing as well as sear; and what they have to say is as startling as a race riot." — Lewis Gannett
"In violating the unspoken agreement regarding what could or could not be uttered about race relations in this country, Wright brought to bear both the rhetorical force of leftist polemic and the imaginative energy and cultural richness of Afro-American folklore with a power and a coherence that he may never have again achieved." — Richard Yarborough, from the Introduction of Uncle Tom's Children
"The Library of America has insured that most of Wright's major texts are now available as he wanted them to be read." — Alfred Kazin, New York Times Book Review
"We have an opportunity to assess Wright's formidable and lasting contribution to American literature .. . . They have returned to the 1940 second printing of Uncle Tom's Children which included one additional story, 'Bright and Morning Star,' and 'The Ethics of Jim Crow,' thus offering us all the selections Wright wished the collection to have." — Charles Johnson, Chicago Tribune