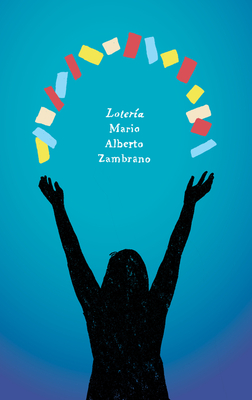 Loteria: A Novel (Harper Perennial Olive Editions)
Publication Date:
September 7th, 2021
Publisher:
Harper Perennial
Description
In Mario Alberto Zambrano's acclaimed literary debut, "a Mexican-American girl uses the game of Lotería to reveal her memories, which add up to a heart-wrenching tale of violence, love and a broken family" (Los Angeles Times)—now available as a limited Olive Edition from Harper Perennial.
With her older sister, Estrella in the ICU and her father in jail, eleven-year-old Luz Castillo has been taken into the custody of the state. Alone in her room, the young girl retreats behind a wall of silence, writing in her journal and shuffling through a deck of lotería cards—a Mexican version of bingo featuring bright, colorful images.
Neither the social worker assigned to her case nor her Aunt Tencha, who desperately pleads for her niece's release, can cajole Luz to speak. The young girl's only confidant is her journal. Within its pages, Luz addresses an invisible higher power, sharing her secrets and the story of her family's tragic demise—and the terrifying night that ripped them apart forever.
Using the lotería cards as her muse, Luz picks one card from the deck with each shuffle. Each of the cards' colorful images— mermaids, bottles, spiders, death, and stars—sparks a random memory. Pieced together, these snapshots bring into focus the joy and pain of the young girl's life, including the violence inflicted against her sister, the disappearance of her mother, her father's arrest. But just as the story becomes clear, a breathtaking twist changes everything.
A surprising, spellbinding tale richly imaginative and atmospheric, Loteria is an exquisite debut novel from an outstanding new voice in fiction.
Praise for Loteria: A Novel (Harper Perennial Olive Editions)
"Sometimes what Zambrano leaves off the page is just as important as what's been written. This narrative sleight of hand shows Zambrano's gift for evoking great pain in stark, lyrical sketches." — Los Angeles Times, Summer Reading Pick
"Loteria is a taut, fraught, look at tragedy, its aftermath, and the stories we tell ourselves to survive. With suspense, dread, and always the possibility for redemption, we watch as Zambrano flips the cards of chance and fate." — Justin Torres, author of We The Animals
"Loteria…captures, from a wide-eyed yet uncloying child's perspective, the way in which life can feel a lot like a game of chance." — Vogue, "Summer Reads"
"A polished tome of prose unreeling the tale of plucky little Luz Maria Castillo in the game of chance called life.… We peer like voyeurs, artfully led by Zambrano's pacing, dialogue and comically drawn characters." — Houston Chronicle
"Loteria… is constructed as a beautiful, gripping, and lyrical set of riddles (asked and solved) about life—and—death matters in one family. Like the novels of Cortazar, its form is intricate and beautiful. " — Charles Baxter, author of Gryphon: New and Selected Stories and The Feast of Love
"Mario Alberto Zambrano performs a lyrical and formal sleight of hand conjuring a spiritually profound and deeply moving story. Loteria is about everything that matters. . . . This gorgeous, one-of-a-kind debut, marks the emergence of a singular and powerful new literary voice." — Amber Dermont, New York Times bestselling author of The Starboard Sea and Damage Control: Stories
"In a bold, deeply-felt debut Mario Alberto Zambrano brings us tragedy made powerful … These are people who hold on to each other so hard it hurts. And this moving novel will hug you too, every bit as tight." — Josh Weil, author of The New Valley
"Take the architecture of Italo Calvino's The Castle of Crossed Destinies and marry it to the wide-open childhood receptivity of Carson McCullers's The Member of the Wedding, and you might achieve something like the effect of Loteria, but the tone Mario Alberto Zambrano strikes here is entirely his own. Luz, the book's young narrator, is at once rueful and playful, innocent and canny, with the true breath of life about her, and when she finally lays the last of her cards before you, you'll feel that you know her as well as you do your own family." — Kevin Brockmeier, author of The Brief History of the Dead
"If a book can be a spirit, this one is lithe, beautiful, and true. Mario Alberto Zambrano brings the heart of an artist immersed in movement and music to his prose and the result is dazzling." — Ru Freeman, author of A Disobedient Girl
"Loteria, charms on every page, despite heartache, love and loss. . . . The beauty and joy of her voice overcomes the hardships of her life, and by the end we have fallen in love. Bravo to a marvelous debut!" — Andrew Sean Greer, author of The Confessions of Max Tivoli
"Mario Alberto Zambrano's Loteria is a tender, beautifully written story. In every line, Zambrano finds the happy and sad music of childhood. It is an entrancing work." — Lynne Tillman, author of Someday This Will Be Funny
"Lotería is the card-based Mexican variant of bingo and, in the hands of Zambrano, it's a deck stacked with narrative possibilities. . . . An intriguing debut and an elegiac, miniature entry in the literature of Latin American diaspora that will break your heart." — Publishers Weekly (starred review)
"Zambrano's stellar debut is proof positive that good things come in small packages." — Booklist (starred review)
"A heart-wrenching tale of violence, love and a broken family." — Los Angeles Times, "Summer Reading"
"This is a gripping, heartbreaking novel by a new writer who already understands the power of understatement and controlled revelation." — El Paso Times
"Loteria is… like stumbling onto the gut-wrenching journal of a preteen girl. It's imaginative, mysterious, and sometimes too real." — Daily Candy
"Loteria reaches a rare plane where it transcends its form and comes alive as a commentary on character, family and culture." — Brooklyn Rail
"Luz's (and by extension Zambrano's) refusal to give in to easy condemnations of her father's actions, beautifully highlighted by genuinely difficult arguments between Luz and Estrella, is among this novel's most risky and ultimately successful gambits." — School Library Journal (starred review)