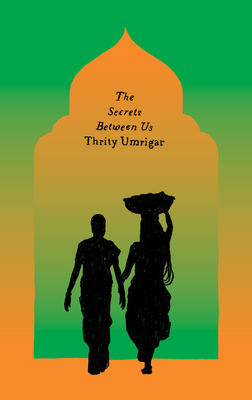 The Secrets Between Us: A Novel (Harper Perennial Olive Editions)
Publication Date:
September 7th, 2021
Publisher:
Harper Perennial
The Book Tavern
1 on hand, as of Sep 30 6:21pm
(Fiction)
On Our Shelves Now
This wonderful novel—loosely a sequel to The Spaces Between Us—is the rich, moving story of an amazing friendship, one that would never have occurred under the old restrictions of India and in the new India feels its tentative way. The lives of Bhima and Parvati are ones of unbelievable poverty and struggle, but the dignity and richness their friendship manifests took my breath away. A bit Dickensian in the best ways, this novel had me in tears several times. These women are two I will not soon forget.
July 2018 Indie Next List
Description
"A powerful, urgent novel that wields issues of gender and class like a blade. . . . This intergenerational novel asks hard questions about who we are, who we can become, and what awaits on the other side of our becoming. Thrity Umrigar is known as a bold and generous writer, and The Secrets Between Us only further establishes her reputation."  — Wiley Cash, author of The Last Ballad
Bhima, the unforgettable main character of Thrity Umrigar's beloved national bestseller The Space Between Us, returns in this triumphant sequel—a poignant and compelling novel in which the former servant struggles against the circumstances of class and misfortune to forge a new path for herself and her granddaughter in modern India.
Poor and illiterate, Bhima had faithfully worked for the Dubash family, an upper-middle-class Parsi household, for more than twenty years. Yet after courageously speaking the truth about a heinous crime perpetrated against her own family, the devoted servant was cruelly fired. The sting of that dismissal was made more painful coming from Sera Dubash, the temperamental employer who had long been Bhima's only confidante. A woman who has endured despair and loss with stoicism, Bhima must now find some other way to support herself and her granddaughter, Maya.
Bhima's fortunes take an unexpected turn when her path intersects with Parvati, a bitter, taciturn older woman. The two acquaintances soon form a tentative business partnership, selling fruits and vegetables at the local market. As they work together, these two women seemingly bound by fate grow closer, each confessing the truth about their lives and the wounds that haunt them. Discovering her first true friend, Bhima pieces together a new life, and together, the two women learn to stand on their own.
A dazzling story of gender, strength, friendship, and second chances, The Secrets Between Us is a powerful and perceptive novel that brilliantly evokes the complexities of life in modern India and the harsh realities faced by women born without privilege as they struggle to survive.
Praise for The Secrets Between Us: A Novel (Harper Perennial Olive Editions)
"The women at the heart of this novel inhabit the harsh world of the urban Indian poor, and struggle separately and together for dignity and survival. Thrity Umrigar has written a moving human tale that vividly brings to life both the women and the city of Mumbai."  — Salman Rushdie
"This wonderful novel… is the rich, moving story of an amazing friendship… The lives of Bhima and Parvati are ones of unbelievable poverty and struggle, but the dignity and richness their friendship manifests took my breath away." — Indies Choice Audiobook of the Year Finalist
"The Secrets Between Us is a powerful, urgent novel that wields issues of gender and class like a blade. The weight of Bhima's tragic past and her intractable present finds its counterbalance in the most unlikely of characters: Parvati, an elderly homeless woman who is haunted by a history of her own. This intergenerational novel asks hard questions about who we are, who we can become, and what awaits on the other side of our becoming. Thrity Umrigar is known as a bold and generous writer, and The Secrets Between Us only further establishes her reputation." — Wiley Cash, author of The Last Ballad
"The Secrets Between Us broke me open as thoroughly as any novel I've read in recent years. Bhima and Parvati, two proud, aging women hard-used by life, are as unlikely a pair of heroes as one could imagine, and yet they jump from these pages big and true as life, striving, surviving, learning to hope and even love long past the point where such things have come to seem like a cruel joke. Thrity Umrigar has given us yet another brilliant powerhouse of a novel." — Ben Fountain, author of Billy Lynn's Long Halftime Walk
"Umrigar's writing is vivid and elegant in its specificity, and the story is as resilient as its characters." — Minneapolis Star Tribune
"[The Secrets Between Us] provides an almost "Siddhartha"-esque experience of sharing a character's spiritual journey, as the plot takes Bhima and Parvati to places where they must question their preconceptions, search their souls and ultimately change." — Newsday
"[Umrigar's] amazing cast is coupled with shining prose and a plot that consistently startles and gratifies. This splendid tale should appeal to all readers with open hearts, regardless of their familiarity with the previous work or the culture of Mumbai." — Publishers Weekly
"Picking up The Space Between Us first may enlighten readers about Bhima's backstory, but this title easily stands on its own. It chronicles the triumph of women's friendships and fortitude in the face of considerable obstacles—poverty, homophobia, illiteracy, gender discrimination, ageism, and sexual assault. It further displays Umrigar's insights into the deep resilience of the human heart." — Library Journal (starred review)
"The Secrets Between Us is one of those books I want to shout about from the rooftops... [for] everyone to experience the depth and beauty of the author's writing." — All About Romance
"[W]onderful….  [Umrigar] knocked it out of the park with this one.  Her writing is beautifully descriptive and her characters are absolutely fabulous." — BermudaOnion's Weblog