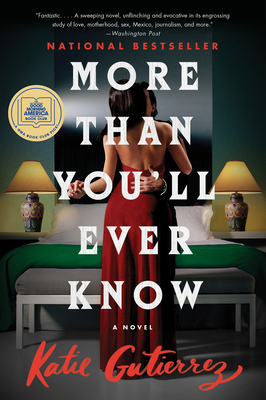 More Than You'll Ever Know: A Good Morning America Book Club Pick
Publication Date:
June 20th, 2023
Publisher:
William Morrow Paperbacks
The Book Tavern
2 on hand, as of Dec 10 11:18pm
(Fiction)
On Our Shelves Now
Description
NATIONAL BESTSELLER • A GOOD MORNING AMERICA BOOK CLUB PICK
"Fantastic . . . A sweeping novel, unflinching and evocative in its engrossing study of love, motherhood, sex, Mexico, journalism and more." — WASHINGTON POST
"Masterful . . . Elegance, darkness, even fear are deftly intertwined . . . A wonderful read." — LUIS ALBERTO URREA, Pulitzer Prize finalist and bestselling author of The House of Broken Angels
Recommended by New York Times Book Review • Los Angeles Times • Washington Post • Parade • Good Housekeeping • NBC News • Today.com • Goodreads • Audible • The Millions • Popsugar • Tribeza • CrimeReads • Library Reads • She Reads • and more!
An evocative drama about a woman caught leading a double life after one husband murders the other, and the true-crime writer who becomes obsessed with telling her story—this masterful work of literary suspense marks the debut of an extraordinary new writer
The dance becomes an affair, which becomes a marriage, which becomes a murder...
In 1985, Lore Rivera marries Andres Russo in Mexico City, even though she is already married to Fabian Rivera in Laredo, Texas, and they share twin sons. Through her career as an international banker, Lore splits her time between two countries and two families—until the truth is revealed and one husband is arrested for murdering the other.
In 2017, while trawling the internet for the latest, most sensational news reports, struggling true-crime writer Cassie Bowman encounters an article detailing that tragic final act. Cassie is immediately enticed by what is not explored: Why would a woman—a mother—risk everything for a secret double marriage? Cassie sees an opportunity—she'll track Lore down and capture the full picture, the choices, the deceptions that led to disaster. But the more time she spends with Lore, the more Cassie questions the facts surrounding the murder itself. Soon, her determination to uncover the truth could threaten to derail Lore's now quiet life—and expose the many secrets both women are hiding.
Told through alternating timelines, More Than You'll Ever Know is both a gripping mystery and a wrenching family drama. Presenting a window into the hearts of two very different women, it explores the many conflicting demands of marriage and motherhood, and the impossibility of ever truly knowing someone—especially those we love.
"A seductive, urgent tale about desire, family, the pursuit of truth, and the art of storytelling, More Than You'll Ever Know will astonish readers with its vastness, romance, tragedy, and abundant heart. I didn't want this book to ever end." — JESSAMINE CHAN, New York Times bestselling author of The School for Good Mothers
"A gripping and thoughtful exploration of motherhood and marriage, the complexity of female desire, and the consequence of our obsession with true crime . . . One of the best suspenseful dramas I've read in years. An exceptional, stunning debut—I absolutely loved it." — ASHLEY AUDRAIN, New York Times bestselling author of The Push
Praise for More Than You'll Ever Know: A Good Morning America Book Club Pick
"More Than You'll Ever Know encompasses more than 30 years and delves into a love affair that destroyed a woman's life and helped her to reclaim the sense of self she lost to the 'cruel banality of motherhood.' . . . Each woman's desire to be known and understood is undeniably powerful. And, really, isn't that one of fiction's most critical functions—not to make us agree, but to strengthen our empathy muscles? . . . Perhaps that's another tract of fertile ground for this novel's discussion. Where, exactly, is the line between the forgivable and the unforgivable?" — New York Times Book Review
"As a true crime reporter, Cassie Bowman finds the truth behind the stories that grip people most. She comes across an article about Lore Rivera, a woman who carried out a double life with a family in Mexico and one in the U.S., and thinks she's found the ultimate career-defining moment. More Than You'll Ever Know is an intertwining story about ambition, motherhood and more." — Today.com, Best Books of Summer 2022
"Gutierrez's debut takes place in two timelines and two worlds. The reader is transported between Mexico City and Texas as we follow an up-and-coming true-crime journalist and the woman she's interviewing, who was married to two men in two countries … until one husband found out and killed the other. Or did he? This is an unapologetic, unflinching examination of love, sacrifice and desire." — Grace D. Li, Washington Post
"In this enthralling and beautifully written debut novel, true-crime journalist Cassie Bowman believes she's stumbled on a career-making story when she hears about bigamist Lore Rivera, whose first husband is in prison for killing the second one." — Boston Globe, Summer Reading 2022
"It's difficult to believe that this masterful novel is a first book. Katie Gutierrez handles its dangerous turns like a Formula One driver. That elegance, darkness, even fear are deftly intertwined in the story make it a wonderful read. More books, please." — Luis Alberto Urrea, Pulitzer Prize finalist and bestselling author of The House of Broken Angels
"A fantastic debut . . . This is a sweeping novel, unflinching and evocative in its engrossing study of love, motherhood, sex, Mexico, journalism and more." — Washington Post, Best Thriller Books
"I was enthralled with More Than You'll Ever Know from the very first pages of Gutierrez's rich and assured writing. A gripping and thoughtful exploration of motherhood and marriage, the complexity of female desire, and the consequence of our obsession with true crime, it's one of the best suspenseful dramas I've read in years. An exceptional, stunning debut—I absolutely loved it." — Ashley Audrain, New York Times bestselling author of The Push
"A tale of two women, two timelines, two sides of a border and two husbands, More Than You'll Ever Know is both compelling and resonant—a novel which grips you like a thriller as you are reading it, with characters and themes which linger in the mind like the best literary fiction. This is an unforgettable story, told brilliantly—one of those novels where from the first page you know you are in the hands of a writer of verve, confidence and conviction." — Ellery Lloyd, New York Times bestselling author of The Club
"What happens when a mother wants more? A seductive, urgent tale about desire, family, the pursuit of truth, and the art of storytelling, More Than You'll Ever Know will astonish readers with its vastness, romance, tragedy, and abundant heart. I became obsessed with Katie Gutierrez's restless, secret-keeping heroines and didn't want this book to ever end."  — Jessamine Chan, New York Times bestselling author of The School for Good Mothers
"A tale of two families, a double life and an ultimate act of passion that will have you on the edge of your seat. There are thrillers that tease, but More Than You'll Ever Know will haunt your dreams." — Adriana Trigiani, New York Times bestselling author of The Good Left Undone
"With beautifully written prose and razor-sharp insight, Katie Gutierrez draws us into More Than You'll Ever Know's gripping and complex world. Even as the dual storylines left me breathless, I found myself more captivated by Gutierrez's intimate and compassionate portrayal of these women, their men, and the many secrets they kept. Passionate, supremely intelligent, and thrilling."
— Jean Kwok, New York Times bestselling author of Searching for Sylvie Lee

"A sprawling, stunning, twisting triumph. By turns heart-pounding and heart-wrenching, this is a story of marriage and murder, of the secrets we endure and the lies we tell ourselves to keep them. So achingly clever and stylish, More Than You'll Ever Know is a special novel from a very special writer." — Chris Whitaker, New York Times bestselling author of We Begin at the End
"With thrilling, atmospheric prose set against an intricate plot, Katie Gutierrez's debut More Than You'll Ever Know is both a suspenseful mystery, a family drama, and an astute examination of motherhood, love, and secrets. I read this morally complex novel ravenously, desperate to discover the fates of the two women at its center. You won't be able to put this book down." — Lara Prescott, New York Times bestselling author of The Secrets We Kept
"A stunning portrait of female reckoning—Katie Gutierrez creates layered and vivid characters, forced to confront the complexities of their own desires. An immaculate novel that explores marriage and choice, partnership and autonomy, More Than You'll Ever Know is a wonder to behold." — Danya Kukafka, bestselling author of Notes on an Execution
"As addictive as a real-life who-dunnit, with thoughtful attention to the ethical implications of the true crime genre, More Than You'll Ever Know explores how we entangle ourselves one choice at a time, and what it costs to unravel the damage. Crystalline and multi-faceted, this is a page-turner brimming with empathy, a window into 1980's Mexico City and Laredo, and the ways community both buoys and pulls us under. Katie Gutierrez is a force, and she writes fabulously complicated, fully-realized characters who will linger with you long after the final page." — Julia Fine, author of The Upstairs House and What Should Be Wild
"Enthralling, breathtaking, and propulsive, More Than You'll Ever Know is the kind of book that only comes around once every decade. With hypnotic, shimmering prose set against a masterful plot, Katie Gutierrez has crafted an explosive modern classic—a groundbreaking, razor-sharp exploration of what it means to be a woman in all its complexity, as well as a deep dive into the morally gray areas of the double lives we all lead. Equal parts literary tour de force and domestic suspense, with a sweeping, sprawling narrative, More Than You'll Ever Know is poised to become the buzziest book of the year." — May Cobb, author of The Hunting Wives
"This dual-POV slow burn thriller is a must-read for true crime lovers. In this layered mystery, Cassie Bowman — a true crime blogger — stumbles upon an article about a woman named Lore who was secretly married to two men. When one husband finds out, they're arrested for the murder of the other. But something doesn't add up. Cassie cannot fathom why a mother would risk everything to live two different lives, so she finds Lore in order to get to the center of the story. We're then given the story from Lore's perspective in 1985, and when Cassie begins asking the hard questions, it unearths flaws surrounding the murder — flaws that point to the real story." — Buzzfeed, Best Books of June 2022
"Gutierrez handles her debut novel's multiple timelines, Texas and Mexico settings, and alternating viewpoints with aplomb, and crafts an enthralling story that not only explores the human fascination with true crime but also deftly plumbs the depths of marriage and motherhood. Mystery fans beguiled by Donna Tartt's The Goldfinch and women's fiction readers who adored Taylor Jenkins Reid's The Seven Husbands of Evelyn Hugo will equally fall under the spell of this totally transporting tale." — Library Journal (starred review)
"Satisfying . . . [Gutierrez] provides us with two fully rounded, vulnerable, and fascinating characters in Cassie and Lore. By telling Lore's story through flashbacks beautifully situated in Mexico and Texas, she provides us, and Cassie, with a deep understanding of just how one woman can get trapped into living a double life full of lies. Love, she argues, is messy, fleeting, and out of our control—but it's all the more beautiful for that. Gutierrez imagines true crime's often one-dimensional female characters with sophistication and grace." — Kirkus (starred review)
"Katie Gutierrez's debut novel burrows straight to the heart of our cultural true crime fixation through an intense emotional dance between two seemingly different women. . . . More Than You'll Ever Know has all the ingredients necessary for a good thriller. But beyond the novel's well-executed, suspenseful structure, Gutierrez also clearly understands her characters, where they've come from and what they want and need. . . . Gutierrez has crafted detailed, vulnerable portraits of women searching for clues to their own survival. In the process, she unearths some truly compelling insights about our cultural obsession with true crime." — Bookpage
"A masterful work of suspense." — Popsugar
"In her first book, Gutierrez has written a compelling, character-driven crime story that holds the reader's interest to its very end, which, yes, is slightly ambiguous, but then, as Lore believes, truth is a malleable thing." — Booklist
"I love this book more than Dolores "Lore" Rivera loves both her families and now you have to read this book to understand what I mean." — CrimeReads
"Gutierrez's debut taps into society's preoccupation with true crime. . . . More Than You'll Ever Know is atmospheric and tantalizing, made even more impactful by rich character development." — Scribd, June's Best New Books
"A gripping family drama, this book will make you question the role of marriage, family, and love." — Zibby Owens, GMA.com
"In this exquisitely written, seductive novel, true crime journalist Cass Bowman is obsessed with the weird, the obsessive, the "chiaroscuro of the macabre and the mundane" of the genre. While researching a story, Cass discovers Delores "Lore" Rivera, from Laredo, Texas, a "rare female bigamist," whose two lives collided 20 years before when one husband shot the other in a motel room, the bullet "like a golden teardrop." Cass needs to know more. You will too." — Milwaukee Journal Sentinel