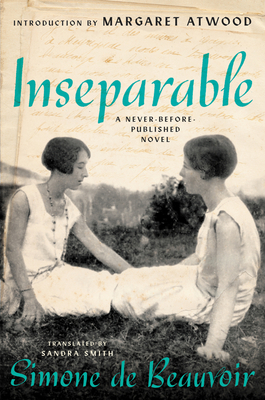 Inseparable: A Never-Before-Published Novel
Publication Date:
September 7th, 2021
The Book Tavern
1 on hand, as of Dec 10 11:18pm
(Classic Lit)
On Our Shelves Now
Description
Finalist for the French-American Florence Gould Translation Prize
A novel by the iconic Simone de Beauvoir of an intense and vivid girlhood friendship that, unpublished in her lifetime, displays "Beauvoir's genius as a fiction writer" (Wall Street Journal) 
From the moment Sylvie and Andrée meet in their Parisian day school, they see in each other an accomplice with whom to confront the mysteries of girlhood. For the next ten years, the two are the closest of friends and confidantes as they explore life in a post-World War One France, and as Andrée becomes increasingly reckless and rebellious, edging closer to peril.
Sylvie, insightful and observant, sees a France of clashing ideals and religious hypocrisy—and at an early age is determined to form her own opinions. Andrée, a tempestuous dreamer, is inclined to melodrama and romance. Despite their different natures they rely on each other to safeguard their secrets while entering adulthood in a world that did not pay much attention to the wills and desires of young women.
Deemed too intimate to publish during Simone de Beauvoir's life, Inseparable offers fresh insight into the groundbreaking feminist's own coming-of-age; her transformative, tragic friendship with her childhood friend Zaza Lacoin; and how her youthful relationships shaped her philosophy. Sandra Smith's vibrant translation of the novel will be long cherished by de Beauvoir devotees and first-time readers alike.
Praise for Inseparable: A Never-Before-Published Novel
"A piñata's worth of surprises burst forth from this novel. . . . First, Inseparable shows a new side of Simone de Beauvoir—a Romantic in the great French tradition. . . . The bigger surprise here, at least to me, is Beauvoir's genius as a fiction writer. . . . Tender and wicked, Beauvoir uses everything here: nature, families, poverty and wealth, and the material world of things—clothes, décor, pots and pans. Beauvoir pledged her art to the promise that one day Zaza would live on. This last, unpublished novel seems a miracle of raising the dead from icy memory, of conjuring the openness of youth, its all-consuming love and loss. Beauvoir's glittering words reward us by remembering how we were." — Wall Street Journal
"[Inseparable] leaps from one glorious tableau to another. . . . Alongside Sylvie, we, as readers, stop, stay, and bear witness to an outpouring of reverence. . . . Here is an attentive and unintimate love, one that relishes the idea of imagining, but never knowing and never delimiting, the infinite expanses of another person's mind. . . . In Inseparable, the distinction between friends and lovers, straight love and queer love, pales before the difference between loving a friend who is alive and one who is dead."  — New Yorker
"Slim, devastating. . . . Inseparable is less a story of female friendship than one of first love. . . . Inseparable discloses a world [Beauvoir] could never score with her later life."  — Book Forum
"Inseparable makes the case that the defining relationship of Beauvoir's young life was not with [Sartre]. . . . Without Zaza, one senses, there might have been no "Second Sex." . . . Simone, at least, would not be sacrificed on the altar of convention and domesticity. Inseparable makes the terms of this commitment on her part crushingly clear." — New York Times Book Review
"Beautifully translated by Sandra Smith, Inseparable is torturously delicious and consuming in the way doomed love stories often are. . . . Brief and exuberant, Inseparable amplifies the canon of a titan of twentieth-century feminism, and reveals her in an unexpectedly tender, unguarded mode. More than that, it's a touching iteration of the female bildungsroman."  — Harper's Magazine
"The novel is gorgeously written, intelligent, passionate, and in many ways foreshadows such contemporary works as Elena Ferrante's My Brilliant Friend." 
— Oprah Daily
"A moving portrayal of intense female friendship, identity, and loss."
— Kirkus Reviews (starred review)
"The trailblazing feminist writes bracingly of the complexity of female friendships. Beauvoir's mastery of fiction further demonstrates her bravura."
— Publishers Weekly