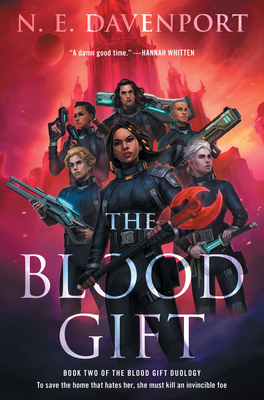 The Blood Gift (The Blood Gift Duology #2)
Publication Date:
April 18th, 2023
Publisher:
Harper Voyager
The Book Tavern
2 on hand, as of Dec 9 11:18pm
(SciFi/Fantasy)
On Our Shelves Now
Description
Legendborn meets Red Rising in this stunning conclusion to N. E. Davenport's fast-paced, sexy, action-packed sci-fantasy duology. Elite warrior Ikenna and her rogue cohort must outrun bounty hunters, their former comrades, and a megalomaniacal demi-god, all in the hopes of saving their friends and enemies from the racist and misogynistic oppression that threatens the continents from all sides.
After discovering the depth of betrayal, treachery, and violence perpetrated against her by Mareen's Tribunal Council and exposing her illegal blood-gift to save her Praetorian squad, Ikenna becomes a fugitive with a colossal bounty on her head.
Yet, somehow, that's the least of her worries.
Her grandfather's longtime allies refuse to offer help, and the Blood Emperor's Warlord is tracking her. She's also struggling to control the enormous power she was granted by the Goddess of Blood Rites…and come to terms with the promises she made to get such power.
Amidst all of this, the Blood Emperor wages a full-scale invasion against Mareen and leaves a trail of decimated cities, war crimes, and untold death in his wake. As the horrors increase, Ikenna and her team realize they must assassinate the Blood Emperor and quickly end the war. But the price to do so is steep and has planet-shattering consequences.
The price to do nothing, though, is annihilation.
War has erupted. Alliances are fracturing. And Ikenna is torn between her loyalties, her desires for revenge, and the power threatening to consume her. With the world aflame, only one thing is certain: blood will be spilled.
Praise for The Blood Gift (The Blood Gift Duology #2)
"Davenport sticks the landing...[blending] science fiction and fantasy tropes in her ambitious, action-packed conclusion to the Blood Gift duology." — Publishers Weekly
"An adrenaline-racing and action-heavy sequel, The Blood Gift is an exciting sequel with plenty of villains, gods, magic, and violence while also balancing themes of loyalty, love, belonging." — The Fantasy Reviews
"The plotting is an intricate mix of action, intrigue, and betrayal, with a fast pace and a high body count… Thankfully, this is book one of a proposed duology, because revenge is a dish best served cold." — Booklist on The Blood Trials
"Davenport debuts with an ambitious epic that blurs genre lines, setting futuristic technology against a historical fantasy backdrop...this invigorating debut marks Davenport as a writer to watch." — Publishers Weekly on The Blood Trials
"Davenport's ambitious debut is gritty and bloody, and balances emotional arcs with fast action. Fans of Pierce Brown's Red Rising and Evan Winter's The Rage of Dragons will find similarities in Ikenna's journey." — Library Journal on The Blood Trials
"The Blood Trials is one of my top reads of the year—a riveting story with richly-drawn characters caught in a tangle of political intrigue, systemic racism, and nonstop peril. Don't miss this one!" — Melissa Marr, New York Times bestselling author of Wicked Lovely
"The Blood Trials is a fresh, intense gut punch of a book that has everything I love most in sci-fi and fantasy. I rooted for Ikenna, the trials gripped me, and the political mystery at the heart of it all kept me constantly on my toes." — Susan Dennard, New York Times bestselling author of the Witchlands series